Indonesia: Divine Land Marching Band Performs at "Bali Marching Bands on Stage" Event (Photos)
(Clearwisdom.net) On Sunday, June 19, 2011, the Balinese Divine Land Marching Band performed at the event "Bali Marching Bands on Stage", a local drum band and marching band competition, held at the Yoana Bali Mandala Tembau Sport Center. The event was held for the first time, and hosted by the Bali Instructor Marching Band (BIMB).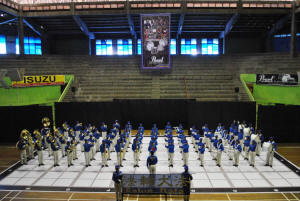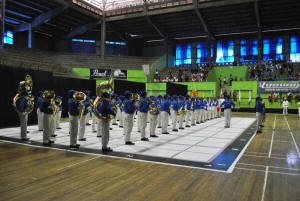 The Balinese Divine Land Marching Band performing at "Bali Marching Bands on Stage"
14 bands competed during the event. The Divine Land Marching Band participated and performed as guest of honor.
"Listening to the music [performed by the Divine Land Marching Band] creates a refreshing feeling and makes us feel calm," said Mr. Yayan, the chairman of the organizing committee.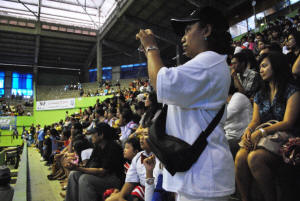 Audience attentive during the performance
Before the performance, a practitioner explained to the hundreds of attendees how all band members practice Falun Dafa, an ancient cultivation method for the mind and body, which is based on the universal principles of Truthfulness, Compassion, Forbearance. The musicians have different educational and social backgrounds, but they all share one thing in common: they have benefited considerably from Falun Dafa, and therefore feel the need to spread the goodness and beauty of Falun Dafa to more people. The practitioner also explained briefly about the spread of Falun Dafa around the world and the facts of the persecution in China.
When the marching band played Falun Dafa songs, the members of the audience clearly enjoyed the band's performance.
Group photo of the Balinese Divine Land Marching Band