The Sad Story of Little Yi
May 30, 2011 | By a Clearwisdom correspondent in Jilin Province, China
(Clearwisdom.net) Little Yi is four years old. Due to the persecution of Falun Gong practitioners by the Chinese Communist Party, his father was sentenced to five years in a forced labor camp, and his mother was injected with drugs in detention until she became mentally disordered. Moreover, his grandparents were tortured to death. Little Yi was taken care of by a kind Korean lady. Recently however, many policemen broke into their home and illegally arrested Falun Gong practitioners there.
Police from Yanji City illegally arrested the practitioner who was taking care of Yi and demanded that she tell them the whereabouts of the practitioner who brought Yi to her. They were trying to persecute that practitioner.
Father Sentenced and Mother Suffers Mental Collapse
Yi's mother, Ms. Yang Lijuan, suffered a mental collapse after she was injected with unknown drugs while in detention.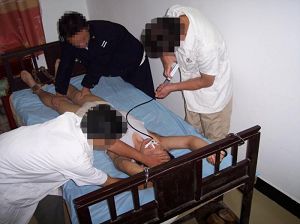 Torture reenactment: forced drug administration
In 2008, Xiao Bin and Pu Guinan from the Yanbian Domestic Security Division, along with personnel from the Mudanjiang Domestic Security Division, illegally arrested Mr. Li Guangshi and his father-in-law, Mr. Yang Fujin, in Mudanjiang City. Before they were arrested, they left their home to avoid further persecution. Mr. Yang Fujin was tortured and developed hemiplegia.
On October 20, 2008, Yi's father was sentenced to five years and incarcerated in Jilin Prison. The burden of life was entirely placed on Yi's grandmother, Ms. Yin Fengqin.
Yi's Grandmother Falls from a Building and Dies
On January 29, 2010, personnel from Shuangyang Community in Yanji City, along with Ma from Liaoning Province and Mu from Yanji City, came to Ms. Yin's home and tried to force her to give up her belief. However, she refused. Then they called the local 610 Office and the Domestic Security Division to illegally arrest her.
While they were trying to take Ms. Yin away from home, she fell from her sunroom, which was five stories above the ground, and fractured her ribs, forearm, legs, and vertebrae. She was taken to the emergency room in Yanbian Hospital, and later died.
Grandfather Passes Away, Leaving the Mother and Son Helpless
After Ms. Yin passed away, the remaining family members were Mr. Yang, who had hemiplegia, her daughter, who was mentally incapacitated, and two children. They really needed help and someone to take care of them.
The local 610 Office ordered police to arrest Mr. Yang's family. They were interrogated and threatened at the police station. The police told them not to seek justice for Ms. Yin. Because Mr. Yang was trying to obtain justice for his wife, he was threatened by the police. Shortly afterward, he passed away due to the heavy mental pressure.
Since Ms. Yang had suffered a mental collapse, she could not even take care of herself, let alone her children.
Welfare Institute Dares Not Accept Children of a Falun Gong Practitioner
Some friends helped Ms. Yang find an orphanage run by a foreign agency in Yanji City. The director listened to the family's story. He cried and said that he really wanted to help them. But they could not accept any child without an approval letter from the Civil Affairs Bureau.
Because Ms. Yang is a Falun Gong practitioner, her children Da and Yi were not accepted by any welfare institution.
Little De, who was six years old, lived in his seventy-year-old grandfather's (his father's father) home. Little Yi, who was two years old, needed more care because of his age. He kept being moved from one place to another. As soon as he saw them packing his bag, he realized that he was going to move again. Because he was too young to be away from his mother, he had to live with his mentally disordered mom. She was always in terror of being persecuted and kept the door locked at all times. Sometimes little Yi had nothing to eat all day long and was too hungry and weak to move. In the freezing winter, Ms. Yang helped Yi put on his shorts and they went out. Some kind neighbors saw them only wearing shorts outside in such severely cold weather and immediately took them into their homes so that they didn't get frostbitten.
Some practitioners took turns helping Ms. Yang and Yi. However, the police threatened that anyone who helped Ms. Yang and her child would be arrested. Ms. Yang and Yi were still suffering.
To Avoid Further Persecution, Yi Had to be Separated from Mother and Brother
In order to avoid further harassment, practitioners took Ms. Yang and Yi away from their home. Yi had to leave his mother and live with an older lady. Finally Yi's life became stable. The police however, illegally arrested the Korean practitioner in Chaoyangchuan who was taking care of Yi.
Please offer your moral support to Falun Gong practitioners who are suffering persecution by the Chinese Communist Party.
Jin Jingri, head of Yanji Police Department: 86-433-2512839 ext. 3011 (Office), 86-13843383300 (Cell)
Pan Jishun, Party commissar: 86-433-2556551 ext. 3012 (Office), 86-433-2615898 (Home), 86-13904485712 (Cell)
Xu Xiaofeng, head of Yanbian Domestic Security Division: 86-433-2521388 ext. 3041 (Office), 86-433-2623155(Home), 86-13904438836 (Cell)
Xu Guangzhe, political head: 86-433-2552233ext. 3042 (Office), 86-433-2528820 (Home)
For more information, please see http://www.clearwisdom.net/html/articles/2010/7/17/118653.html