Italian Falun Gong Practitioners Celebrate World Falun Dafa Day (Photos)
(Clearwisdom.net) On the afternoon of May 14, 2011, Italian Falun Gong practitioners held activities on Via Dante, a famous pedestrian street near the Milan palace, to wish Master a happy 60th birthday and celebrate World Falun Dafa Day.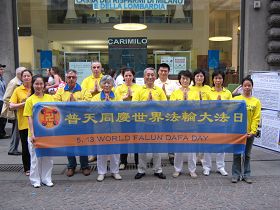 Italian Falun Gong practitioners wish Master happy birthday
Falun Gong, also known as Falun Dafa, is a traditional Chinese spiritual discipline for mind and body. Its principles are based on Truthfulness-Compassion-Forbearance. The practice was first introduced by Master Li Hongzhi in China in 1992 and quickly spread by word of mouth throughout China and then beyond. Its beneficial effects in uplifting an individual's physical health, spiritual wellbeing, and moral character, not to mention its positive influence in the community and society as a whole, have been undeniable. In fact, Falun Gong is practiced by over 100 million people in 110 countries. May 13 of each year is honored as World Falun Dafa Day. To celebrate, Italian Falun Gong practitioners dressed in yellow costumes. Full of gratitude and joy, they respectfully wished Master happy sixtieth birthday.
The beauty of Falun Dafa is deeply rooted in the hearts of more and more Italians. Seeing the banner "May 13, World Falun Dafa Day, " their faces looked full of joy. A couple smiled and said, "We support Falun Gong!" When practitioners were having their photo taken, three Italians also held their palms together in Heshi position and wanted to have their photo together. They cried, "We also want to celebrate Falun Dafa Day!"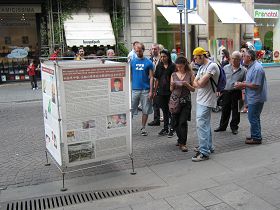 Many Italian and foreign tourists gathered in front of the Falun Gong informational poster.
Many Italian and foreign tourists gathered in front of the Falun Gong truth clarification poster, which they read carefully. When they saw the brutal persecution of Falun Gong taking place in China today, some came forward without hesitation and signed the petition to immediately stop the persecution of Falun Gong. Some chatted with the practitioners, wanting to know more about Falun Gong. Some people said that they wanted to learn Falun Gong.
People came forward without hesitation to sign the petition in support of Falun Gong
A group of Chinese picked up their cameras to take pictures. One of them, a tall youth, came to ask for a Falun Gong brochure. After practitioners told him that quitting the CCP would bring him safety, they asked him, "What decision would a wise man should make?" He chuckled and said, "I certainly do not want to go along with the Chinese Communists. I will quit the Party and its affiliated organizations! "