Canada: Celebration in Vancouver Brings Falun Dafa to Many (Photos)
May 16, 2011 | By Clearwisdom correspondent Wang Mei
(Clearwisdom.net) "From Falun Dafa, I learned the meaning of life and I have been striving to live up to the principles of Truthfulness-Compassion-Forbearance. Whenever I have a conflict with family members, I will remind myself of the teachings and such conflict will then be dissolved." Wang said. Participating in the World Falun Dafa Day celebration in Vancouver, she said that she was very lucky to be a practitioner. "In 1998, I saw people practicing meditation [Falun Gong] on my birthday while I was in Japan. I decided to cultivate Falun Gong as soon as I learned the principles of the practice."
Vancouver practitioners recently held several activities to celebrate the nineteenth anniversary of Falun Dafa's public introduction and twelfth World Falun Dafa Day. On May 8, a group practice was held at the central park in Burnaby. On May 14, the practitioners gathered at the square near the Vancouver Art Gallery for a group practice and photo display. The serene practice scene and music attracted many people to watch. Some expressed their support for the practice, and some learned exercises on site.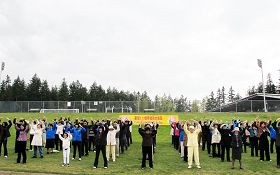 Group practice at central park in Burnaby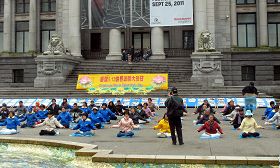 Group practice near Vancouver Art Gallery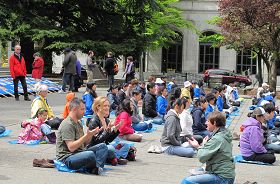 A couple from Kelowna learn the exercises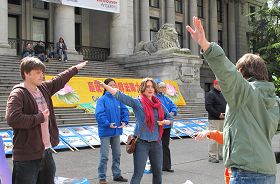 A student of University of Victoria and his girl friend learned the exercises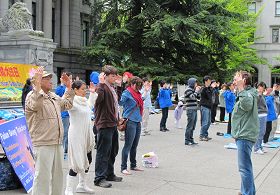 Four people learn the exercises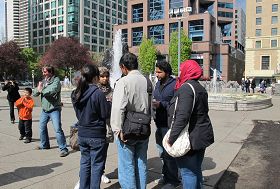 Several Indians chatting with a practitioner about Falun Gong
"Falun Gong benefits health, and this is great," said David, who came from Jiangmen, Guangdong Province. He took many photos of the practice on May 14 and planned to post them on his own website.
"I learned about the practice from The Epoch Times newspaper after I immigrated to Canada, and I think it is very good that Falun Gong promotes 'Truthfulness, Compassion, and Tolerance.' Won't it be great if everyone follow these principles? I bought some Falun Gong books and will start to practice."
Michael is a native Canadian and he learned about Falun Gong in Turkey while he was touring Asia, including China and Japan. As a Catholic, he said that he understood practitioners' unyielding spirit facing the persecution in China and supported them.
There were many people who learned the exercises on Saturday (May 14). A couple from Kelowna was drawn to the site as soon as they saw the group practice. Practitioner Brad taught them the sitting meditation and explained the basic principles of the exercises. The couple wrote down Brad's contact info and said they would practice for sure.
A young fellow from the University of Victoria had come to Vancouver to visit his girlfriend, and they met the practitioners at the gallery. When they were learning the exercises, a two others joined them.
For Wei, a mother of two children, Falun Dafa makes her life brighter. "I learned about Falun Dafa from an article in The Epoch Times which talked about how the practice benefits health. So I decided to try. Two weeks later, my nose bleeds and allergy problems were both gone. I felt very light and became more diligent. My husband joked that I now worked as diligent as a honey bee. In the past, I always wanted to change my husband. Now I know that I should look inward and change myself. My family is now in harmony and my kids are very healthy. In addition, I used to forget a lot of things and I now have a very clear mind and work with high efficiency.
"My heartfelt wish today is that more people will learn about Falun Dafa and thus benefit from this great practice."
May 15, 2011