Illinois USA: People from All Walks of Life Celebrate World Falun Dafa Day in Chicago (Photos)
(Clearwisdom.net) "I knew life must have a goal and yet I didn't know what it is. I finally found it from Falun Dafa," said Gail Kellum, "I have been waiting for all my life. The college student started practicing Falun Gong two years ago. She and her sister came from Michigan to join a World Falun Dafa Day celebration at Daley Park in Chicago on May 13. Before this celebration, local practitioners held a morning group practice at the famous Grant Park on May 11.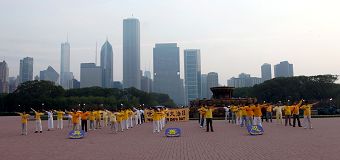 Group practice at Grant Park, Chicago
The celebration at Daley Park started at 3:00 p.m. Besides group practice, the practitioners also presented a photo display of "The Journey of Falun Dafa," which features several dozen photos of Falun Gong activities around the world and the persecution in China.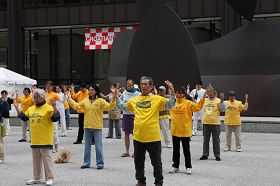 Group practice at Daley Park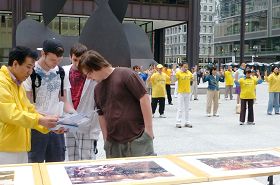 Passersby learn about Falun Gong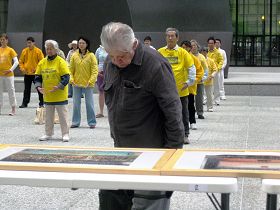 Ramos viewing the "Journey of Falun Dafa" photos
While the temperature dropped over 10 degrees overnight, many passersby still stopped by to view the group practice and examine the photos. A lady who is originally from Brazil viewed every photo on display, and she said that the persecution of Falun Gong will not succeed, as evil will never prevail. She had seen practitioners outside the Chinese Consulate in the past, and said that she wanted to learn the Falun Gong exercises. Mr. Ramos, a social worker, also expressed his interest in learning the exercises after viewing the photo display.
Mr. Sun came to U.S. one year ago and his whole family participated in the celebration. His cultivation journey with the practice started in 1996, and he said that the practice gave him and his wife a lot physical benefits as well as a great spiritual uplift.
"We are lucky to come to the U.S., as so many families of practitioners are still being persecuted. I hope that more people will learn about Falun Gong," said Sun, "I hope that governments around the world will help us end the persecution."