Boston: Practitioners Celebrate World Falun Dafa Day in Chinatown (Photos)
May 14, 2011 | By Cheng De-mei
(Clearwisdom.net) Falun Dafa practitioners of Boston, Massachusetts celebrated the 12th World Falun Dafa Day at Greenway Plaza in Chinatown on May 7, 2011. It is also the 19th anniversary that Falun Dafa was introduced to the public and Master Li Hongzhi's 60's birthday. A poster and photo exhibit was set up around the plaza, introducing the beauty of Falun Dafa and exposing the Chinese regime's persecution of Falun Gong. The activity attracted many Chinatown residents and visitors.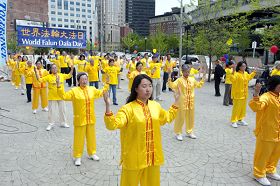 Group practice at Greenway Plaza in Chinatown in celebration of World Falun Dafa Day.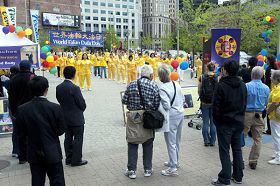 Spectators watch the Falun Gong exercise demonstration.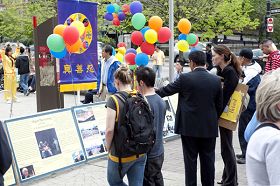 Many visitors and Chinatown residents view the poster and photo exhibit.


People watching the performances by Falun Gong practitioners during the World Falun Dafa Day celebration in Boston


Mr. Chow and his children from Hong Kong were among the many people who stopped to view the photo display. When he saw the information on the CCP's organ harvesting from living Falun Gong practitioners, he was choked with sobs and his eyes were teary. Upon leaving, he managed to comment, "It is just so merciless!"
Lam Sullivan from Sudbury City has been searching for something for his severe shoulder pain, for which no medicine or alternative therapies have been able to help. Mr. Sullivan said to a practitioner at the event, "I finally found it today! This peaceful meditation should not be persecuted. The Chinese government is afraid of losing the control of its people. They are scared to let people have the freedom of belief." He said to the practitioner that he will spend more time reading about it and looked forward to learning the Falun Gong exercises.
Mr. Huang, a local resident, stopped to enjoy the Falun Gong practitioners' performances. Before he moved to the United States, he served in Chinese Army in the Korean War and worked in Chinese local government. During the Cultural Revolution, he was labeled a "Rightist" and was persecuted. From his own experiences, he despised the Chinese Communist Party's vicious and tyrannical nature. He said, "Falun Gong's Truthfulness, Compassion and Forbearance principles and their unyielding peaceful resistance to the persecution bring hope to China."