Taiwan: Practitioners in the Taoyuan, Hsinchu, and Miaoli Region Celebrate World Falun Dafa Day (Photos)
May 13, 2011 | By Huang Yusheng
(Clearwisdom.net) More than one thousand practitioners in the Taoyuan, Hsinchu, and Maoli region held a series of activities on May 7, 2011, at the square in front of the Confucius Temple in Hsinchu to celebrate World Falun Dafa Day. Practitioners also held a parade and lined up to form a 4-km-long "Great Wall" to demonstrate the Falun Gong exercises. The practitioners shared their joy in practicing cultivation, and their non-practitioner family members accompanied them during the event to express their support.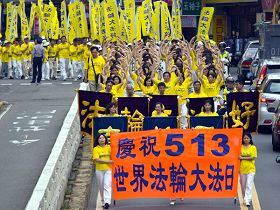 A parade of more than 1,000 practitioners in the Taoyuan, Hsinchu, and Miaoli region celebrate World Falun Dafa Day.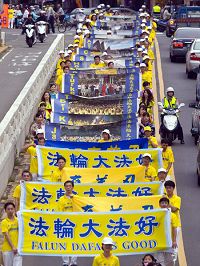 The parade marched through the busiest district in Hsinchu.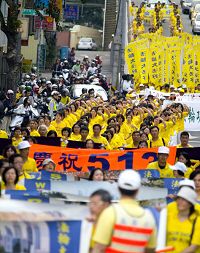 Passersby watching the grand parade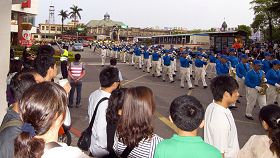 The Divine Land Marching Band in the parade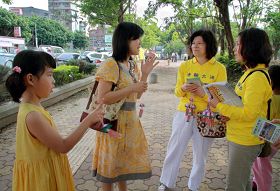 People speak with practitioners to learn about Falun Gong.
High School Teacher: I can rest assured because my daughter practices Falun Gong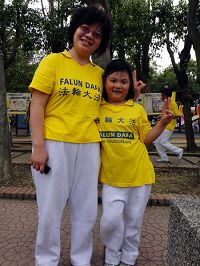 High School teacher Ms. Lin and her daughter
Ms. Li Xiangchen is a high school chemistry teacher in Taoyuan. She was pleased to share how her daughter, a first grade student at an elementary school, improved her xinxing after studying Zhuan Falun. After understanding the meaning of Truthfulness-Compassion-Forbearance, her daughter puts it into practice in her daily life and often reminds her mother and younger brother when they didn't conduct themselves strictly as practitioners. Ms. Lin's husband isn't a practitioner, but he accompanied his wife, holding their youngest son in his arms, to show his support.
Practitioner's non-practitioner husband accompanied his wife during the entire parade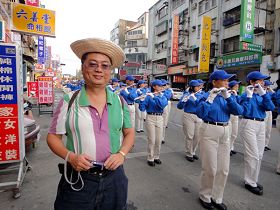 Mr. Zheng from Taipei supports his wife's cultivation practice
Mr. Zheng from Taipei walked along with the Divine Land Marching Band during the entire parade to show his support for his wife. His wife is one of the members of the band. When asked if he wanted to practice cultivation, he smiled and said, "It's in my plans."
People with a sense of justice: "Falun Gong, keep up your efforts"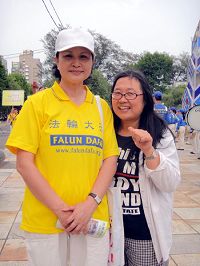 Ms. Zhuo (right) supports Falun Gong practitioners by giving them a thumbs-up.
Ms. Zhuo said in an interview that she had seen the Divine Land Marching Band when she traveled to Hong Kong. The band impressed and amazed me and she was moved to see the band again in Taiwan.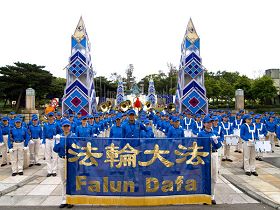 Divine Land Marching Band performs in front of the Glass Museum
Ms. Zhuo said that she thinks Falun Gong can guide people to be righteous and kind. She hopes that more people will learn it.
Police officer admires practitioners' spirit
The parade concluded at around 6:00 p.m.. A police officer who helped maintain order said that a Falun Gong parade was never any trouble. Some of the officers accepted Falun Gong flyers, and others said with smile that they had Falun Gong books at home. One officer said that practitioners once paraded for six hours when he was on duty. He admired their spirit.