Florida, USA: World Falun Dafa Day Event in Orlando, Florida (Photos)
(Clearwisdom.net) On May 8, 2011, at Lake Eola in downtown Orlando, Florida, 24 practitioners demonstrated the exercise movements of Falun Gong to celebrate May 13th, Master Li's birthday and the day Falun Gong was introduced to the world. Now, Falun Gong has been spread to more than 140 countries around the world.
The three eternal principles of Truthfulness-Compassion-Forbearance are now known throughout the world. Many national government leaders as well as state and local officials openly and genuinely support Falun Gong because they recognize the value of having so many good people in society. Local, state, and national leaders know better the truth about the persecution now and can openly support bringing an end to the long, brutal, unjustified persecution of innocent Falun Gong practitioners in China.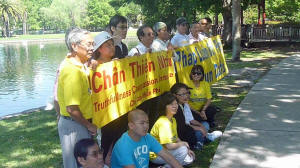 Falun Gong practitioners in Lake Eola have been reaching out to the public since 1998. Their long-term presence in the community has allowed local residents time to learn the truth of the persecution from its earliest beginnings and at times join in at the practice site. This Sunday two practitioners from Missouri, four from Palm Coast, and 18 from Orlando demonstrated the exercises and clarified the truth to those enjoying the park's natural beauty on Mother's Day.
There are currently four exercise classes at Lake Eola on Saturdays and Sundays at 10:00 a.m. and 2:00 p.m. There are also two exercise classes on Saturdays at Crane's Roost Park in Altamonte Springs at 10:00 a.m. and 2:00 p.m. Starting June 2011 two new classes will be added on Saturdays at the same times.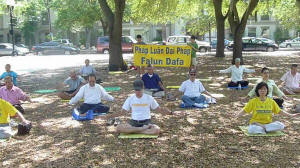 The wife of the local volunteer at Crane's Roost Park is not a practitioner, but she recently started to distribute Falun Gong information to her friends and community. This Saturday one of her friends, the City Commissioner of Casselberry Florida, looked at the materials and she is now also distributing flyers about the practice of Falun Gong in the area. On May 7, two practitioners from Missouri and one from Texas joined a local Orlando practitioner to attend an event at a Buddhist temple in Jacksonville, Florida. The local Orlando practitioner had helped to start this Buddhist Temple 16 years ago. Now as a Falun Gong practitioner, she and the other practitioners returned there to help introduce the practice of Falun Dafa to those attending the event. About 40 people joined the practitioners to learn the exercises, take information on the practice, and get a copy of the exercise DVD.
The group exercise ended with a cake made by a local bakery, and the practitioners shared their understandings of the meaning behind World Falun Dafa Day, and their current place in Fa-rectification. Mayor Buddy Dyer issued a proclamation commemorating May 13, 2011 as World Falun Dafa Day in Orlando, at the request of a local practitioner.