St. Louis: Practitioners Celebrate the 12th World Falun Dafa Day (Photos)
(Clearwisdom.net) On May 7, Falun Gong practitioners from St. Louis, Missouri held activities at the St. Louis Arch, a famous tourist attraction known as the "Gateway to the West." They celebrated the 12th World Falun Dafa Day, and wished Master Li Hongzhi, the founder of Falun Dafa, a happy birthday.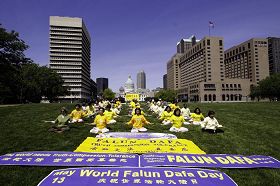 Group exercises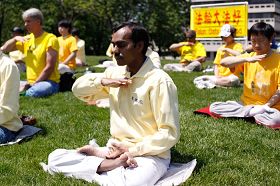 Group exercises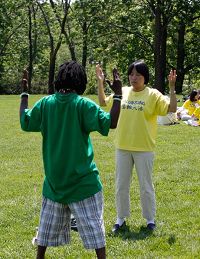 A passerby learns the exercises.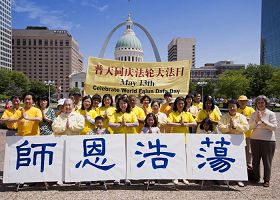 Practitioners wish Master Li Hongzhi a happy birthday.
Practitioners put up banners and held group exercises in front of the arch. Many tourists were attracted to the peaceful scene. They took photos and videos of the practitioners performing the exercises. Some of them expressed an interest in learning Falun Gong and accepted informational materials from practitioners.
Participating in the activity was Ms. Kang, who recently escaped China and came to the US. She said: "Before I practiced Falun Gong, I had all kinds of diseases. I had severe headaches and had to stay home from work for over a week out of every month. I had trouble eating and drinking. I went to see many doctors, both western medicine and Chinese medicine, but it was no use. The situation lasted for more than 20 years. However, all the diseases were gone one month after I started practicing Falun Gong. I had a short temper before, and was depressed. After practicing, I became a new person—happy, healthy and considerate of others. I got along with my family better, too."
Ms. Kang was very happy to join the celebration. She said: "I came to America last year. The deepest impression I have of this country is that it is a free land. It is impossible to have an event like this in China. I am so excited! It has been 12 years since the Chinese Communist Party launched the persecution of Falun Gong in 1999. There is no peaceful environment for us to practice in China. I am very happy that I can do the exercises and celebrate Falun Dafa Day with my fellow practitioners in St. Louis. I cannot describe my appreciation for Falun Gong in words. Master Li Hongzhi renewed my life. I wish Master a Happy Birthday!"
Another Ms. Kang, who is older, also shared her experiences of cultivating Falun Dafa. She said: "I started practicing Falun Gong in 1998. I was very ill, with problems in the pulmonary, nerve, and digestion systems. After I started practicing, all the diseases were healed without taking any drugs or medical treatment. I am 78 years old now, but I feel young and full of energy. I used to have a bad temper. Since practicing Falun Gong, I have done my best to follow Truthfulness-Compassion-Forbearance. My family members told me that my behavior changed their attitudes towards Falun Gong. Now they all support Falun Gong."
Master Li Hongzhi started teaching Falun Gong to the public on May 13, 1992. Falun Gong, also called Falun Dafa, teaches the principles of Truthfulness-Compassion-Forbearance and has benefited more than one hundred million people in the world physically, mentally and spiritually. It has spread to more than 100 countries.