Guards Run Electric Current Through Mr. Wu Yuanlong's Genitals
April 07, 2011 | By a Clearwisdom correspondent in Heilongjiang Province, China
Name: Mr. Wu Yuanlong (武元龙)
Gender: Male
Age: Unknown
Date of Most Recent Arrest: March 29, 2006
Most Recent Place of Detention: Tailai Prison (泰来监狱)
Province: Heilongjiang黑龙江
Persecution Suffered: Electric shock, illegal sentencing, beatings, hung up, imprisonment, torture, sexual assault, interrogation, detention
(Clearwisdom.net) Mr. Wu Yuanlong from Qiqihar City was arrested in 2006 and illegally sentenced to 14 years of imprisonment. He suffered all kinds of inhumane torture in the police station and in prison. Prison guards used a piece of wire to link his thumbs and genitals to an electric current to try to force him to "confess." Mr. Wu has now been detained in Tailai Prison for four years. The following is an account of what he has endured in his own words.
I lost my job and was forced to leave home to avoid being arrested and persecuted. When I came downstairs in my father's home on March 29, 2006, three officers led by Xing Huimin from Xingongdi Police Station scrambled out of a parked van and charged towards me. They seized me, took me to Tiefeng Police Sub-department, and bound me to an iron chair, which is an instrument of torture, for about 40 minutes. There were two holes in the back of the chair. The police twisted my hands backwards and pushed them into the holes and then cuffed them behind the chair. They then forced me to lean forward so that I was not sitting on the chair. I could touch the ground and my body was suspended. In about 10 minutes, when the police saw that I was about to pass out, they let me sit on the chair for a while. I was sweating all over. They repeated this torture three times.
Two officers who were specialists in torturing people arrived the following day. They covered my head with a piece of cloth and drove me to an empty building. They stripped off all my clothes, handcuffed me, and hung me by the handcuffs high on the wall. They took a wire and connected my thumbs to my genitals and then connected the wire to a megohm meter and a source of electricity. When the power was turned on the pain was so intense that I wanted to die.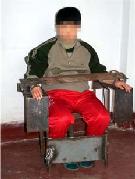 Torture demonstration: Cuffed to an iron chair
They cuffed me to the iron chair again and wired my little fingers to shock me. They did this to try to force me to give them information about other practitioners. They would turn on the power whenever I refused to answer their questions. During the entire interrogation my hands were connected to the wire all the time. They also held me on the ground and punched me. At the time many practitioners were detained at the Tiefeng Police Sub-department. Blood-curdling screams were often heard.
I was taken to the Qiqihar Detention Center on April 7, 2006. Later I learned that more than 20 other practitioners had been illegally sentenced.
I was escorted to Tailai Prison on February 8, 2007.
Tailai Prison began a new round of persecution in 2007 from January to April. The Ministry of Justice issued an order demanding a 100 percent "transformation" rate, meaning that every practitioner had to renounce Falun Gong. If any unit failed to reach the goal, then the police officers and prison guards involved would have their salaries and bonuses reduced and their promotions would also be affected. The head of the Qiqihar City 610 Office came to Tailai Prison to personally supervise the campaign.
The head of the "Intensive Training Center" was Li Haiyong, and the deputy head was Fu Guohui. They assigned several prison guards to deal with me. I was placed in solitary confinement, where I was deprived of sleep and not allowed to go to the toilet, talk to others, receive phone calls or parcels, or be visited by my family. I was not allowed to drink water and all the food sent in was confiscated. I was also subject to beatings. March in Northern China was still very cold, so they stripped off all my clothes and used the hose in the boiler room to spray cold water all over me. I was devasted by the torture.
I have been detained twice, once in Fuyu Forced Labor Camp and this time in Tailai Prison after being sentenced to 14 years of imprisonment by a Qiqihar City Court. I have now been in Tailai Prison for four years.
People and organizations involved in the persecuting Mr. Wu:
Area code: 86-452
Li Jiaming, head of the 610 Office of the Qiqihar City Political and Judicial Committee:
2791608(O), 2791613
610 Office, Tiefeng District Political and Judicial Committee of Qiqihar City: 2188661, 2188663
Tiefeng District Police Sub-department, Qiqihar City
Hu Bin, head of the sub-department
Office of the head of the Sub-department: 2126304
Deputy head of the Sub-department: 2124609, 2125039, 2126767
Criminal Police Division: 2126456
Staff in charge of the prison of Heilongjiang Provincial Police Bureau
The Visitation Office of Tailai Prison: 86-452-8225443
The Procuratorate office stationed in Tailai Prison: 86-452-55120398
Tailai Prison: 82345377, 8237256, 88229376, 82255147, 8237274, 8237943