Introducing Falun Gong in Burgas, Bulgaria (Photos)
April 16, 2011 | By a Falun Dafa practitioner in Bulgaria
(Clearwisdom.net) On March 27, 2011, Falun Gong practitioners held activities in Burgas, the fourth largest city in Bulgaria, to introduce the practice of Falun Dafa (also called Falun Gong) and expose the persecution of Falun Gong in China. Burgas suffered a great deal of damage under Communist Party rule but still has a many buildings from the 19th and early 20th centuries.
Practitioners did the exercises as a group on the beach in the morning. Several local residents came and learned the exercises. It was a warm and sunny day. The Black Sea was unusually calm and there was a gentle breeze. The elements seemed to be trying not to disturb the exercises.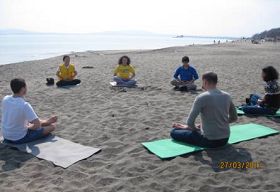 Falun Gong practitioners do the exercises on the beach in a park in Burgas.
Practitioners went to downtown Burgas around 2:00 in the afternoon. They set up banners and distributed paper lotus flowers and brochures about Falun Gong and the persecution of Falun Gong in China. Some of them demonstrated the exercises. About 150 people signed a petition calling for an end to the persecution. It was the first time that many local residents had ever heard about the persecution. They stopped by to find out more and patiently waited in line to add their signatures. They were disturbed when they heard what is going on and signed in support of the Chinese people being persecuted.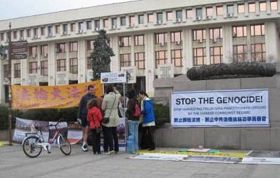 Collecting signatures in downtown Burgas.
It was the first time that practitioners had collected signatures in Burgas. Most practitioners here are new. They benefit from Falun Dafa and would like to introduce it their fellow countrymen. Their past activities mainly focused on introducing Falun Gong, but they realized the significance of exposing the persecution and held this signature collection activity.