Toronto, Canada: Practitioner Recognized on International Women's Day (Photo)
(Clearwisdom.net) On March 5, Michelle Simson, MP of the Scarborough Southwest District, held a celebration in honor of International Women's Day, during which she presented proclamations to 25 women volunteers for their contributions to the community. Practitioner Wen Wang was recognized for her 7 years of service in educating children about traditional Chinese culture.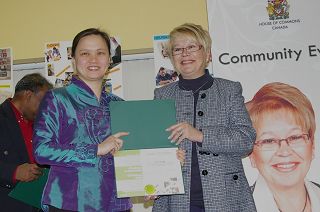 Wen Wang, a Toronto Minghui Chinese School teacher, receives a proclamation from MP Michelle Simson.
Wen Wang has been working at the Toronto Minghui School for 7 years, and the school has offered summer camps over the last 5 years for children from ages 3 to 13. Last year, there were over 70 children enrolled. The summer camp teaches traditional Chinese literature, calligraphy, crafts, and traditional Chinese dance.
Ms. Wang said students, after completing the camp, could read about 60% of the characters in Chinese story books as the school setting inspired their interest in Chinese language.
Ms. Wang started to practice Falun Gong 10 years ago. She said that practicing Falun Gong allowed her to be more considerate of others and consequently her students learned these values as well.
"I always tell them to be considerate and share," Ms. Wang said, "Falun Gong teaches 'Truthfulness-Compassion-Forbearance. Sincerity, compassion, and endurance are invaluable to us, and we achieve very good results as we use these principles to educate children. When our students participate in public activities, people often praise them for their good demeanor and asked us what classes they are taking."