Mr. Shi Hongxing from Huaiyang County, Henan Province Tortured (Photo)
March 30, 2011 | By a Clearwisdom correspondent from Henan Province, China
Name: Shi Hongxing (施红星)
Gender: Male
Age: 66
Address: Doumen Village, Huaiyang County, Henan Province
Occupation: Farmer
Date of Most Recent Arrest: October 17, 2008
Most Recent Place of Detention: Xinmi Prison in Zhengzhou (郑州新密监狱)
City: Zhengzhou
Province: Henan
Persecution Suffered: Detention, interrogation, torture, beatings, verbal insults, illegal sentencing, imprisonment.
(Clearwisdom.net) Mr. Shi Hongxing practices Falun Dafa. He is sincere and kind and follows the principle of Truthfulness-Compassion-Forbearance. He earned many favorable comments from villagers. Also, he did not fear hardship or risk and spoke with villagers about the wonders of Falun Gong, exposed the CCP's lies, and saved those who were bewildered by lies.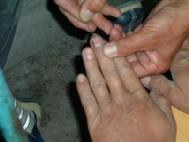 Torture demo: Inserting needles into fingertips
On October 17, 2008, a group of Huaiyang police officers arrested Mr. Shi and sent him to the Huaiyang Detention Center. They tried to force Mr. Shi to give up his belief in Falun Dafa. However, Mr. Shi firmly resisted. The guards inserted thumbtacks into his fingers and toes. The brutal torture was beyond words; however, this did not achieve what the guards wanted so they beat and verbally abused Mr. Shi.
Later the Huaiyang Court sentenced Mr. Shi Hongxing. Mr. Shi has been detained in the Xinmi Prison in Zhengzhou, Henan Province.