Falun Gong Practitioner Mr. Gu Yunpeng in Critical Condition, Being Held in Hulan Prison, Heilongjiang Province (Photos)
March 30, 2011 | By a Clearwisdom correspondent in Heilongjiang Province
Name: Gu Yunpeng (谷云鹏)
Gender: Male
Age: 33
Address: Zhaodong, Heilongjiang Province
Occupation: Former computer lab technician in the Harbin Hafei Automobile Plant's Business Management Department
Date of Most Recent Arrest: February 2009
Most Recent Place of Detention: Hulan Prison (呼兰监狱)
City: Hulan
Province: Heilongjiang
Persecution Suffered: Detention, illegal sentencing, solitary confinement, torture
(Clearwisdom.net) Mr. Gu Yunpeng from Zhaodong, Heilongjiang Province was sentenced to a five-year prison term and is currently in Hulan Prison. On February 9, 2011, Mr. Gu was placed in a solitary confinement cell and shackled to a ring fixed to the ground. He was emaciated when he was released from solitary confinement in mid-March. With no regard for his poor health, the perpetrators tortured him on a death bed.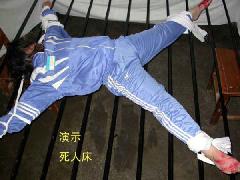 Torture Demonstration: Death Bed: a practitioner is tied to a bed in a spread-eagle position, immobilized.
Mr. Gu is currently in critical condition.
Mr. Gu sent emails to colleagues in 2003, exposing the persecution of Falun Gong. Someone reported him to the authorities, resulting in his arrest by the Pingfang District police. Pingfang District Court officials then gave him a three-year sentence, and he was fired by the Hafei Automobile Industry Group Co. Ltd.
Mr. Gu was arrested again in February 2009. At the Daowai District Detention Center, the guards tortured him, forcing him to drink water from the toilet, and injecting mustard oil into his nose and mouth while hanging him upside down. They connected his handcuffs to the shackles on his feet. On June 16, 2009, Daowai District Court officials sentenced Mr. Gu to five years of imprisonment.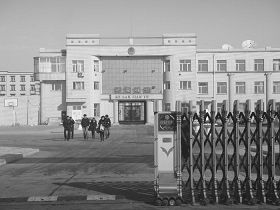 Hulan Prison in Heilongjiang Province
Parties responsible for the persecution of Mr. Gu Yunpeng:
Zhang Hongliang, division head
Xu Ruye, political head
Zhang Shumin, deputy warden: 86-451-57307198
Liu Wei, deputy warden: 86-451-57307562