Chinese Communist Party Continues to Roll Out its Three-Year Plan of Intensified Nationwide Persecution of Falun Gong (Photos)
March 22, 2011 | By Long Yan
(Clearwisdom.net) Some people in China have been tricked into thinking that the persecution of Falun Gong has stopped. Nothing, however, could be further from the truth. The persecution continues unabated, though perhaps now less in the public eye than before, as the regime's current approach is to keep the persecution largely hidden from view. The truth is, however, that a new campaign to crush Falun Gong has been quietly rolled out nationwide.
It is called the "2010-2012 Comprehensive Battle to Educate and Transform." The goal of this three-year plan is to force more and more Falun Gong practitioners to give up their faith in Falun Gong and its universal principle of Truthfulness-Compassion-Forbearance. The "comprehensive battle" involves a nationwide escalation of the persecution. The plan describes way to attack firm believers; to torture and coerce and do all things necessary to force them to publicly renounce their faith, or, to use the CCP's own deceptive terminology, to force them to "transform."
Below is a screenshot of a document taken from the Business Bureau of Nanchang County, which discusses the need to follow the CCP's requirements regarding "work to educate, transform, and reinforce things with Falun Gong members" at every level of the government.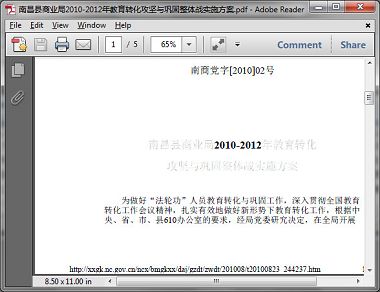 Opening Page of the Business Bureau of Nanchang County, Jiangxi Province "Three-Year Plan"
Falun Gong Practitioners Handed Lengthy Prison Terms Under the Guise of "Law and Order"
In 2010, at least 557 practitioners were sentenced to prison, with 65 in Liaoning Province, and 51 in Heilongjiang Province. The persecution was also very severe in Shandong, Sichuan and Guangdong provinces. The terms of imprisonment issued were mostly longer than three years, with 94 practitioners handed sentences ranging from seven to thirteen years. The practitioners sentenced are from all walks of life and include teachers, government officials, executives, factory workers and farmers. (See "Widespread Persecution of Falun Gong in China Continues Under the Guise of 'Law and Order.'" http://www.clearwisdom.net/html/articles/2011/2/28/123516.html)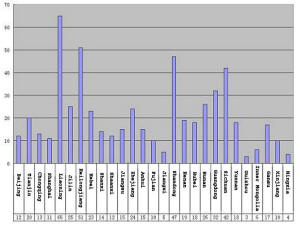 Number of Falun Gong imprisonments by province in 2010
Even senior citizens are not immune to arrest simply for practicing Falun Gong. Ms. Song Guiyun, around 70 years old, lives in Fumeng County, Fuxin City, Liaoning Province. She clarified the truth to local folks at around 3 p.m. on December 11, 2011. Officers from Fuxingdi Town Police Station arrested her to Fumeng County Police Department, detained her in Xindi Detention Center. February to March 2011, she was sentenced to three years and seven months imprisonment.
Brainwashing Centers Re-Opened to "Deal with Falun Gong"
The 610 Office held a meeting in Wuhan City, Hubei Province in late July and early August 2010 to encourage attendees to share experiences to more effectively persecute Falun Gong. CCP Political and Judiciary Committee Secretary Zhou Yongkang repeated former Chairman Jiang's 1999 decree to "crush Falun Gong in three months." After last summer's meeting, additional funds were provided to each level of the massive 610 Office bureaucracy and soon after, brainwashing centers reopened all over the country again.
Ms. Wang Lin works in Chuanying District Department Store Mall. On October 9, 2010, she was taken against her will to the Shahezi Village brainwashing center, and hidden within the Xiaoguang Nursing Home in Shahezi Village, Yuebei Town, Chuangying District, Jilin City, Jilin Province. Another practitioner, Ms. Li Fengzhi, was taken to the same brainwashing center on October 8 by a group of officials from the 610 Office, the local police and Qingdao community administrators ("Community administrators" are CCP officials present in each and every neighborhood in China who maintain "political files" on each Chinese citizen).
In Hunan Province, brainwashing centers were re-opened in Huaihua City. The City 610 Office systematically arrested many practitioners from Huitong County, Hongjiang County, Zhongfang County, Xupu County and Xinhuang County, with some taken to forced labor camps and others to brainwashing centers.
Persecution Escalates in Labor Camps and Prisons
The three year "Comprehensive Battle Plan" is being cruelly carried out in labor camps and prisons. Top officials have established "transformation" quotas, in many cases requiring lower level officials to undertake all actions necessary to "transform" 850f all Falun Gong practitioners detained. In order to do so, labor camps and prisons have resorted to torture and interrogation tactics so intense that many more practitioners who resist are killed in the process.

Screen shot from Jiangxi Province Labor Camp Bureau website on June 13, 2010. The title refers to a meeting held in the Provincial Women's Forced Labor Camp about how to implement the "Three Year Comprehensive Battle Plan" in the provincial forced labor system.
Among the persecution cases published on Clearwisdom website in 2010, some 1,680 cases occurred in labor camps and prisons across 28 provinces and municipal cities. The most number of cases occurred in Liaoning, Heilongjiang, Shandong, Jilin and Hebei provinces, where 78 practitioners died in custody. For example, Ms. Liu Shuling was tortured by electric baton shocks while tied to an "Iron Chair" torture device on July 3, 2010. (See http://www.clearwisdom.net/html/articles/2010/9/28/120301.html).
Ms. Liu Shuling and her husband Qi Zhaoxian
Three Practitioners Recently Killed in Jiamusi Prison in Less Than Two Weeks
Jiamusi City Prison in Heilongjiang Province held a meeting to discuss how to escalate the persecution and ended up establishing a new "Strict Management Ward" on February 21, 2011. Nine practitioners were confined there. A "transformation" rate, or quota, of 85% was established, which means that they were required to force eight of the nine practitioners to "accept" the brainwashing over a short period of time.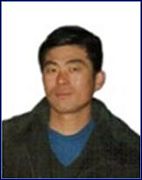 Mr. Qin Yueming, tortured to death February 26 in Jiamusi City Prison's "Strict Management Ward"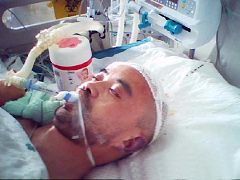 Mr. Yu Yungang, tortured to death March 8 in Jiamusi City Prison's "Strict Management Ward"
In less than two weeks, three Falun Gong practitioners were tortured to death here.
Mr. Qin Yueming was tortured to death on February 26 (http://clearwisdom.net/html/articles/2011/3/10/123724.html)
Mr. Yu Yungang was tortured to death on March 5, 2011 (http://clearwisdom.net/html/articles/2011/3/12/123761.html)
Mr. Liu Chuanjiang died in police custody early in the morning of March 8, 2011 (http://clearwisdom.net/html/articles/2011/3/15/123817.html)
Where is this going to lead? When is this going to end? Please do not be deceived by CCP propaganda to the contrary. The persecution of Falun Gong is very much alive, increasing in intensity, and with no end currently in sight.