Columbus, Ohio: Shen Yun Praised for Its Artistic Perfection (Photos)
(Clearwisdom.net) Shen Yun Performing Arts New York Company returned to the stage for two shows at the Ohio Theatre in Columbus, Ohio, on March 2-3, 2011, as part of its highly successful 2011 World Tour.
Columbus opera director: Shen Yun: "Very wonderful!"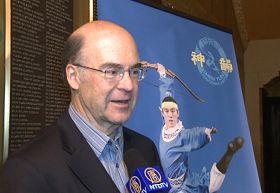 Executive Director of Opera Columbus Press Southworth III, at Shen Yun Performing Arts in Columbus.
Press Southworth III, Executive Director of Opera Columbus, thought that Shen Yun was a "very, very, wonderful production!"
According to the Opera Columbus' website, its mission aims "to enrich Central Ohio, educating, enlightening, and entertaining people of all ages and backgrounds through the live music theatre experience by employing a diverse and far-flung supply of creative talent, ideas, and artistic energies."
Mr. Southworth thought that Shen Yun did just that.
"It was very beautiful. My wife was here just a moment ago. It's hard to excite her about things in the theater, and she was very excited about what she saw tonight."
Having a background in the arts, Mr. Southworth said, "This will be something that I'll regularly try to come see now, now that I've seen this. I was particularly interested in seeing the stories that were being told and getting a better understanding of the Chinese people, and really seeing how a lot of our beliefs are very, very similar."
Shen Yun presents colorful and exhilarating performances of classical Chinese dance through short story-based dance pieces, which really thrilled Mr. Southworth.
"This is very colorful! Very entertaining, very bright colors. I liked the way they had so many different aspects being presented in one evening, and the mixing in of the singers along with the dance and the storytelling that takes place throughout the evening. [How the performances] combine storytelling and dancing and other musical performances. It's very nicely done!"
Regarding the dance piece, Plum Blossoms, which portrays the delicate flower's resilience amidst adversity—blooming even in snow—he said, "I liked the one with the blossoms ... the color and the choreography there was just fabulous."
Regarding the Shen Yun Orchestra, which produces its own original compositions blending Eastern and Western instruments, Mr. Southworth said, "The music was very good. The music itself can be enjoyed by anyone."
In discussing the performance, The Opening of Heaven's Gates, in which the traditionally held Chinese belief of good being rewarded and evil being punished, he said, "The whole belief of those who do good will be rewarded ultimately—that whole concept is very, very true to many of the other beliefs we have even in the Western culture. It was interesting to see how much of that is really similar."
Even with his background and experience in theater, Mr. Southworth said he was amazed by the hi-tech backdrops.
"I know how difficult it is to put something on like this, and I thought the choreography was great, the bringing together the dance along with the video from behind, and telling the story was very, very fascinating. I thought they did a great job.
"The whole use of the video as the background to bring the various scenes, because we all know, those of us in the business, how difficult it is to make scene changes. They were able to do it very quickly just by having the narrators out there to introduce the next scene, and the story behind it, which I also thought was very, very good."
After watching the promotions for Shen Yun, he said that he really wanted to see it
"We were promoting it [Shen Yun] during our opera, and I saw some of the highlights from the show and it really caught my interest, and I thought, 'Well, this seems like a very exciting thing to come see.'"
Mr. Southworth noticed that he wasn't the only one in the audience who was enjoying the show.
"The people around me seemed to very much enjoy it. And when you talk about colors, I mean this [Shen Yun] is very bright, very colorful."
Mr. Southworth commented favorably on the diversity of the audience, which he said was unusual for the Ohio Theatre.
"All the cultures were represented in the audience today. It was very much a mixed audience."
He concluded by saying that he will share his experience of the show with others.
"I really found it very rewarding to be here this evening."
Retired university director: "It was a wonderful performance!"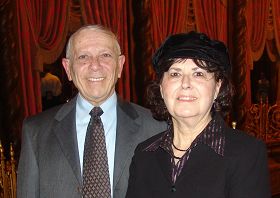 Mr. Viner and his wife joined the enthusiastic audience that greeted the return of Shen Yun Performing Arts to Columbus.
Also in the audience was Mr. Viner, retired director of business management at Ohio State University, who was accompanied by his wife, Barbara.
"The dancing is superb, and the colors are fantastic," exclaimed Mr. Viner. "It was a wonderful performance!"
"The technological backgrounds are really stupendous. They're beautiful; very, very imaginative," he said, adding, "And the background! The visual effects that integrate with what's going on, on stage. It's all very integrated, so it was beautiful."
Mr. Viner said that he felt the universality of music threading itself from one performance to the next, and how it connects to ever other culture.
"There's a commonality throughout humanity that—it doesn't matter what culture it's coming from— music sort of transcends everything. It all goes together."
Mr. Viner thought that the emcees' explanation of each performance allowed the audience to more thoroughly enjoy the show.
"And, then you have the interpreters that come out and explain what each of the pieces is about, so that helps set the mode as well. So, it's not really difficult to integrate yourself into what's going on."
Mrs. Viner agreed, saying that Shen Yun was beyond her expectations.
"I think it's beautiful. I'm really fascinated. He talked me into coming and, it's just beautiful. It's beautiful, beautiful. The scenery, it just feels like you're right there. I'm very happy that he told me to come."
Mr. Viner concluded by saying that he would definitely recommend Shen Yun to his friends. "It's well worth your time to go see it!"
Company vice-president: "Dancers really were expressing what was in their heart"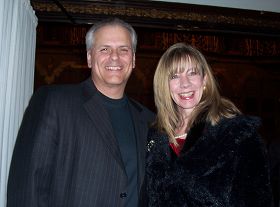 Keith Wheeler with Ms. Lea Wagooner at Shen Yun Performing Arts at the Ohio Theatre.
Keith Wheeler, divisional vice-president of nutritional research for a global health care company, thought Shen Yun was "amazing!" adding, "It was wonderful. I loved it!"
His friend, Ms. Lea Wagooner, agreed, saying, "It was fantastic! I enjoyed it! It was colorful, [they are] very talented."
Commenting on the dance sets which addressed the ongoing persecution of Falun Gong practitioners in contemporary China, Ms. Wagooner said, "I think it's important that people understand that all faiths in China are repressed right now and I think that's an important message to get out to the world."
"I agree," said Mr. Wheeler, adding that he was saddened that Shen Yun cannot perform in China, but was very pleased to be able to see it in the U.S.
"It's good to have the freedom that they had to express up there. I could tell that the dancers really were expressing what was in their heart."
Ms. Wagooner also appreciated that various ethnic groups and cultures represented in the show.
"I didn't realize there were so many different ethnicities within China. [The show] educated me. I loved that part," she said.
Mr. Wheeler said, "Thousands of years of rich history and all of it was demonstrated here today. That was really cool!"
Mr. Wheeler said he would absolutely recommend Shen Yun to his friends.
"I'd tell them it's very entertaining. It teaches a rich history of a wonderful country that goes back thousands of years. They have to come and see it. Absolutely!" he concluded.
Writer: Shen Yun is "just breathtaking!"
Aaineb Alani attended the Thursday evening performance by Shen Yun Performing Arts New York Company, in Columbus.
Aaineb Alani, an author and instructional designer, described Shen Yun as "awesome!"
Ms. Alani was thoroughly impressed with Chinese dance as presented by Shen Yun.
"Traditional Chinese dance ... It was just awesome! The synchronization, the music, the animation is just out of this world."
The daughter of diplomats, Ms. Alani appreciated seeing classical Chinese culture as presented by Shen Yun. "I am of Iraqi origin, I spent my early childhood in China. So this is just awesome."
Clearly moved by the plight of the Falun Gong in China, she said, "I sincerely appreciate that because we as Iraqis were under tyrannical rule for the longest time.
"I was most impressed with the opening scene and the divine bodies coming from out of the sky and onto earth. I think I almost saw the imperial palace in the background and it was just beautiful-breathtaking!"
Ms. Alani thought Shen Yun's message was clear: "There are a lot of messages, a lot of moral values, right versus wrong, the messages that were written by the teacher of tolerance, compassion and mercy. It is all embedded in there. I think that truth is the main message. I loved it!"
Web designer: "I don't think words can describe the show"

Web designer Rodd Closson saw Shen Yun Performing Arts at the Ohio Theatre Wednesday, March 2.
Rodd Closson, a professional web designer, thought Shen Yun was the best thing he'd seen.
"I don't think words can describe the show. I mean, it's really an injustice. You have to come see it … I don't think I've seen quite an amazing variety of colors in any show whatsoever. It was the best," he said.
He continued, "I think it covered a really wide variety of ways to convey their stories. From comedy, to dramatic performance, to singing, the orchestra … I think that's very unique and a very great presentation.
"I think it gave me background in a little more of the history of China, which is really awesome. It was very educational. At the same time, it conveyed a strong message of how [Chinese] culture is over there right now—a feeling of suppression, and a lack of certain freedoms."
Referring to the dance stories portraying the ongoing persecution of Falun Dafa, Mr. Closson said: "I thought maybe it had gone away, maybe just saturated by the media, but this show really brought it back to light, and I see that the problem still goes on
"I think it's really sad that they can't express themselves over there, and the only way for this show to exist is outside their own country. But, I think it's really nice to spread the word and have other people understand, have a look into their lives, from their background, their culture, their country.
"And, just the fact that they can't express it over there, where it comes from, seems like they have such a long, rich history, that for that sudden change in the past hundred years or less, is quite sad. I wish that they could have those freedoms, and I feel for them when they're doing that, performing it on stage."
"I'll definitely be back here next year—looking forward to every minute of it," Mr. Closson concluded.