Shen Yun Performances Inspire and Enlighten Audiences in Hartford, Connecticut
(Clearwisdom.net) Shen Yun uses classical Chinese dance to bring to life the essence of China's 5,000 years of culture. A comprehensive system, classical Chinese dance includes everything from the most delicate and subtle hand movements to complex moves, flips, and turns. Several performances included in the program depict the brutal repression still going on in Communist China.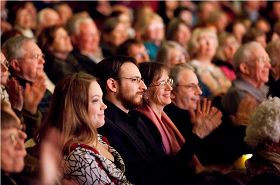 Shen Yun Performing Arts received a standing ovation and two curtain calls at The Bushnell Theater in Hartford, on Feb. 10
"Not everyone in China thinks the same," -author Zita Christian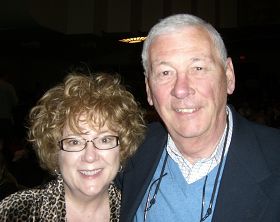 Author Zita Christian and her husband Richard at the February 9th performance
Zita Christian has a connection with Chinese culture that runs so deep, she is sure she must have been Chinese in another life. For 30 years she would sign cards to her daughter with x's and o's, then add a trailing line that said, "all the way from China." It's these things that personify Ms. Christian's fascination with the culture.

"A beautiful and gentle way to learn about Chinese culture," she said after the show at The Bushnell in Hartford, Wednesday night, Feb. 9.

Ms. Christian has written several novels and non-fiction works; she also works at the Bushnell Center for the Performing Arts.

After watching Shen Yun, she said she admired the fact that the show does not shy away from some of the "thorns" in history. "I appreciate that, because there is no country whose history is all roses."

"I find it encouraging to see that. It also gives me a different glimpse; it says to me that not everyone in China feels the same—which is obvious when you think about it, but sometimes we get an image of a country just by what's in the press and that is not really true. It is more complex."
The technology with the animated backdrop creates a fusion with the performers on stage, who sometimes seemingly float off the stage into the backdrop, and then come back on stage. "It's very clever, artistic, and I see some younger people in the audience, and I think they must be enjoying this too," Ms. Christian said.

Her husband, Richard, a retired financial director, appreciated the talent of the performers. "I appreciate the arts and I see different types of productions, and this is a different type than I have seen and I really enjoyed it," he said.
"[Shen Yun] Opens your Mind"-A director at Comcast
Alexander Banos, a director at Comcast, shed insightful light on the performance at The Bushnell on Thursday, Feb. 10. He said, "There's also a message of, for me, all the things that are happening in our society. It's getting people to open their minds a little bit and in this case, some of the dancers, I think they would love to perform this in China, and we all know that's not possible."

He elaborated, "It's inspirational. And they should be proud of what they're doing, and helping people understand a little bit more of other cultures. I think it was the ability to show the message inside the dance, inside of all the colors, and holding to the traditional Chinese dance. I think it opens your mind to really look at it from many different angles."

Shen Yun offers original and colorful performances of classical Chinese dance and music. The performance illuminates traditional Chinese culture as it once was: a compilation of grace, wisdom, and the virtues drawn from the five millennia of Chinese civilization.
Mr. Banos remarked on the lyrics sung by the award-winning solo vocalists. "They're little poems: very simple, straight, and symbolic. I think a lot of it has to do with—in general, as a society, we focus on the wrong things, and we need to focus more about our inner self and making sure that we're grounded in the most important principles—which is love, family, and most important, values. And in a world where things are very complicated, they do a good job of keeping it simple and communicate a larger message, in strong terms."

Mr. Banos applauded Shen Yun's efforts, saying, "I think the work to really show the importance of the arts and the history of China, and the importance of opening the minds of everybody—what a wonderful history! Frankly, to allow it to happen here and allow how many people to see something like this, I just think it's a great production, and you can see the hard work of individuals, and their preparation."

Mr. Banos' wife, Emily Banos, a police officer, said of the show: "It's simply beautiful. I knew it would be. It's nice that they have the narrators in between to tell you about the story you're going to see so you can understand it better. It's very nice, I love it and I'm excited that I could come."
Business owner impressed by many aspects of Shen Yun
Mr. George Estes was impressed when wild birds and horsemen on the Mongolian grasslands filled the stage. Fluid arm movements resembled eagles in flight, while energetic steps expressed a dauntless grace. A former insurance company owner, Mr. Estes said the Shen Yun Performing Arts New York Company show on Wednesday night, Feb. 9, at The Bushnell, was great.
Mr. George Estes, a former insurance company owner
"It's wonderful," he said. "The dance with the Mongolian group was fantastic."

The women dancers, Mr. Estes said, were so beautiful and graceful. "And the men are much more active, obviously."

The culture and the values of traditional China impressed Mr. Estes. "Oh, I love that part. It's terrific. It was interesting that they had the story of the school teacher in there. I enjoyed it, I think it was a reflection of what's going on in modern China and it raises awareness of what's happening."

He was referring to a scene in today's China where a schoolteacher teaches her students the values "truth, compassion, and tolerance," writing them on the blackboard. The communist police burst in and take her away. The students try to protect their beloved teacher, but when they cannot, they witness a miraculous scene.

"So far I think it's terrific," Mr. Estes said. "I think the other thing that is amazing for Americans to see is the virtuoso tenor performances and the musical performances, to hear voices that are so beautifully trained."
"They expressed their feelings and their search for truth"-Costume Designer Betty Spiro
Costume Designer Betsy Spiro the night of the show
Costume designer Betsy Spiro enjoyed the costumes in Shen Yun Performing Arts. "I thought the women's costumes were beautiful, the way they did the draping and all."

The yellows and golds of Ladies of the Tang Palace particularly impressed her. With full skirts and wide sleeves, the ladies in this dance revive the grandeur of a dynasty that brought China 300 years of prosperity.

Ms. Spiro commented on the songs by the tenor and contralto. "I thought that it was interesting the way they expressed their feelings and their search for truth."

"So far it's interesting," she said during the intermission. "I think that they do a creative little transition between the theater part and the flying part, going into the movie screen. It was cute. It was definitely different than anything I've seen before."

The backdrop is a digital animation, featuring scenes from across China throughout history. The images move on the backdrop, with flowing water, and characters transition freely from the digital screen to the live stage.

Ms. Spiro and her husband received their tickets as a Christmas gift from her son.