New York City: Falun Gong Practitioners Participate in Flushing Chinese New Year Parade (Photos)
(Clearwisdom.net) On February 12, New York Falun Gong practitioners participated in the Flushing Chinese New Year parade. Many other local Asian groups also participated in this parade. Along Main Street, spectators were crowded on the sidewalks to watch this annual celebration.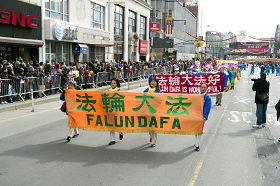 Falun Gong practitioners in Flushing Chinese New Year Parade
The Falun Gong practitioners' procession was led by their Divine Land Marching Band, followed by several Falun Dafa banners, a Chinese New Year couplet, and three vertical banners with the Chinese characters for "Truthfulness, Compassion, Forbearance."
After these banners, several western practitioners carried colorful traditional lanterns, adding a holiday atmosphere to the parade. Behind the lanterns was a huge dragon—a children's favorite. At the end of the practitioners' procession was a waist drum troupe.
Flushing resident Ms. Li comes to the parade every year with her children. She said that she was most impressed by the procession of Falun Gong practitioners. "They were awesome, and their procession covered the whole street block." Her two children loved the practitioners' dragon.
Mr. Lin said that he tried to bring his child to the parade every year to learn about Chinese traditions. His four-year-old daughter Vinna said that her favorite was the dragon.
Queens resident Mayma said that she loved the multicultural components of the parade, "The Falun Dafa group was the best. I know they are being persecuted in China, and I am happy for them to be able to make public appearances here."
Ms. Wang said that she watches the Falun Gong parade every year and loves it. "What they are telling us are the facts. We believe in them."
Mr. Yang recently came to the US for a family visit, and he said, "The Chinese New Year celebration here is very colorful and much better than what we have in Mainland China. Today I saw so many Chinese traditions, the dragon dance, a lion dance, waist drums... This suggests that America respects our Chinese traditions... However, among all the Chinese groups, only the Falun Gong group was neatly organized and well-prepared."