"Truthfulness-Compassion-Forbearance" Art Exhibit Visits University of San Diego (Photos)
(Clearwisdom.net) On January 25, hosted by the University of San Diego Falun Dafa Club, a 10-day "Truthfulness-Compassion-Forbearance" art exhibit opened to the public in the university's exhibit hall. The exhibit has drawn many students as well as faculty and staff members. Quite a few had tears in their eyes as they admired the artworks. Some also said that they would bring their professors, friends, and relatives to the show.

A student writes a comment about the exhibit.
Among the many comments collected in the exhibition book were: "Powerful," "Shocked," "Excellent exhibit," "Remember the stories that have happened in our world," and "Create a more compassionate world."
After seeing the exhibit for the first time, USD student Kevin came back almost every day with different classmates and friends. University cafeteria manager Mariana brought dozens of relatives and friends to the exhibit. She said that some of her friends and relatives cried and were shocked by the truth revealed by the artworks.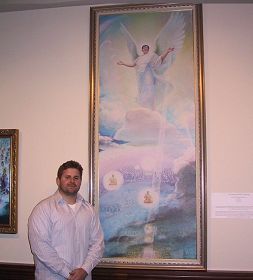 Bill posed in front of his favorite painting.
After viewing the exhibit, university dormitory manager Bill sent out his personal review of the exhibit to all student groups and recommended that they see it. Bill said that his favorite painting was "Holy Falun King," which gave him answers to questions that had puzzled him for long time: Life is from a higher level, and there is a return channel to Home.

Julie at the exhibit
Julie is on the university staff and is preparing to apply as an art major. She was deeply touched by the painting "Tragedy in China." She said that the girl in the painting showed extraordinary peace and perseverance despite the tremendous suffering inflicted upon her.

Visiting professor Richard Clark and his wife
Visiting professor Richard Clark and his wife loved the painting "Buddha." Richard said, "It gave a feeling of pleasure and happiness. I was touched."
The exhibit has received several group tour reservations from student clubs.