Ottawa: Shen Yun Touches the Heart and Soul of Audience Members (Photos)
(Clearwisdom.net) Shen Yun Performing Arts kicked off the Canadian leg of its 2011/2012 touring season at The National Arts Centre in Ottawa, Canada, on December 19, 2011, the first of a five-show run.
Member of Parliament impressed by Shen Yun
Among the many distinguished guests at the show, was Conservative Member of Parliament Garry Breitkreuz.
"It's unbelievable, it's fantastic," he exclaimed. "I don't think I've ever seen anything that even came close to what I'm witnessing here this evening. It's just very, very amazing."
Mr. Breitkreuz continued: "The costuming, the choreography, everything that's been put together here is really very well done. I don't think there's another show in the world that I know of that compares to this."
While he had some familiarity with the ancient Chinese culture, a lot of what was presented in the performance was new to him.
"To me, it's an eye-opener. It's very, very good to see. I think more Canadians need to understand this culture."
Mr. Breitkreuz said that classical Chinese dancers dance from the the heart when they perform and that "that approach comes out very clear here."
"I think that the underlying message that I'm getting is that we need to allow for that religious freedom, that spiritual development within people, and I think that will enrich our society in just a very, very helpful way."
Shen Yun's orchestra 'fantastic,' says music director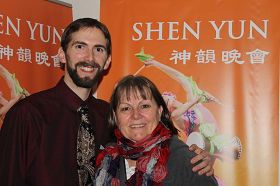 Music director Patrick Roy and his mother Lena Roy have come to Shen Yun Performing Arts two years in a row and enthused about the music and dancing.
Also in the audience was Patrick Roy, accompanied by his mother, Lena Roy.
This was Mr. Roy's second time seeing Shen Yun at The National Arts Centre. The music director left with warm praise for the classical Chinese dance and music that was presented.
"The music is fantastic … Their lyricism was fantastic. I loved it," he said.
A highlight of the show for Ms. Roy, was Shen Yun's animated backdrops that interact with the dancers and lighting and synchronize with the music played by the orchestra.
Ms. Roy commented about Shen Yun's unique orchestra, saying, "I enjoyed it very much and I liked the Eastern and the Western music combined together,"
She added that she deeply appreciated how well the music and dancers coordinated together.
"I thought it was beautiful. The costumes were fantastic this year. The dancers perform excellently. They're always in sync. They're always together, and I've never seen a show where the dancers are so in tune with each other. They're so fantastic, I have to say."
Mr. Roy particularly enjoyed two of the large-scale dances by female performers, "Sleeves of Silk" and "Flower Fairies," saying, "I almost cried," he said. "It was just beautiful. … It was excellent."
Mr. Roy concluded, "It's great, excellent timing for around Christmas as with some of the themes in there like spirit and love."
Shen Yun 'The best I've ever seen,' says former MP and acclaimed rights defender
Former MP, David Kilgour, has been coming to see Shen Yun for the past six years, and remembers the first year it came to Ottawa for a single show.
"The place was jammed and they had to have more shows. It's catching on."
"It's becoming a major part of the cultural scene in Ottawa," he said.
Mr. Kilgour has raved about the performance each year he has come, this time proclaiming he had no idea how it could get any better, but he expected it would.
"The dancing was over the top, it was so good and the costumes were the best I've ever seen. The singing was beautiful."
Mr. Kilgour said the show was phenomenal and moved him deeply.
"Spiritually it hits you … It touches your senses. It touches your spirit. It touches your soul. It touches your heart."
"In short, it's the best show that I've seen and I can hardly wait until next year."
He especially praised Shen Yun's female dancers, describing their performance as "phenomenal."
"They're so precise. Nobody's out of step. I think it's the best I've ever seen," adding that their costumes were "out of this world."
He said the music was also phenomenal, but the dancing was so mesmerizing that at times he almost didn't hear the music.
Many tales, some based in the present, revolve around the contest between good and evil, a theme Kilgour said he particularly enjoyed.
"The good people win and the bad people lose. I love the way the bad people are presented with their black [clothes] and their sticks. It's really well done."
Kilgour said that through Shen Yun, people "get a real sense of the real culture [of China] that we never see when we go to China."
"You get a whole different dimension of China. That's what's unique about it. You see China as it could be, as it should be, as I think it will be. Certainly not as it is now."
Kilgour avidly recommended Shen Yun to others.
"Go and see it. Your family should see it, your parents, your children. It's a show for everybody. I was with my two daughters and my wife Laura and I think we all enjoyed it immensely … It's a show for everybody."
"The people who designed it had that in mind."
'The dancing is wonderful to watch,' says MPP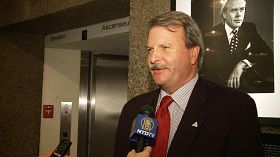 Jack MacLaren MPP attended Shen Yun for the first time, in Ottawa, on Dec. 20.
Jack MacLaren, a Progressive Conservative Member of Provincial Parliament, enjoyed his first experience watching Shen Yun Performing Arts.
"I'm pretty impressed … It's very new to me and I'm enjoying it thoroughly," Mr. MacLaren said during intermission.
Mr. MacLaren said he enjoyed traditional Chinese dance.
"I think it's wonderful. The costumes are colorful, beautiful. The dancing is wonderful to watch, a little bit of culture and history thrown in there. And the story of the Falun Gong. So I'm impressed. I'm looking forward to the second half of the show."
He added that he found it "fascinating" how the music by the Shen Yun Orchestra, which blends Western and Chinese instruments, interacted with the dance.
"The choreography was great and the music, and of course the reflection of Chinese history. I found that really interesting."
At the end of the show, Mr. MacLaren said the performance gave him "a bit of a sense of 5,000 years of Chinese history and the culture that's been stymied by the communist government and how [Shen Yun is] trying to revive that."
"It was a great show."
City councillor sees universal theme of 'goodness and evil' in Shen Yun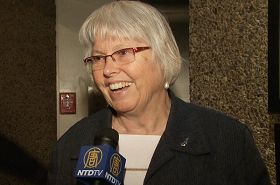 Ottawa city councilor Marianne Wilkinson
Ottawa city councilor, Marianne Wilkinson, said the theme of the Shen Yun show was "the whole idea of goodness and evil," which she described as "interesting."
"[It] is something, a story, that is worldwide," she said.
"Many different cultures have come from that different stream and I think it's really interesting to see it coming from the Asian form."
Ms. Wilkinson added, "[Shen Yun] shows you a lot of different types of dancing and movements and things that we don't see normally in North America."
"It's very nice. It's unique," she said.
Aerospace researcher floored by Shen Yun: 'It really moved me'
Aerospace scientist, Jerry Syms, said he "could feel the energy of the audience and the energy of the dancers."
"This was an amazing performance."
"You could see them smiling and you could see that they were putting everything into it. That was very nice to see—it was nice to be a part of this experience."
Mr. Syms felt that the performance radiated with a positive spiritual element. As legend has it, traditional Chinese culture was thought to be a semi-divine culture, brought to earth by the gods.
"There was a lot of vibrancy in the dancing and the music. It really moved me inside and the spiritual message in the songs was really touching … very touching lyrics," he said.
But it was the diversity in the dance, music, and animated, moving backdrops that combined to create a winning formula for the scientist.
"All the various styles, the various ways of combining everything together was just amazing. And the use of the [moving backdrop] to introduce all the dancers—was amazing to see, interesting … It was very good."
Mr. Syms was also inspired by the colors in the show, which he says were vibrant yet harmonious.
"It had all the colors of the rainbow. There were very nice colors that went together, there was a lot of vibrancy," he said.
Mr. Syms said he had been waiting to see the show for several years now, and was thrilled to finally get the chance to attend.
"It was a gift for myself and for my wife. We came and it was excellent."
President of Groupe Lépine gets insight from Shen Yun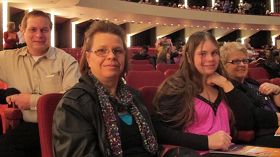 Francis Lépine, president and owner of Groupe Lépine, and his family
Francis Lépine, president and owner of Groupe Lépine, one of Canada's top ten residential development companies, said the show helped him better understand his Chinese neighbors.
"It's good. It's different. It's like learning a little bit more about the Chinese ways," he said.
Mr. Lépine said the show helped him understand Chinese culture and would help him better understand Chinese people living in Canada.
"We're brought up a bit differently and we all have different cultures. Whether it's values or whatever you want to call it, it makes a little bit better sense to understand where they come from, where they're coming from, and how they grew up," he said.
He said he appreciated how the show captured cultural traditions from different areas of China.
"It's not a small place. It's fairly big. We tend to think that it's all the same but no, it is a very large region and there's … variations of cultures from the different regions," he said.
"Under the communist regime, I understand there's no religion. I don't think anybody believes in [the Chinese] government," he said. "There's got to be something more than that [to believe in]."
Mr. Lépine noted that the traditional spirituality of China shared similarities with Western religions he was familiar with, key beliefs like belief in gods, heaven, and the importance of being honest and a good person in life.
Shen Yun 'enlightening' with a 'message of hope'
Business owner Gino Milito and journalism professor Karim H. Karim both raved about the Shen Yun show.
"It's terrific. It's very entertaining. The colorful costumes, the background video, it's enlightening. The performance itself is absolutely amazing," said Mr. Milito.
He was in attendance with his whole family after purchasing 10 tickets to the show.
"You look at the Orient, you don't really know what you're supposed to know but when you see a performance like [Shen Yun], you realize how entertaining it is, and the performance itself is absolutely outstanding," said Mr. Milito.
"I think the world at large should know a lot more about what's going on out there [in the Orient]," said Mr. Milito.
Professor Karim of Carleton University's School of Journalism and Communication, commented on the baritone soloist's performance, saying, "He talked about the promises made at the beginning of the creation. And I heard that before in my own tradition as well."
In terms of the modern day situation in China, the Shen Yun performance touched on the persecution of practitioners of Falun Gong (also known as Falun Dafa) as part of the broad theme of good triumphing over evil.
"I think it's a message of hope but I could also see the struggle with the Falun Dafa, and what they're going through. It's interesting that they try to reach out to bigger audiences like this through music and dance, and through their way of thinking," said Mr. Karim.
Chinese immigrants: "I saw true Chinese culture"
New U.S. immigrants, Mr. Sun and his wife, attended the Shen Yun performance for the second year.
Mr. Sun said, "I saw true Chinese culture, while performances inside China are nothing but Party culture."
He said that it is pity that traditional culture and belief in deities and Buddhas in mainland China are labeled as "feudal superstitions."
To him, Shen Yun portrays an eternal theme: persevering in the pursuit of justice and brightness. He said, "Justice will prevail over evil," adding, The show let us see hope and light."