Ms. Cong Peilan and Ms. Sun Xiaofang Detained
Name: Cong Peilan (从培兰)
Gender: Female
Age: Unknown
Address: Xilutian, Yuanbaoshan District, Chifeng, Inner Mongolia
Date of Most Recent Arrest: August 21, 2011
Most Recent Place of Detention: Yuanbaoshan Detention Center (元宝山看守所)
City: Chifeng
Province: Inner Mongolia
Persecution Suffered: Forced labor, brainwashing, beatings, detention
Name: Sun Xiaofang (孙小芳)
Gender: Female
Age: Unknown
Address: Chifeng, Inner Mongolia
Date of Most Recent Arrest: November 20, 2005
Most Recent Place of Detention: Chifeng Detention Center (赤峰市看守所)
City: Chifeng
Province: Inner Mongolia
Persecution Suffered: Beatings, torture, detention
(Clearwisdom.net)
Persecution Suffered by Ms. Cong Peilan
The head of the Domestic Security Division in Yuanbaoshan Police Department Liu Weimin and others arrested more than twenty Falun Gong practitioners from the Pingzhuang area on February 2, 2001. They included Ms. Wang Xiuyun, Ms. Gao Shuqin, Ms. Shi Yurong and Ms. Cong Peilan. The practitioners were taken to the meeting room at the police department, where Ms. Cong talked to the police about Falun Gong and exposed the staged self immolation on Tiananmen Square. The deputy chief of Yuanbaoshan Police Department Yang Zhenyuan, the head of Xilutian Police Station Yang Xiaohui, Liang Yujin and others were in the room at the time. Liu Weimin dragged Ms. Cong out into the hallway, and then beat and swore at her. Ms. Cong was detained at Yuanbaoshan Detention Center for several months, before being transferred to Hohhot Women's Forced Labor Camp. She was later released.
Ms. Cong was arrested again on August 21, 2011, and was detained at Yuanbaoshan Detention Center. She went on a hunger strike to protest her arrest. She is in critical condition, and she has been taken to the hospital twice for urgent treatment.
Ms. Song Xiaofang Beaten and Suffers Concussion
Officers from the Songshan District, Mujiaying Town Police Station illegally arrested Ms. Sun Xiaofang on November 20, 2005. Three male officers interrogated her. One of them was extremely vicious, and she was soaked in sweat from the brutal beatings. The police ransacked Ms. Sun's home, but failed to find what they were looking for. So they tortured her and tried to get her to make a false confession. Ms. Sun did not yield, and was taken to Chifeng Detention Center the next day.
Practitioners at Chifeng Detention Center were forced to process beans, and they were assigned a work quota. A practitioner in her 70s asked one of the guards if she would also be given a work quota since she was too old to work. A guard with the surname Jiang said that others of such an age did not need to do it, but those who practice Falun Gong are an exception. Processing beans sometimes lasted until 2 a.m. In the freezing winter, people's legs were very cold and numb, and their eyes were dry and blurry. After only a few hours of rest, they were forced to resume work again.
Some practitioners got up to do the Falun Gong exercises one night. When the guards saw it on a monitor, one of them banged on the cell window and yelled that no Falun Gong exercises were allowed. The next morning, the practitioners were summoned outside. The guards swore at them, then handcuffed them to the heater pipes high up on the wall, with their feet barely touching the ground. Later a female guard Wang Lizhi came and took the practitioners to another place. Two male guards, one with the surname Miao, the other Liu. took turns to shock the practitioners with electric batons. One of the practitioners clenched her teeth from the pain and accidentally bit her tongue, leaving a deep cut. It took a long time for her wound to heal.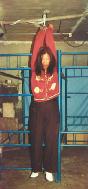 Torture re-enactment: handcuffed and hung up
After being severely tortured in the detention center, Ms. Sun was taken to a hospital, where she was found to have concussion. She was released about a week later, but was left bed-ridden at home. Both her legs were swollen and stiff. It took a month or so for her to recover. Yet the police never stopped harassing her. Later, Ms. Sun had to move away from her home to avoid further persecution. Her whereabouts are currently unknown.