Horticulturalist Held in Forced Labor Camp Facing Trial
November 29, 2011 | By a Clearwisdom correspondent from Hebei Province, China
(Clearwisdom.net) On the evening of November 9, 2011, Mr. Wang Weidong, who was being held in the Handan Forced Labor Camp, was transferred to the Tangshan City No. 2 Detention Center by officers from the Domestic Security Division of Tangshan Police Department. The police arrested him on a trumped-up charge and attempted to send him to prison.
Mr. Wang Weidong is a horticulturalist at the No. 6 Ward of Jidong Prison. His wife, Ms. Li Wen'e, works in the internal medicine department at Nanyan Hospital as an attending physician. Ten days after their son was born, he almost died. Even though he survived, his early development was severely affected. Not until they started practicing Falun Gong did the family regain happiness. Their son's health greatly improved. The couple respected their parents and took good care of their son. They worked hard and were nice to each other. Their family life was harmonious.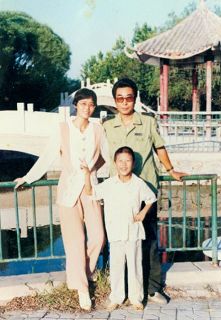 Mr. Wang Weidong's family
The Chinese Communist Party started to suppress Falun Gong in 1999. Mr. Wang and Ms. Li were detained because of their belief. They were later monitored for an extended period of time. More than 100,000 yuan was taken from their salaries.
On the morning of May 25, 2011, officers from the Domestic Security Division of the Tangshan Police Department arrested Mr. Wang and Ms. Li at their places of work. They were taken to the Nanbao Development District Police Sub-bureau. The police confiscated their keys and cellphones, pried open the office cabinets, and took their ID cards and cash. The officers later broke into and ransacked their home. They took almost all of the valuable items, including jewelry, bankbooks, bank cards, cameras, computers, and a printer. The officers also confiscated their car that was parked outside. Their son, who cannot care for himself, was terribly frightened.
Damaged cabinets and the scene after the ransacking
Ms. Li hands were handcuffed behind her back for eight hours. She was interrogated and later sent back to Nanyan Hospital that night. She sustained injuries from the handcuffing and had to stay at home for a week before going back to work. A month later, she received notification that she would be sentenced to one year of forced labor, and that her term would be served outside of the forced labor camp. Her term started on June 3, 2011, which was also the date she went back to work. The Nanyan Hospital administration relieved her of her regular duties so that she would have time to evaluate herself and discover her errors. During that time, she could not write any prescriptions. The hospital stopped her wages, and she received only basic living expenses once every quarter. All other bonuses and compensations were discontinued. Even though Ms. Li went to work every day, it was considered unbillable work.
Yuan Guoqing and officers from the Nanbao Developing District Police Sub-bureau often called her at work or at home, and attempted to trump up charges against the couple. Ms. Li and her son were harmed physically and mentally.
Mr. Wang was taken to the Tangshan Detention Center on the afternoon of his arrest. Fifteen days later, he was secretly transferred to Kaiping Forced Labor Camp. During this time, Ms. Li and her son waited at the gate of the detention center for a chance to see him. No one notified them of the transfer. They later went to Kaiping Forced Labor Camp twice to see him but were turned away both times. After acquiring information from many sources, they finally learned that Mr. Wang had again been transferred, this time to Handan Forced Labor Camp on July 5, 2011. In September, mother and son took a train and traveled more than 310 miles to Handan Forced Labor Camp. Their request to visit Mr. Wang was again rejected. They were able to stay there for only thirty minutes before they had to catch the train back home.
In the Handan Forced Labor Camp, chief Gao Fei, who the 610 Office praised and awarded for "transforming" practitioners, tricked Mr. Wang into writing the four statements (similar to the three statements) to renounce Falun Gong. Mr. Wang is now in the Tangshan City No. 2 Detention Center on a trumped-up charge and is facing trial.
People and work units involved in the persecution:
Gao Xueguo, director of Nanyan Police Station: +86-13832982422 (Cell), +86-315-8517160 (Home)
Nanbao Development District Police Sub-bureau: +86-315-8519619, +86-315-8519110
Zheng Liyong, political commissar of the Nanbao Developing District Police Sub-bureau: +86-315-8519669, +86-315-2232827
Zhang Ji'an, president of Nanyan Hospital: +86-15512025666 (Cell)