Engineer and His Daughter Arrested Again After His Wife Was Brutally Tortured to Death
November 18, 2011 | By a Clearwisdom correspondent from Heilongjiang Province
(Clearwisdom.net) Mr. Zhang Qingshen, 56, is an engineer with the Heilongjiang Province Water and Electricity Company. His family, including his wife Sun Yuhua and daughter Zhang Hui have been subjected to the persecution because they remain steadfast in their spiritual belief, Falun Gong. His wife was brutally tortured to death. Recently he and his daughter were illegally arrested again.
Mr. Zhang was arrested around noon on October 18, 2011 in the building where his apartment is located. Police including Cai Jingxiang from Leye Police Station were involved in his arrest. When his daughter, Zhang Hui came downstairs around 2 p.m. she was arrested as well. Both father and daughter are detained in the No. 2 Detention Center of Harbin City. Around 5 p.m., Mr. Zhang's home was broken into and ransacked. Police took away 50,000 yuan in cash, two laptops and other personal property.
The regime has repeatedly subjected the family to various forms of persecution including detention, fines, forced labor, and home raids. The wife, Ms. Sun Yuhua, was detained four times. Their daughter Ms. Zhang Hui, was detained once. Mr. Zhang Qingshen was subject to forced labor once and was sentenced to three years in jail. Their home was raided in 2001 and 2004 by police Jiang Jimin, Chen Zhaolin, Wang Keda and others from Hulan District Domestic Security Division. Their personal property was stolen: PCs, printers and other items worth over 80,000 yuan.
Ms. Sun Yuhua was forcibly taken to the police station on January 14, 2004 by officers Jiang Jimin, Chen Zhaolin, and Wang Keda. She was brutally beaten, tortured and subjected to forced feedings for 55 days; the severe abuse caused her death at the young age of 48.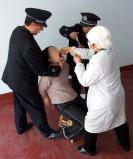 Illustration of force-feeding
After unlawfully arresting Ms. Sun Yuhua on January 14, police Jiang Jimin called the daughter Zhang Hui who was only 18 years old at that time and was a student in the Chinese Language Department, Harbin Normal University, and lied, claiming that her mother was involved in a car accident in order to lure her out of the house. Zhang Hui looked for her mother in all the city's hospitals. When she returned home, she was arrested by police who were waiting downstairs in the apartment building. Ms. Zhang was subjected to one year of forced labor and detained in Heilongjiang Province Drug Rehabilitation Center. Mr. Zhang Qingshen was sentenced to three years in jail and detained in Hulan District Prison.
Key persecutors involved in this recent arrest:
Songbei District Police Branch: +86-451-55245085
Cai Jingxiang, head of Leye Police Station: +86-13936057777
Zhou Yuxin, party head: +86-15045660979
Hu Jiaqing, deputy head: +86-13766866966
For more perpetrators' contact information, please refer to the original Chinese article.