Ms. Li Wenfeng from Chengdu Persecuted
November 16, 2011 | By a Clearwisdom correspondent from Sichuan Province, China
Name: Li Wenfeng(李文凤)
Gender:Female
Age: Unknown
Address: Chengdu City, Sichuan Province
Occupation: Unknown
Date of Most Recent Arrest: May 4, 2011
Most recent place of detention: Xinjin Brainwashing Center (新津洗脑班)
City: Chengdu
Province: Sichuan
Persecution Suffered: Detention, home ransacked, extortion, pulling hair, handcuffing, tied to a steel chair, food deprivation, brainwashing.
(Clearwisdom.net) On May 4, 2011, about 5 p.m., Jiang Dongtao from the Simaqiao Neighborhood Office led Zeng Liying from the Hengdelu Community and about ten policemen from the Caojiaxiang Police Station to take Ms. Li Wenfeng away.
That same afternoon, several people ransacked Ms. Li's home and stole two printers, approximately ten Falun Dafa books, and about 120 used and new DVDs. They also stole about 10,000 yuan in cash, which her husband had planned to use for social security insurance.
That night Ms. Li was detained at the police station. She told the policemen: "I follow the principle of Truthfulness-Compassion-Forbearance to be a good person. Freedom of belief is not wrong. The DVDs show programs related to five thousand years of traditional Chinese culture." The chief asked the policemen not to listen to her but to handcuff her and force her to be fingerprinted. When Ms. Li did not cooperate, the police pulled her hair.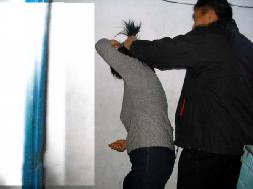 Torture Re-enactment: Pulling hair
The police tied Ms. Li to a steel chair in a steel cage and did not give her any food until 3 p.m. the next day. Ms. Li was transferred to the Xinjin Brainwashing Center. On the night when Ms. Li was arrested, Ms. Li's son was also taken to the police station and released later that night. Those who ransacked her home left it in a mess. Her husband and son were affected both mentally and financially.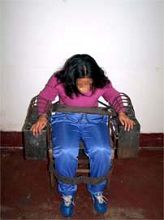 Torture Re-enactment: Steel Chair
Ms. Li Wenfeng was detained at the Xinjin Brainwashing Center for more than three months. The guards threatened her every day and said Ms. Li would be sentenced from three to seven years in a forced labor camp. They also threatened to sentence her son with a cover-up and to harass him every day. During the three months, Ms. Li was sent to the Chengdu Detention Center for one week and then transferred back.
During the three months, Ms. Li dozed every day. She had no energy and her eyes swelled up. She asked those who monitored her if they added drugs to her food, because sometimes her stool was red and sometimes her stool was green. Ms. Li was made to suffer both mentally and physically.