Former U.N. Special Rapporteur Calls Allegation of Organ Harvesting in China Credible (Photo)
November 13, 2011 | By Clearwisdom correspondent Zheng Yuyan
(Clearwisdom.net) "It is credible! It has been checked and in particular there is a statistical link to the repression against Falun Gong on the one hand, and the dramatic rise in organ transplantation. At the same time, we don't really know where all those organs are coming from."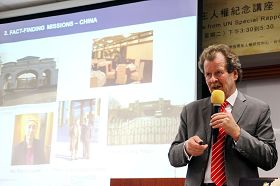 Professor Manfred Nowak, expert on international human rights law, speaks at National Taiwan University
Professor Manfred Nowak of Ludwig Boltzmann Institute, Vice-President of the Austrian UNESCO-Commission, renowned international human rights expert and former U.N. Special Rapporteur on Torture, gave a speech entitled, "The Right to Stop Torture – Viewpoint and Experience of a Former U.N. Special Rapporteur" at National Taiwan University on Nov. 8, 2011. He said that China was the most difficult country in which to investigate torture. In answering a question about the investigation report on the Chinese Communist Party's (CCP) crime of harvesting organs from living Falun Gong practitioners from an attorney of the Taiwan Falun Gong Human Rights Lawyers Working Group, Professor Nowak said the allegation was credible. Though the CCP refuted the allegation, it had never submitted the information the U.N. requested.
Nowak said the definition of torture was causing severe physical and/or mental pain or suffering. For example, the police used pressure and violence to elicit confessions, or gave permission to discriminate against the suspect. The means of torture were inhumane and trampled on human dignity, making the victim feel powerless and defenseless.
Professor Nowak served as the U.N. Special Rapporteur on Torture from 2004 to 2010. He was the first U.N. official to be sent to China to investigate torture. Since August 2006, Nowak and Asma Jahangir, U.N. Special Rapporteur on Freedom of Religion or Belief, have submitted to the Committee Against Torture numerous testimonies about the CCP harvesting organs from living Falun Gong practitioners, and requested information from the CCP regarding the source of organs for transplant. He said, "It is the obligation of the government to provide any results, but we have never received any kind of [information]. They just refuted it, to say that it was a totally wrong allegation, but they never provided me with any kind of more scientific information or any other answers explaining this high number and very quickly rising number of organ transplants."
For many years the annual report on human rights by the United Nations continued to criticize the Chinese Communist Party for the persecution of Falun Gong. Nowak mentioned the difficulty of torture investigations when he went to China. "It was the only country where they finally deprived me of taking any cameras to prisons, so I couldn't take any photos inside. I had to make a decision [whether to continue the investigation]. Usually I wouldn't do it. But I felt it was important to be in educational labor camps because Falun Gong were put into these in particular."
In Nowak's report to the United Nations in 2006, two thirds of the torture cases by the CCP were of Falun Gong practitioners. The 2007 report listed many Chinese organ transplantation centers and detention centers charged for harvesting organs from living Falun Gong practitioners.