Ms. Zhang Shuxia Unlawfully Sentenced to Forced Labor after Seven Years in Prison
October 27, 2011 | By a Clearwisdom correspondent from Liaoning Province, China
Name: Zhang Shuxia(张淑霞)
Gender: Female
Age: Unknown
Address: Qinghe District, Tieling City, Liaoning Province
Occupation: Unknown
Date of Most Recent Arrest: October 7, 2011
Most Recent Place of Detention: Masanjia Forced Labor Camp (马三家劳教所)
City: Shenyang
Province: Liaoning
Persecution Suffered: Detention, interrogation, sexual assault, extortion, forced labor, brutal beating, electric shock, forced slave labor, home ransacked, big hang up, insults, interrogation by torture, denial of restroom use, illegal sentencing, imprisonment
(Clearwisdom.net) Ms. Zhang Shuxia has been in prison four times over seven years, and was tortured each time. As a result, she was tremendously harmed both physically and spiritually. In the morning on October 7, 2011, in her own home, she was again arrested by the Chinese Communist Party. To her family, it appeared she had disappeared inexplicably. Her room was a mess and appeared to have been ransacked. Her family looked for her everywhere and then realized that she had been once again arrested and taken to the notorious Masanjia Forced Labor Camp.
During the past years of persecution, Ms. Zhang's family and relatives were also harassed and had funds extorted from them. Her husband could not withstand the intense mental pressure and divorced her after she had been persecuted numerous times.
At the end of October 1999, she went to Beijing to appeal peacefully for Falun Gong. She was arrested and taken back to her hometown. Police officers Liu Yongren and Yang Lei from the Political and Security Section of the Qinghe District Public Security Bureau interrogated her. Liu Yongren touched her inappropriately and sexually assaulted her. They then extorted three thousand yuan from her for going to Beijing, and detained her for 30 days. Later on they put her in different forced labor camps, where she was physically and spiritually tortured. She was held in Tieling, Liaoyang, and Masanjia forced labor camps, where she was brutally beaten and electrically shocked, forced to do slave labor, etc. They detained her over six months past her due term at Masanjia Forced Labor Camp.
On December 25, 2001, soon after Ms. Zhang was released from Masanjia Forced Labor Camp, the Qinghe District Public Security Bureau again searched her house and confiscated her 21-inch color TV set, her VCD set, and three recorders. After that, she became homeless and had no fixed address.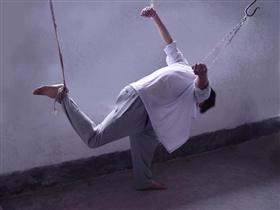 Torture Reenactment: Half Flying
On August 1, 2002, Ms. Zhang was reported when she was clarifying the truth of the persecution of Falun Gong to passersby in Tieling City. Police from the Political and Security Section of the Yinzhou District Public Security Bureau, including Sun Lizhong, arrested her. They took her to the fourth floor interrogation room and tortured her with the "big hang up." They handcuffed her and hung her up on a wall by her handcuffs. They put a handcuff on her left leg and hung it up on the wall, too. Her body was displayed as a "golden bird standing solidly" for over five hours. When she was in this position, the police beat her and cursed her. They also used batons to beat her and kicked her. There were black and blue injuries all over her body. Her wrists were handcuffed so tightly that they bled. However, she refused to tell them her name and refused to answer any questions.
On August 5, police chief Wang Yi of the Qinghe Criminal Team continued to interrogate her. She had been on a hunger strike over five days and was so weak she could barely stand up. Wang Yi still used electric batons to shock her hands and armpits, ears and head. They refused to let her use the restroom and made her relieve herself in her pants. Ms. Zhang's hands shook non-stop, and her ears and armpits were swollen. Wang Yi tortured her from 2:00 p.m. to 1:00 a.m. Her miserable cries resonated in the hall. Afraid that others would hear hear her, Wang Yi used a towel to cover her mouth and tied her feet with a rope.
Ms. Zhang was then sentenced to five years and taken to Shenyang Woman's Prison.
At the beginning of November 2006, Zhou Yongkang went to Tieling area to hold meetings. Soon after she was released, Ms. Zhang was arrested again by the Hongqi Police Substation of the Qinghe District, and she was again taken to Masanjia Forced Labor Camp.
Related article:
"Policemen Torture Female Dafa Disciple Shuxia Zhang--Her Heartrending Cries Echo Throughout the Yinzhou District Police Station in Liaoning Province"
http://clearwisdom.net/html/articles/2002/10/3/27171.html
Chinese version available at http://minghui.ca/mh/articles/2002/9/24/37034.html