Munich, Germany: Activities Held to Support the 104 Million Chinese People Who Quit the CCP (Photos)
October 26, 2011 | By Dexiang
(Clearwisdom.net) On October 22, 2011, practitioners in Munich, Germany held an activity at Marienplatz in downtown to support the 104 million Chinese people who have renounced the CCP and its affiliated organizations. They also raised awareness about Falun Gong and the CCP's crimes committed in persecuting Falun Gong practitioners, and encouraged more Chinese people to withdraw from the CCP.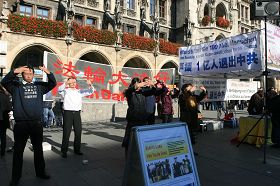 Practitioners in Munich hold activities to support 104 million people quitting the CCP and raise awareness about Falun Gong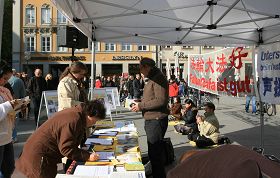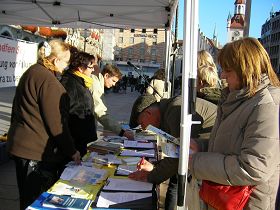 People sign to support Falun Gong practitioners' efforts to stop the persecution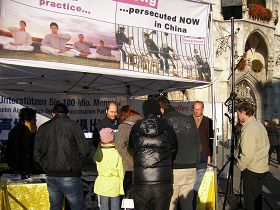 People stop to learn about the persecution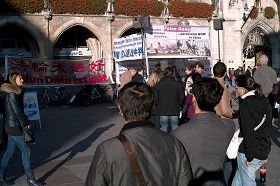 Chinese people view the Falun Gong display boards
The square was packed with local people and tourists from around the world. Displays illustrating the CCP's atrocities with photos and brief explanations in both German and Chinese attracted many passersby. Some Chinese tourists viewed the displays, took photos and talked to practitioners. Some of them decided to quit the CCP organizations during the event.
Mr. Kazimierz Wojtyła, originally from Poland and who works as a therapist in Germany, has a deep understanding of the Communist Party. After viewing the photo displays, he signed the petition and said, "The persecution is wrong, so I must sign the petition."
A group of young men passed by the information table, laughing and joking, and making improper gestures. After listening to practitioners' explanation, they grew serious as they realized the severity of the CCP's persecution of Chinese people. The young man who has instigated the prank apologized, and another young man who was the noisiest was the first to sign the petition to stop the persecution.
"Can I still sign [the petition]? My friends told me that I should definitely sign it," said a man to the Falun Gong practitioners as they were packing up the information booth. After signing the petition and learning more about the persecution and the CCP's crime of harvesting organs from practitioners he commented that the Communist Party has never done anything good and will surely collapse soon.