Guards Abuse Practitioners in Masanjia Forced Labor Camp in Liaoning Province
October 24, 2011 | By a Clearwisdom correspondent from Liaoning Province, China
(Clearwisdom.net) Many practitioners incarcerated in the women's section of Masanjia Forced Labor Camp's third ward in Liaoning Province have been brutally abused since October 2010.
The Chinese Communist Party's (CCP) Judicial Bureau inspects the Falun Gong practitioners' "transformation" record at each labor camp at the end of every year. The labor camp started the scheme with the slogan "conquer the toughest and 'transform' them." It included a "conquer the toughest" team, which consisted of a dozen guards from the third ward of the women's camp and many from the men's camp, the administrative office, and the education office. Warden Shi Yu was in charge of the scheme. They made the practitioners squat, crouch, and sit on the bare ground; handcuffed them behind their backs; hung them up by their handcuffs; used the stretching torture on them; etc. As a result, many practitioners suffered severe health problems.
On October 11, 2010, guards led by Zhang Jun and Zhang Lei put practitioner Ms. Liang Yu of Dalian City into a week-long persecution program. They claimed that they would "produce a totally new Liang Yu." But they failed, because Ms. Liang did not bow to the persecution. On October 18, they sent six practitioners—Ms. Liang, Ms. Fang Caixia, Ms. Gao Deying, Ms. Wang Jinfeng, Ms. Sun Lianjun, and Ms. Li Chunhong—to do intensive labor in the first and second wards.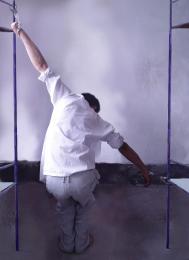 Torture re-enactment: Stretching torture
Ms. Miao Fenglan, a practitioner from Benxi in her 60s, was tortured for three weeks in Donggang, where there is a cell specifically for torturing practitioners. Guards cuffed her hands and feet separately to the top and bottom of two beds and stretched her. She could not squat or stand. From time to time, the guards moved the beds apart. Ms. Miao's thick cotton-padded jacket was soon soaked with sweat. The guards unbuttoned her clothes, which made her extremely cold. She fainted. Several guards then dragged her from the fourth floor to the first floor.
Ms. Wan Xiaohui is a practitioner from Dalian. She was imprisoned in April 2010 and soon developed heart problems as a result of persecution. The guards put her in a month-long persecution program. At the same time they were forcing her to take medicine.
Ms. Du Yuhong is a practitioner from Shenyang. She could not lift her left arm after guards, including Zhang Jun and Zhang Huan, abused her using the stretching torture in March 2010. She was tortured again. She was injured severely, both mentally and physically.
Ms. Yu Jie is a practitioner from Dalian. Her limbs became numb and she was lame as a result of abuse. Guards repeatedly humiliated and threatened her when she could not keep up with the others.
The following practitioners were abused: Ms. Liu Ronghua, Ms. Lu Liping, Ms. Yang Yufan, Ms. Ren Changxue, Ms. Zhu Xuemin, Ms. Huang Guiying, Ms. Huang Yaqin, Ms. Wang Ying, and Ms. Dong Ying. More details are unknown since the guards do not allow practitioners to talk to each other.
Guard Zhang Lei has been actively persecuting practitioners since 2000. She became more aggressive after she was promoted to deputy chief in March 2011. She had divisions conduct surveys multiple times each month. The survey defamed Falun Dafa and its founder. Any practitioner who refused to answer the questions or wrote down the facts was persecuted. She forced the prisoners in her division to constantly watch videos defaming Falun Dafa, to sing CCP songs before and after each meal, to recite "the 30 prison rules" after meals, and to copy "homework" every night. The practitioners who did not cooperate were brutally abused. In June and July, seven practitioners were abused. They were Ms. Miao Fenglan, Ms. Liu Ronghua, Ms. Xu Yajuan, Ms. Qu Wei, Ms. Yuan Xiaojie, and Ms. Gao Fuling.
Imprisoned practitioners are also forced to do physically demanding labor.