NTDTV's Third International Chinese Traditional Martial Arts Competition Held in New York (Photos)
October 22, 2011 | By Cai Ju, a Clearwisdom correspondent in New York
(Clearwisdom.net) On October 8 and 9, 2011, the Third International Chinese Traditional Martial Arts Competition promoted by New Tang Dynasty Television (NTDTV) took place at Baruch College of City University of New York (CUNY). The international competititon attracted a lot of martial arts experts from a variety of different martial arts schools, including some traditional schools that had kept a low profile. Together they share a goal to revive and promote traditional Chinese martials arts.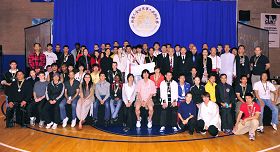 Contestants, judges and staff of the competition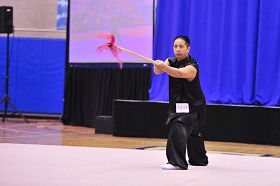 Mr. Wang Baili, the Gold Medalist of Men's Weapons Category, performs Mantis and Black Dragon Spear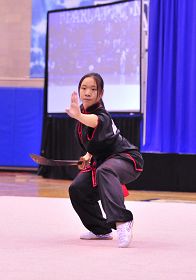 Ms. Zhao Yun, the Silver Medalist in the Women's Weapons Category, performs Shaolin Broadsword
A total of 72 contestants from 20 different martial arts schools in Asia, Australia, Europe and America competed in this event, ranging from renowned veteran martial arts masters, young martial artists and westerners who are enthusiastic about Chinese martial arts. There were three categories in the competition: Fist, Southern Fist and Weapons.
Eighteen martial arts masters won medals after the intense two-day competition. Mr. Wang Baili from China won the gold medal for the men's weapons category. Mr. Wu Gelin from the USA won the silver medal. Ms. Zhao Yun from the USA won the silver medal for the women's weapons category. Mr. Zeng Chenglang from Taiwan and Mr. Huang Haofu from the USA both won silver medals in the mens' southern fist category. Mr. Li Peiyun from the USA and Mr. Qing Feng from China both won the silver medals in the men's fist category. Eleven other contestants won bronze medals in the event.
According to Mr. Li Youpu, Chairman of the Judges Panel, only those contestants that perform traditional martial arts could enter the finals because "this is a traditional martial arts competition" and "only the traditional martial arts are representative of the Chinese tradition."
The Judges Panel: NTDTV Global Competition Series Focuses on Tradition and Morality
Mr. Li Youpu said that the number of traditional martial arts schools and the level of contestants may have increased over the past few years, but the goal of the competition remains the same. It is about restoring Chinese culture and passing on Chinese traditions. He felt that the contestants really honor the mission of reviving Chinese traditions and some have traveled across the ocean, not to seek personal fame, but to help promote orthodox martial arts.
Criteria for the Martial Arts Competition:
"The criterion for the finals is tradition. Only the orthodox martial arts are representative of the Chinese tradition." Mr. Li Youpu said. "Some fists have a short routine, but they are very powerful and very effective in attacking the enemy. Yet martial arts is about comprehensive development. It requires both physical and spiritual growth. It requires moral growth, as well as advancement in martial arts, arts and well-being. It won't do if you miss one link. It is very comprehensive."
The Bar Has Been Raised
According to Mr. Li Youpu, there were a lot of contestants from four different continents and the bar has been raised. It was necessary to raise the bar to revive the Chinese traditions, culture, moral values and traditional martial arts, he added.
"The Chinese traditional martial arts were severely damaged in China over the past few decades. Some martial arts schools even have become extinct." Mr. Li Youpu said. Between the "Great Leap Forward" in 1928 and the ten-year Cultural Revolution, traditional Chinese martial arts were labelled as being part of the Four Olds or the Four Old Things (including Old Customs, Old Culture, Old Habits, and Old Ideas). As a result, martial arts masters were subjected to 'struggle sessions', a form of public humiliation and even lynchings. People revered the new trends. Traditional martial arts had become obscure. Not many people in China know Chinese martial arts any longer. Like morality, it will take a very long time to restore the traditional Chinese martial arts."
"We continue to make good progress, but we must raise the bar in order to completely revive the traditional Chinese martial arts and morality. Therefore, we must raise the standards when we score. Some contestants were not happy about the scores, but they changed their attitude once we explained the reason. We worked together, not for the sake of the medal or the competition, but for the sake of reviving the traditional Chinese culture and morality."
Mr. Li Youpu said, "We have a very high standard for the gold medal. If no contestants meets the gold medal standard, then no one will get it. Only those who meet the gold medal standard will receive it."
The Moral Requirement for Martial Arts is to Deter Bad Deeds and Promote Good Ones
Mr. Li Youpu said that the moral requirement for a martial artist is to deter bad deeds and promote good ones. "If a man belives that Heaven will ultimately reward good deeds and punish bad ones and one can deter bad deeds and promote good ones, he is most likely to be good at martial arts and have a good understanding of martial arts. He is most likely to practice diligently and endure hardship well. Traditional martial arts also encompass arts and theories of well-being. A person with good morality is likely to understand these concepts. Morality is the foundation of martial arts. A man with good martial arts morality will master martial arts."
Another judge, Mr. Liu Zheng, said that martial arts morality means morality manifested in the practice of martial arts. "Martial arts is about action and morality is about kindness. In other words, martial arts morality is about doing good deeds and avoiding bad deeds. The Chinese character for martial (武) consists of two word roots --- end and weapon. It means to end strife and violence."
Inheriting Traditional Chinese Martial Arts
Another judge, Mr. Yang Longfei, said that there were a lot of new contestants this year and they have learned a lot about the traditional fist arts. He added that it does not matter who wins the medal. In a sense, everyone has won a medal because they have displayed the Chinese culture in their own way.
"Every contestant is important because each carries the responsibility of continuing the traditional Chinese martial arts," Mr. Yang said. "Practicing fist principles is not about punching or kicking. It represents Chinese philosophy and history. What they practice is a manifestation of the ancient Chinese civilization."
From the Contestants: The Competition Revives the Essence of Chinese Martial Arts
"Black Dragon Spear is part of the Shaolin School," Mr. Wang Baili, the gold medalist of the men's weapons category said. He is also a national-level coach of Mantis Fist. He thinks Chinese people would have to travel to the western hemisphere to learn the genuine Chinese martial arts. "The future of traditional martial arts lies outside of China. There is no future in China." he said.
Mr. Wang said his biggest wish is to "promote Chinese martial arts in the USA." He added, "Two years later I will come again with my disciples."
Mr. Li Peiyun, a professional martial artist, won the silver medal for the men's fist category with his Henan Combined Xingyiquan (approximately translates to "Form/Intention Boxing", or "Shape/Will Boxing" ). Legend credits the creation of Xingyiquan to Yue Fei, a renowned Song Dynasty general. Later the boxing was infused with Shaolin boxing and internal cultivation. Xingyiquan movements imitate the shapes of different animals. It is a powerful boxing martial art built upon internal cultivation.
Mr. Li Peiyun said that one must have perseverance and morality to practice martial arts. Only if a man perseveres will he be able to make progress. If a man develops in-depth progress in martial arts, he will succeed in everything he does.
Mr. Li Peiyun shared that the highest realm of martial arts is when he feels his body and mind are one. He thinks a man without a pure heart or with grudges may have a powerful external form, but lack internal stability. He said he can see a man's heart from his external form.
Nearly Extinct Martial Arts Appearing at the Competition
Mr. Li Youmin, born and raised in the USA, won the excellence award for the men's weapons category with his exhibition of Xuanmen Sword of Wudang School. Yet Mr. Li exhibited the characteristics of Xuanmen Sword to the audience.
Mr. Li Youmin said he saw many nearly extinct Chinese martial arts at the competition. He added that some martial artists are so highly advanced that he could only see such advanced martial arts in old martial arts movies. "I am glad that NTDTV provides the opportunity for everyone to display their martial arts. This is an opportunity to not only promote but revive the essence of Chinese martial arts."
The Competition Differentiates Traditional from Modern Martial Arts
Ms. Zhao Yun from Boston, MA is a freshmen in college. She won the silver medal for the women's weapons category with her fierce exhibition of Hongjia Shaolin Pigua Broadsword. She started practicing martial arts at age 11. She has been under the tutelage of Kevin Chan and Gu Jia Qiang. She has competed in many martial arts competitions and has won over 40 gold medals.
"Many traditional martial arts have been lost in China and can only be found outside of China. As a Chinese, I have the responsiblity to carry and promote Chinese traditional culture," Ms. Zhao said. She added that she realized the difference between traditional and modern martial arts at the competition. She realized that some of her movements are modern and has decided to correct them. "When I go back home, I must ask my martial arts master to help me check each and every movement and purge all of the modern movements."
The Audience Praises Traditional Martial Arts
Mr. Zhu Ming, originally from northern China, commented that Chinese traditional culture is rare in China. He has learned a lot about Chinese martial arts from the competition, such as the orgins and characteristics of different fist principles. He felt it is a rare opportunity to learn of the roots of Chinese traditional culture.
After seeing the ad on-line, Peter Chang and his friend came all the way from Philidelphia to watch the competition. Peter's grandfather and father had practiced Chinese martial arts and he has also practiced Chinese martial arts for 33 years. He enjoyed the competition and claimed it is the best martial arts competition he has ever seen. "This is a very interesting conmpetition, unlike anything I have ever seen."