Store Owner Arrested, Wife Died of Torture
October 14, 2011 | By a Clearwisdom correspondent in Hebei Province, China
(Clearwisdom.net) Falun Gong practitioner Mr. Qin Laosi from Xiajie Village in Shiliting Town, Shahe City, Hebei Province, was arrested at home on September 15, 2011. Wang Jianjun and other police agents sent him to the Xingtai Brainwashing Center. His three children were left unattended. Their mother died last year as a result of torture in a brainwashing center.
Mr. Qin, a farmer in his 40s, repairs home electronics. After going to Beijing to appeal in January 2000, he was sent to labor camp with a term of one year. Below are the details of the persecution and death of his wife.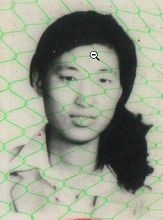 Ms. Hao Bianyun
Ms. Qin's wife Hao Bianyun died last year. On October 27, 2004, more than 10 agents from the Shiliting Township Government went to her home at 2:00 p.m. They covered her mouth, beat her, and dragged her into a police van, along with their 5-year-old daughter. During the two-month detention at the Xingtai Brainwashing Center the police agents injected her with an unknown substance. She developed heart disease, fell in and out of consciousness, and gradually lost the ability to take care of herself. She died on March 25, 2010 after suffering many years of debilitating symptoms from the unknown substance. Mr. Qin then opened a shop in Shiliting Town to repair home electronics to make a living while raising his three children.
Shahe City Domestic Security Division head Wang Jianjun went to Qin's home in the morning on July 12, attempting to arrest him. After he escaped, Wang took Mr. Qin's teenage son Qin Haozhi as a hostage. His family was forced to pay 2,000 yuan to get the son back.
Several days later Wang and other agents went to Xiajie Village again, but still failed to arrest Qin. They tried to arrest his daughter, but other villagers stopped them.
The agents arrested Mr. Qin on September 15 and took him to the Xingtai Brainwashing Center.
Additional Cases of Persecution in Shahe City
In the past four months police agents have arrested nine Shahe City practitioners and sent them to the local brainwashing center. Below are some of the cases:
Police agents arrested Ms. Zhai Yanling on September 15 while she was working in a restaurant.
Wang Jianjun, Hou Shouhong and other agents ransacked the home of Caozhang Village practitioner Ms. Ren Suie and took her to the Xingtai Brainwashing Center. She had abdominal pain from torture and could not stand up. Police extorted 1,200 yuan from her family and released her.
Wang Jianjun and others arrested Mr. Wei Gailin at home in the evening on June 12, and sent him to the Xingtai Brainwashing Center. They also arrested Mr. Wei Zhuxue in the same village, at home on June 30 and sent him to the Xingtai Brainwashing Center.
On May 23, while Xiaqu Village practitioner Ms. Wang Xiuqin and her daughter were doing farm work, village Party head and several police agents arrested her and took her to the Xingtai Brainwashing Center.
When Shahe City practitioner Ms. Wang Lianzhen distributed informational materials in a park on March 6, Domestic Security Division agents arrested and held her at a detention center for two days. They also extorted 20,000 yuan from her family. When she distributed materials on June 13, someone reported her to the police. Wang Jianjun and others confiscated her personal belongings, including a computer and a printer, and stole the key to her home. When no one was at home on June 20, the agents ransacked the place.
Zhang Shemin, Shahe City 610 Office head: +86-319-8921299 (Office), +86-319-8817668 (Home), +86-13831970800
Xie Jiyun, Shahe City Police Department head: +86-319-8925801 (Office)
Wang Jianjun, Shahe City Domestic Security Division head: +86-319-8625807(Home), +86-319-8905888 (Office), +86-13503196699, +86-13315932966
Xingtai Brainwashing Center: +86-319-3190616, +86-319-8625807
Qiu Youlin, brainwashing center head: +86-13930906105
Please refer to the original Chinese article for a list of more people involved in the persecution.