Ms. Bai Gendi Released from Prison After Four and a Half Years of Torture (Photo)
January 09, 2011 | By a Clearwisdom correspondent in Shanghai, China
Name: Bai Gendi (柏根娣)
Gender: Female
Age: 60
Address: Leshan 45, Xujiahui, Xuhui District, Shanghai
Occupation: Former manager at Shanghai Petroleum (state-owned enterprise)
Date of Most Recent Arrest: May 2006
Most Recent Place of Detention: Songjiang Women's Prison (松江女子监狱)
City: Shanghai
Torture/Persecution Experienced: Interrogation, detention, imprisonment, electric shocks, sleep deprivation, forced labor, brainwashing, injections/administration of drugs, beatings, hung up, solitary confinement, force-feedings, denial of restroom use, physical restraint, job loss, home ransacked.
(Clearwisdom.net) Ms. Bai Gendi was illegally arrested in Shanghai in May 2006. The Shanghai 610 Office had declared June 14 and 15, 2006, the dates of then-upcoming Six Country Summit, as sensitive dates and used this as an excuse to arrest Falun Gong practitioners at the time.
In 2007, after being detained for 10 months, Ms. Bai was sentenced to four and a half years in prison by Shanghai's Xuhui District Court. She was released from the Songjiang Women's Prison in Shanghai on November 22, 2010, after serving the full prison term. On her way out of the prison, Ms. Bai, 60, shouted, "Falun Dafa is good!" The guards took her through a fire exit so that no one could hear her.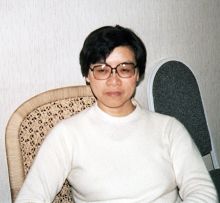 Ms. Bai Gendi
In the Songjiang Women's Prison, Ms. Bai was placed in a cell by herself and monitored by five people around the clock for over four years. During the first eight months, she was frequently beaten, handcuffed and tied up with ropes. She was given very little food and water, deprived of sleep and kept in isolation. She was not allowed to wash her hair for 11 months, not allowed to change clothes (including underwear) for nine months, and not allowed to wash her bedding during her entire prison stay. Sometimes she was also not allowed to drink water or use the restroom.
The guards put urine and unknown medical substances into her food. They also used torture instruments on her, tied her up and beat her at will until two months before her release. On at least one occasion, they locked her in a poorly ventilated room along with the inmates assigned to monitor her.
Previously Persecuted in Forced Labor Camp
Before being imprisoned at the Songjiang Women's Prison, Ms. Bai had twice been detained in forced labor camps for a total of five years.
In October 1999, the Chinese Communist Party (CCP) sentenced Ms. Bai to two years of forced labor. At the labor camp, she was forced to perform hard labor and was denied visits and mail from her family. The guards also handcuffed her hands behind her back. She was released from the forced labor camp in October 2001. When she returned home, she found that her employer had fired her.
On February 6, 2002, CCP agents ransacked her home and arrested her again. She was sentenced to three years in a forced labor camp and not released until February 6, 2005.
On June 16, 2005, Ms. Bai was arrested and her home was ransacked once again. She was held in a detention center and later transferred to the Tilanqiao Prison Hospital in Shanghai. During her detention, she held a hunger strike for 12 days to protest the maltreatment. At the Tilanqiao Prison Hospital, she was tied to a bed for seven days, which prevented her from making any movements. As a result, she developed extreme back pain, which made it impossible for her to sleep for three consecutive nights.
Ms. Bai was released on July 14, 2005, after being detained for 29 days. Afterward, the police stationed staff around her home to monitor her and the people visiting her. Police followed her wherever she went and constantly monitored her phone. In early 2006, Ms. Bai Gendi left home and went into hiding to avoid the police harassment.
Previous reports about Ms. Bai Gendi can be found at:
http://www.clearwisdom.net/emh/articles/2007/4/24/84869.html
http://www.clearwisdom.net/emh/articles/2005/8/12/63842.html
http://www.clearwisdom.net/emh/articles/2005/3/18/58559.html
http://www.clearwisdom.net/emh/articles/2004/9/26/52812.html