Ontario, Canada: Shen Yun Shows Attract People from All Walks of Life in Kitchener-Waterloo (Photos)
(Clearwisdom.net) From January 1 to 4, Shen Yun Performing Arts Touring Company gave four shows at Center in the Square in Kitchener-Waterloo, Ontario, Canada.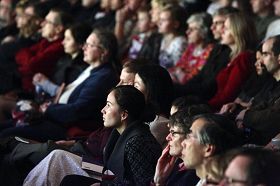 Several Canadian Members of Parliament sent their greetings to the performing arts company, including Gary Goodyear, a member of the Canadian House of Commons and the Minister of State for Science and Technology; Harold Albrecht, a member of the Canadian Parliament and House of Commons, and Stephen Woodworth, a member of the Canadian House of Commons. Some of them enjoyed the Shen Yun shows last year, and they welcomed and thanked Shen Yun for bringing traditional Chinese culture to Canada.
Motivational speaker Gregory C.N. Smith watched Shen Yun Performing Arts on Jan. 1. Mr. Smith is an author, seminar trainer, and behavioral consultant. He entered the 2010 International Speech Championship with a speech entitled "Genius of a Different Kind." After watching the show this evening, he called Shen Yun performers "geniuses of a different kind."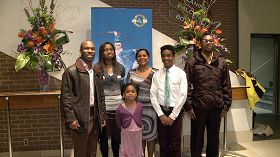 Gregory Smith (left 1)

"The performance I saw tonight, that isn't something that comes just like that, that is something that takes a lot of tenacity, a lot of work, and a lot of practice, practice, practice, honing your skill," he said.
As a motivational speaker and someone who steps out on stage frequently, Mr. Smith appreciates the importance of giving a great performance, and the show he saw tonight, he said, "was just perfect."

Mr. Smith also noted that the high quality of the performance expressed through the high quality of life that the dancers revive, would inspire audiences to strive for higher principles in their own lives.

"If every individual is able to come to a show like this and see the quality and see the potential, see the talent out there, and it inspires them to actually live their life at a higher level ... what a different world it would be."

Looking at the stories told in the dance performances and what the artists "are able to create," Mr. Smith said he can tell that there are "brilliant minds" behind the show "that are just amazing."

As part of Mr. Smith's other work responsibilities as a behavioral consultant, bringing people hope and joy needs to be almost second nature. Mr. Smith fancied the story about the gentle but brave plum blossoms that dare to bloom in the midst of cold piercing winds, which in Chinese culture is said to symbolize hope. "Maybe that's why it resonated so well--because I can feel that, because the words weren't there in that as it was announced and everything but, man, was I ever feeling something in that performance," Mr. Smith said about the Plum Blossoms dance.

Shen Yun is a performance that should not be missed, Mr. Smith thinks.

"This is something that I would say everyone needs to see," he said.

"If every individual is able to come to a show like this and see the quality and see the potential, see the talent out there," Mr. Smith said, "It inspires them to actually live their life at a higher level.

In his 30 years at Centre In The Square Theatre, House Manager Gary Shantz has seen many many shows, and Shen Yun Performing Arts left him with high praise after its show there on Monday night.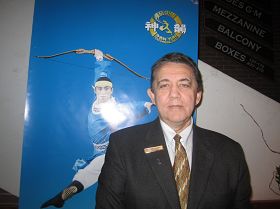 Gary Shantz

"The artistic quality of the show is amazing," said Mr. Shantz. "When people come to see it, I think the big part they remember is the total beauty of the theatrics."

He highlighted the array of costumes and dances, the digital projections, the staging and the multitude of sets, complimenting each of these aspects of Shen Yun in the quality of their technique.
He also spoke about how much he appreciated having the orchestral accompaniment, including its unique fusion of classical instruments from China and the West.

"Lots of times touring shows don't bring along a live orchestra because it is so expensive to have an orchestra on the road," he said. "It is just so nice to have the actual instruments and actual sounds, not the recorded sound."

Especially for "some of the younger kids brought by their parents, to experience the non-Western instruments and the sounds they can make, I think that opens it up to them too. They may never have heard that kind of sound or music being created."

Mr. Shantz said that the Eastern and Western sounds "blend in perfectly, highlighting both types of music."

"The show brings a kind of peace to your mind because of the music," he said.

In addition to the music, with the combination of the sets, the costumes, the backgrounds, and the dance, "you have a visual experience too, almost like going to an art gallery and seeing paintings," Mr. Shantz said.

His praise included the choreography. "It's beautiful, it's impeccable," he said, noting the number of dancers on the stage and their synchronicity.

The costumes also left him gushing. "You can't beat the colour and the pageantry of the Shen Yun show," Mr. Shantz said. "They are just beautiful."

"It is such a beautiful show that [audiences will] remember it and they will take the program home and relive the whole experience," said Mr. Shantz. "I think that is really important. We see lots of families that come, and they bring their children so that they can experience the Chinese culture."

Mr. Shantz also works for a dance competition company and knows many dancers and choreographers. He said that many of them are interested in Shen Yun for the experience that it provides in traditional Chinese culture and dance. "If they take it back to do pieces of their own, they can incorporate [that experience]," he said.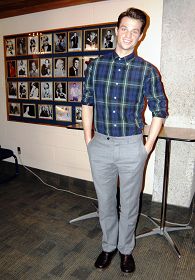 Robb Beresford
One of Ballet Victoria's principal dancers, Robb Beresford, came to enjoy the last presentation of Shen Yun on Tuesday and gave his professional take on the show.

"It's colourful and the dancing is really spectacular. So is the music," he said.

With over 15 years of experience in ballet and performing with various touring groups, including his three seasons with Victoria Ballet, Beresford could appreciate the performance of New York based Shen Yun.

"I've never seen any classical Chinese dance before, so it's a new experience and I really liked it."

The dancer was joined by his father, retired businessman Greg Beresford, who also enjoyed the night's presentation.

"I think the show is not only very colorful, but it's full of energy," said the elder Beresford.

"The athleticism by itself is amazing. Watching those people dance puts a whole new level to dancing 'cause they're that athletic. So it's really a treat to see it," added Mr. Beresford.
Many Chinese people also enjoyed the shows. James, an engineer from Beijing, saw Shen Yun last year. This year, he brought his son. He said: "I hope that Shen Yun will be held in China one day." He noticed that 90% of the audience were Westerners. "I am proud of Shen Yun," he said, "It is so welcomed by the mainstream Westerners."
"It is pure traditional Chinese art. You cannot see it in China," he expressed, "You need to calm down so that you can appreciate its profound contents." James said, "The show reveals some facts that the Chinese government does not want people to see. But they are the reality. I hope that one day Chinese people can also see it, for it passes on the messages of compassion, courage, and truth."
Ms. Pang from Zhejiang came to the show with her mother. She said, "The actors are full of energy and confidence. They performed with their hearts, so the dances were truly wonderful."
"I enjoyed the dances with my heart. I carefully watched every dance, enjoyed every movement and thought about the profound contents of them. I interacted with the actors with my heart so that I can appreciate the Chinese history and culture manifested by the dances," Ms. Pang said, "The show should be held in China, where people cannot see such good performances now."
The Shen Yun Performing Arts Touring Company will hold four shows from January 7 to 9 at Place des Arts in Montreal and then five shows from January 13 to 16 in Toronto.