Falun Dafa Around the World: Chiayi, Taiwan (Photos)
January 08, 2011 | By Cheng Yu-yan, a Clearwisdom correspondent
(Clearwisdom.net) Chiayi County is the major agricultural county in Taiwan. In the winter of 1998, a young man returned home to Chiayi with Falun Gong books from Taipei and spread the practice in a park in Chiayi with a few other practitioners. This was the first practice site in Chiayi and it planted a seed for the spread of Falun Gong in the county. As Falun Gong stresses moral character and provides marvelous benefits in health and fitness to practitioners, it spread quickly by word of mouth. Today, people can hear the exercise music and see practitioners doing the exercises on campuses, in parks, at scenic sites, and even in the mountains.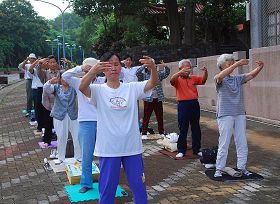 Practitioners practice the exercises in a Chiayi park in the morning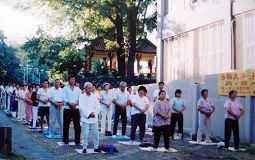 Practitioners practice the exercises in a Chiayi park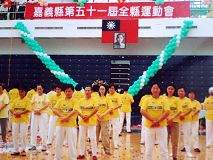 Demonstrating the Falun Gong exercises at a Chiayi County sporting event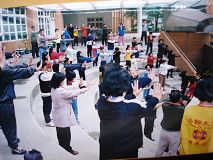 Demonstrating the exercises at a teacher's summer camp
Sincere voice atop a mountain for sunrise viewing: Falun Dafa is great!
Ali Mountain is located in the northeast of the county and boasts five different types of trees: Taiwan fir, hemlock, red painted, cypress and pine. It is known for three wonders: its forests, the clouds and the sunrise. Ali Mountain has become a well-known site and Chinese tourists generally visit it.
On August 20, 2008, 47 Falun Gong adult practitioners and 43 young practitioners from Minghui Schools journeyed up Jhushan Mountain of the Alishan Mountains. They did the five sets of Falun Gong exercises with the first rays of the morning sun, and spread the benefits and beauty of Falun Dafa to tourists. After the exercises, they handed out informational materials and paper lotus flowers to Chinese tourists from the mainland. The children's benevolent intentions touched many tourists. You could tell from their faces that they treasured the truth-clarification materials. One tourist held a lotus flower and a bookmark with "Falun Dafa Is Great" with both hands for a long time.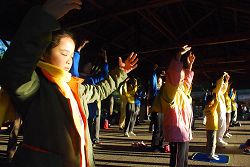 Young Falun Gong practitioners do exercises during sunrise on Jhushan Mountain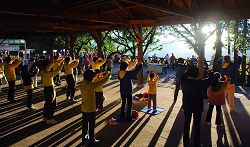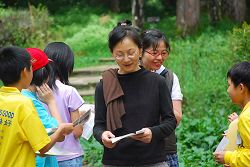 Tourists happily accept truth-clarification materials from young Falun Gong practitioners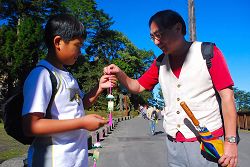 "Sir, here is a lotus for you!"
Grandmother: Telling the grace of Falun Dafa to everyone
A family from Ali Mountain witnessed the benefits of practicing Falun Gong. The whole family practices it. At celebrations on May 13, 2010, World Falun Dafa Day, the 80-year-old grandmother and her family took to the stage and told the audience how Falun Gong healed her diseases. She said that she had back problems and could not squat down before practicing Falun Gong. Now she is happy to see all her children and grandchildren practicing Falun Gong.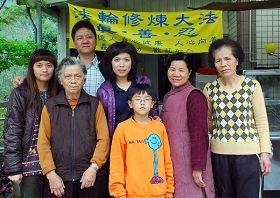 Group photo of grandmother Ye, her first daughter Surong (1st from right), second daughter Ruolan (2nd from right) and son Chunhsi and his family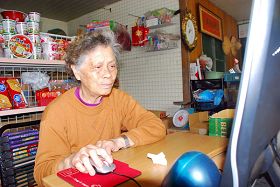 Grandmother Ye sends information about Falun Gong to Chinese people using her computer
A few years ago, Grandmother Ye's daughter-in-law bought a computer for her and taught her to key in words for spreading the facts to Chinese people. She was happy and paid the costs herself. Her daughter-in-law said, "She could not handle the mouse well initially and said it was harder to use the mouse than a hoe. She learned it attentively and handled it well within one week." Grandmother Ye, sitting in front of the computer, said, "Falun Gong is so good. Why is it being persecuted? I need to tell people about the grace of Falun Gong."
Falun Gong, also known as Falun Dafa, is a traditional Chinese spiritual discipline for mind and body. The practice involves slow, gentle movements and meditation. It is easy to learn, enjoyable to practice, and free of charge. Its principles are based on Truthfulness-Compassion-Forbearance. The practice began in China in 1992 and quickly spread by word of mouth throughout China and then beyond. Its beneficial effects in uplifting an individual's physical health, spiritual well-being and moral character, not to mention its positive influence in the community and society as a whole, are undeniable. In fact, Falun Gong is practiced by over 100 million people in 100 countries. The main works of Falun Gong are available in over 30 languages.