San Francisco: Arts Community Praises Shen Yun's Consummate Talent (Photos)
(Clearwisdom.net) The New York-based Shen Yun Performing Arts Company concluded its four-show tour at the War Memorial Opera House in San Francisco, California, on December 28, 2010.
Opera Singer: Shen Yun is "bringing us all together to a higher existence"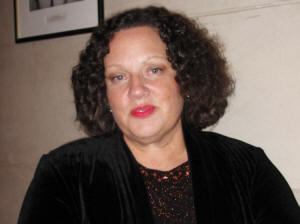 Claudia Siefer has been singing with the San Francisco Opera for more than 35 years. She felt that all of the featured singers in the Shen Yun show have highly cultivated technique.
Claudia Siefer , a 35-year veteran singer in the San Francisco Opera, was particularly impressed by contralto Jiansheng Yang's voice.
"I cannot express my wonderment for the contralto. It's very special, her voice is very special," Ms. Siefer exclaimed. "It's really an extraordinary gift."
She remarked that the other main singers also had highly cultivated technique. "I admire all three of them," she added.
Ms. Siefer talked a little about the orchestra's unique blend of Chinese and Western instruments and how everything worked so well together.
"I love it, I love this hybrid, hearing the oboe, the cello, the violin, with the Chinese instruments, it's really working," she exclaimed.
In talking about soprano Haolan Geng, Ms. Siefer said, "I can't sing like that, no way. ... It's fantastic. It's like something going—her voice is going to heaven. You can see when she sings, at the end of the song, her body just releases all this beautiful energy."
Ms. Siefer thought that Shen Yun is wildly entertaining but also sensed a deeper meaning to the show.
"I have an idea that the performers and the show are bringing us all together to a higher existence, elevating our existence from day-to-day to a higher understanding."
Professional violinist: "From one to five, it is a six!"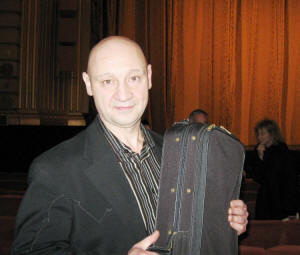 Leon Igudesman, a violinist with the San Francisco Opera Orchestra
Leon Igudesman, a violinist with the San Francisco Opera Orchestra and a veteran theatergoer, was very impressed with the show.
"Oh it is absolutely a six! From one to five, it is a six!" exclaimed Mr. Igudesman .
"It is wonderful. It enriched me because it gave me a different perspective about Chinese culture, Chinese ethnic music, Chinese dance. and Chinese history," Mr. Igudesman said.
As a orchestral musician, he thought the sound of the Western and traditional Chinese instruments in the show was seamless.
"I think it was very homogeneous. I did not feel as if it was two separate groups; it felt really like one orchestra. It sounded very good," Mr. Igudesman said.
He was also impressed by the Chinese melodies: "I felt that in the dancing and also in the music, they used the traditional Chinese melodies, ... I loved them all."
Mr. Igudesmana felt that he had gained a new appreciation for traditional Chinese instruments.
"For me personally, the Chinese part (of the orchestra) was more interesting because I play Western orchestral music all the time. For example, the Chinese violins and Chinese wind instruments were very interesting and good to hear," he said.
"Sometimes I go to Chinatown with my Chinese friends. We have lunch in Chinatown. I see street musicians there that are not very good, but now, here, I hear very good Chinese professionals—the Chinese violin (erhu) as it is supposed to sound, which is very nice," Mr. Igudesman said.
He also commented on the animated backdrops, saying, "Visually, it was very beautiful."
"It is a fantastic show. I wish there were more kids in here because not only is it good for adults, but visually it is so spectacular," he said
Mr. Igudesman found the interaction between the stage and projections to be very spiritually enriching.
"It has a deeper meaning, a meaning we don't have much of any more in our lives. We have text messaging, the iPhone, and pop music, but what we are missing is the spiritual part, of course, and that's very dear to me as a musician, as an artist," he said.
Mr. Igudesman added, "We should always go back to our spiritual life as opposed to our material life and that will make us happy."
"I would say that it was a surprisingly good show and I would recommend that all of my colleagues, classical musicians, come here," Mr. Igudesman concluded.
Singer: "One of the best performances I've ever seen!"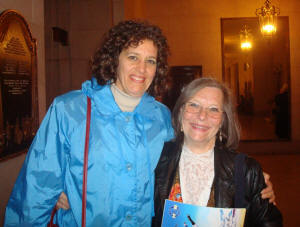 Singer Edna Cheek (L)
Edna Cheek, a gospel singer, was also in attendance.
"To listen, watch, and appreciate the elegance, the beauty, the grace ... it was one of the best performances I've ever seen," Ms. Cheek said.
She was equally impressed with every aspect of the show.
"It was everything. The choreography was really wonderful. But the actual whole event ... from the singing, the choreography, everything could not have been better."
Ms. Cheek enjoyed the story-based dances of ancient Chinese legends and folk tales, as well as the stories of modern day China.
"It wasn't just someone dancing, it told a story from beginning to end, each piece," she said.
She described soprano Haolan Geng's performance as "fabulous," and said that contralto Jiansheng Yang "was probably the best I ever heard."