Model Worker at Yuanjiang Paper Mill Faces Illegal Sentence in Hunan Province (Photo)
January 05, 2011 | By a Clearwisdom correspondent in Hunan Province, China
(Clearwisdom.net) Falun Gong practitioner Mr. Ruan Fanghua was a model worker (workshop officer) at the Yuanjiang Paper Mill in Hunan Province. He was illegally arrested by Changsha City police on August 3, 2010 and has been detained since then. During the persecution of Falun Gong by the communist regime, Mr. Ruan has been persecuted numerous times. After this most recent arrest, he was sent to a brainwashing center. Agents from the Public Prosecution Office of the Yuelu District Prosecutorial Bureau in Changsha City have charged Mr. Ruan in the Yuelu District Court. So Mr. Ruan is now also facing sentencing.
Mr. Ruan, who is 59 years old, began to work at Yuanjiang City Paper Mill in 1979 as a technical expert. He was dedicated to his work and was given increasing responsibility. In the early 1980s, he was appointed to workshop officer and union chairman. For more than 20 years, he managed the workshop (which included more than 300 employees) very well. Mr. Ruan was awarded the honor of Factory-Level Model Worker, which is a rare honor in a factory of nearly 10,000 employees. After his retirement in 2005, he and his family lived Changsha City.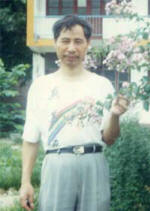 Mr. Ruan Fanghua
Illegal Arrest and Brainwashing
Under the order of the Changsha City 610 Office, agents from the Domestic Security Division in the Yuelu District Police Department turned off Mr. Ruan's electricity, forcing him to open the door. The agents then arrested Mr. Ruan. On the same day, (August 3) they ransacked his home, confiscating a computer and other personal belongings.
One month before that, the Hunan Province 610 Office and Changsha City 610 Office established a brainwashing center in Laodaohe Town in the Kaifu District of Changsha City. The brainwashing center targeted practitioners province-wide on a rolling basis—that is, more practitioners were put in the center upon the release of the previously detained practitioners. When the brainwashing center was first launched, Changsha City 610 Office officials (including Wu Zhibin, Wu Kaiming, and Gao Yutian) assigned quotas to various district-level 610 Offices in Changsha City, ordering them to send in practitioners. By July, three female practitioners were already arrested and sent there. Under the order from the Changsha City 610 Office, Mr. Ruan, who lived in Lugu (in Yuelu District), was also arrested.
On the evening after Mr. Ruan was arrested, Yuelu District Domestic Security Division officials sent him to the Laodaohe Brainwashing Center without any legal proceedings. The responsible people in the brainwashing center are Wu Kaiming, Gao Yutian, and Yang Lu. Many practitioners from various places in Hunan Province were already detained there before Mr. Ruan's arrival. All of them were kept on the third floor and each one was detained separately. Two people were assigned to watch each practitioner for 24 hours a day. Practitioners were not allowed to leave the room or read any books, other than those that defamed Falun Gong. Even the people assigned to watch practitioners said it was a horrible place.
In such an isolated place without freedom, the Hunan Province 610 Office gathered so-called "experts" from it branches and ordered them to transform practitioners, including Mr. Ruan. They mainly focused on two aspects of brainwashing: (1) force onto practitioners opinions defaming Falun Gong and its founder, and (2) threaten to send practitioners to a labor camp or prison if they refuse to yield. According to statements by Gao Yutian, their approach is "to brainwash with force, and to transform with brutality". A person surnamed Cao (from the Huitong County 610 Office) and several others were responsible for transforming Mr. Ruan. Every day, they attempted to force Mr. Ruan to write statements that defamed Falun Gong and its founder. In addition, they also attempted to induce or deceive Mr. Ruan to turn in the practitioners he knew.
After detaining Mr. Ruan for 22 days, during which he was physically and mentally tortured, 610 Office agents secretly transferred Mr. Ruan to the Ningxiang County Detention Center on August 25th for ongoing torture and persecution.
Mistreated Simply for Adhering to Truthfulness-Compassion-Forbearance
Since Jiang Zemin's regime started to persecute Falun Gong in July 1999, Mr. Ruan has been mistreated numerous times for insisting on following the principles of Truthfulness-Compassion-Forbearance.
After Yuanjiang City Paper Mill officials removed him from the managerial position in 2005, Mr. Ruan went to Changsha City with his wife and daughter, where he clarified the truth to people in that area. He was sentenced to a labor camp twice, in June 2005 and October 2007. After the second labor camp detention, the 56-year-old Mr. Ruan could not tolerate the physical and mental torture anymore. As a result, he had symptoms of severe illness, with a high blood pressure of 220. Mr Ruan was then released on medical parole.
Prior to practicing Falun Gong, Mr. Ruan used to have illnesses, including schistosomiasis, that severely disrupted his work and life. These illnesses were quickly healed after he started practicing Falun Gong. With excitement, he told everybody he encountered that "Falun Gong is really good." After working in a managerial position for many years, he had a bad temper and was often irritated. While practicing Falun Gong and disciplining himself with the principles of Truthfulness-Compassion-Forbearance, Mr. Ruan significantly improved his temper. Many people said he was like a new person. He also get along better with his co-workers and other employees of the company. In addition, Mr. Ruan used to be addicted to smoking and drinking. He easily quit both of them after practicing Falun Gong. Everyone familiar with him was impressed by the magnificent power of Falun Gong.
Since practicing Falun Gong, Mr. Ruan became more considerate of others and the company. He no longer pursued power or personal gain. Everyone says Mr. Ruan is a good person. This way, people around Mr. Ruan saw the wonderfulness of Falun Gong from the changes in him. Therefore, after the persecution against Falun Gong started, many of them wished that Mr. Ruan could be safe amidst the massive persecution.
The Law Should Not Be Manipulated to Harm Good People
During the persecution of Mr. Ruan, Changsha City 610 Office officials gradually intensified their persecution of this good person, from arrest, to forced brainwashing, to unlawful prosecution. The legal system was established to punish bad deeds, and it should not be manipulated to harm good people. In fact, the communist regime's persecution of Falun Gong is unconstitutional. Anyone who persecutes Falun Gong is surely subject to judicial proceedings in the future. We hope that everyone involved in persecuting Mr. Ruan would stop committing bad deeds, so that you can have a good future. We also hope that kind people throughout the world could extend assistance so that Mr. Ruan can return home soon.