Shen Yun Moves the Hearts of Chinese People at Lincoln Center in New York (Photos)
(Clearwisdom.net) On January 16, 2011, audience members in rich attire gathered in the foyer of David Koch Theater at Lincoln Center for the Performing Arts in anticipation of Shen Yun's final performance in New York. Meanwhile, many people who were enquiring for remaining tickets to the show left in disappointment, but with hopes to see the tour in 2012. The audience applauded enthusiastically throughout the performances, and the final show of 2011 in New York concluded successfully after a third curtain call.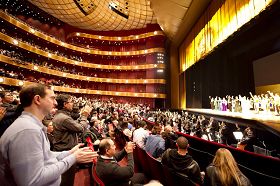 Shen Yun Performing Arts takes its final curtain call in the David Koch Theater at Lincoln Center, as its New York Company completes the tenth and final show of 2011 in New York.
Throughout Shen Yun's ten shows in New York, high ranking officials, celebrities from the arts, and other well-knowns were frequently seen in the theater. The pure compassion and beauty of Shen Yun's artistry left its audience with lasting impressions. The show's stunning portrayal of the magnificence of Chinese traditional culture also won high admiration. The power of Shen Yun prompted people to ponder the true meaning of life and inspired compassionate thoughts and spirits.
At each show one could see many audience members of Chinese heritage. In particular, many Chinese saw the show with family members both Sunday afternoons. The Chinese audience members were deeply moved and astounded by the profoundness of Shen Yun, its exquisite beauty, as well as its spiritual strength.
Arts lover Miss Xu: I cannot find any words to describe the wonderful greatness of this show
Miss Xu came to the US from mainland China four months ago. After seeing the show, she said, "It is so great! I love it! This is the true traditional culture of China and a real classical performance. I've never seen such a great show before! It is so remarkable! I cannot find any words to describe the wonderful greatness of this show!"
Miss Xu said, "When I watched the show, I felt such emotion and started to cry. During the show, my body felt so warm and I sensed an electric energy. It was truly stunning!
Miss Xu had some background in musical training in mainland China. In the few months she has been in America, she has enjoyed Western classical theater arts, including opera and ballet. She said, "I also like Western arts, but seeing Shen Yun, I truly feel the profound greatness of traditional Chinese culture! It is so wonderful—with no bounds!"
Miss Xu was moved by the programs that portrayed Falun Gong practitioners' unremitting persistence in upholding their belief. She said, "In mainland China, this information is censored. Ordinary citizens like us have no way of knowing the complete story. But I know some things that did happen, and I believe that the spirit of Falun Gong is beneficial to everyone and can inspire people to understand the true meaning of life. To be able to see so much of the truth here, I am very pleased."
Chinese educator: The final showdown on the stage of history
Mr. Zhang recently came to visit America on official business. His work in China is in the field of education. After he saw the show, he said, "It is very good! I am very impressed! I have never seen such a wonderful show! Scene after scene, we were taken through a journey of thousands of years, or even further. I felt as if I had really returned to ancient times and was brought forward with the show, step by step. The entire show portrayed a complete story, with a beginning and an end. Every program was one section of this story."
Mr. Zhang was moved to tears by the performances that depicted Falun Gong practitioners' perseverance. He said, "It reminded me of some historical stories and of the true spirit of the Chinese. In particular it reminded me of General Yue Fei, and to me, the similarities of the past and present all represented the magnificence of culture and the stirring tragedies of history. These ethnic heroes of ours will be forever remembered. It is heaven's will that good is rewarded and evil is punished. What is different is that we are in the final stage of history, and righteousness is bound to prevail. I feel that Shen Yun has shown us the truth of history as well as of the present day. It has also told us the future."
Lastly, Mr. Zhang commented, "While telling true principles, Shen Yun has brought us true hope, especially in that last number, my eyes were filled with tears. I know that we have hope! Chinese people have hope!"
Professor from mainland China: Even more stunning than watching the DVD in China
Professor Gao, who came to America six months ago to visit his relatives, said, "I had seen Shen Yun on DVD in China and thought it was fantastic. But today, after seeing it live on stage, I found it absolutely astounding! This is the true tradition of our Chinese ethnicity; I had never seen it in my entire life. You could say, 'To witness it in one lifetime is a privilege for three lifetimes.'" Professor Gao also said, "The essence of Chinese tradition has long disappeared, but deep in the hearts of our people, there is profound emotion for our traditional values. People in the older generation may still preserve some of this culture, but I don't know about the young generation now. Shen Yun has truly brought us traditional culture. I feel as if our old nation has been revived. This is none other than the true image of China."
Professor Gao is soon to return to China. He said, "To be able to see Shen Yun has been the greatest reward for me on this trip to America." He also exclaimed, "I will tell my fellow countrymen about it and let them know this is the best show—they must see it if they ever get the chance."
Chinese medical worker: I hope Chinese youths can see Shen Yun
Ms. Li, who works in the medical field, came to America six months ago from Shanghai. She came to see Shen Yun with her daughter. Ms. Li was very excited and praised the show for showing the truth to the world's people. She said, "I feel Shen Yun's show has told the world what is about to happen. It is about time that people awaken."
Ms. Li expressed her admiration for the high-tech backdrop design. She thought that its special effects gave a realistic feel, with wonderful and coordinated colors. In her opinion, traditional culture can no longer be seen in China, and many people, particularly those who were born after the 1980s, no longer understand it, as there is very little on traditional culture in modern textbooks. She said, "I really wish that these young people could see Shen Yun performances."
Ms. Li's daughter also liked Shen Yun very much. She said, "The dances and choreographic designs are exquisite, like the 'Plum Blossom' dance. By putting the two fans together, they cleverly portray the elegance of plum blossoms. So lively and real."
New immigrant from China: I really enjoyed the profound show
Ms. Ji, who came from China not long ago, said, "I am very excited, very happy. My whole heart has melted." Originally from Hainandao, Ms. Ji has been in the US for less than a year. She liked each dance throughout the performance, including all the artistic and historic portrayals. She said, "My happiness is heartfelt. When I saw these performances, my heart just melted. I was transported to the great stage of China, including Mongolia, and many different aspects."
Miss Yang from China: Only by knowing the truth can one have a good future
According to Miss Yang, who has recently arrived from China, "Shen Yun has done a fantastic job in their performance! Very traditional, and the messages have left me with a deep impression. I have been greatly moved, particularly by the final piece. I feel as if it is about to happen." She said, "I couldn't help but shed tears. I feel the messages conveyed through this show are so compassionate! I need to seriously think about how to deal with things in life from now on. We need to believe in the divine, we need to find out the truth, in order to have a good future."
Chinese from out-of-state: The show was well worth the money
Mr. Zheng and Miss Chen took the train from North Carolina specifically to see Shen Yun in New York. They purchased premium tickets to the show. They said, "The show was well worth the money! The performance was great! We are very moved. It is hard to describe in words."
Miss Chen said, "The performers were so absorbed and put their hearts into what they were doing. They presented the essence of traditional culture. Each program was exciting, and the show was of very high quality."
Mr. Zheng said, "'Our Story' moved me deeply. I think the perseverance of Falun Gong practitioners in upholding their belief and clarifying facts is absolutely correct. It is a display of the traditional spirit of China. We all need to understand and learn these truths."
45 Chinese acquaintances saw the show together: Watching Shen Yun gives inspiration and guidance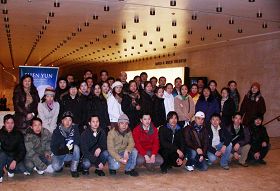 45 mainland Chinese came to Lincoln Center to see Shen Yun as a group
After having seen Shen Yun in 2010, the spokesperson for the Christian Democracy Party of China, Mr. Lu Dong, recommended the show to many of his acquaintances. For the final evening, Mr. Lu organized a group of approximately 45 mainland Chinese to see Shen Yun. Some from this group were fresh from the mainland, while others worked in different fields in America. Seeing Shen Yun's performance, they expressed a feeling of pride for being Chinese.
Mr. Lu said, "Shen Yun is like The Apocalypse, it is telling people a very important message in a timely manner. It is an inspiration from the divine." He also said, "The message of tonight's show is very clear, especially at the beginning and end. One of my friends who came tonight said to me, 'The first number was like The Book of Genesis, and the final number resembled The Apocalypse.' I feel the same way—she said it very accurately. I felt she understood the uniqueness of Shen Yun and its important messages."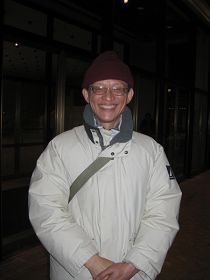 Mr. Lu Dong, spokesperson for the Christian Democracy Party of China
Mr. Lu also said that the final performance, "The Opening of Heaven's Gates," was similar to The Apocalypse, as it told of the calamity that was about to take place and showed the chilling scenes of the world under the great flood. "This scene reminded me of '2012' and other prophecies about the end of the world. However, Shen Yun gave us an answer and brought us hope. In this number, we saw the magnificent sight of how the Gods saved the compassionate people from danger and brought them to the new era. I believe that good and evil are rewarded accordingly: those who believe will go to heaven, while people who slander God and refuse to repent will face God's punishments.
"Not long ago I saw the ballet performance The Nutcracker here. I have also seen high end performances such as Sleeping Beauty and Miss Saigon on Broadway. Yet the only show that can so clearly expose the meaning of life, and the position of humans in this universe, is Shen Yun - the only one in the world." Mr. Lu concluded, "The messages conveyed by Shen Yun are very important and timely. It serves as a warning: Wake up, look at the final scene. Everywhere there's spirited discussion about the end of days. Through their artistry, Shen Yun has given us the true answer. Those who see Shen Yun will be inspired and have guidance and will thus be blessed."
Merchant from mainland China saw Shen Yun four times in a row: I feel connected like a circuit
Fang Yuan (alias) from mainland China recently came to America on a business trip. She specifically flew to New York from another state to see Shen Yun's opening performance at Lincoln Center. After the first show, Miss Fang felt the values and important messages conveyed by Shen Yun were so profound that she attended three subsequent performances. She said, "Seeing Shen Yun is like connecting a circuit, I could relate to it at once. It's very hard to describe, it felt as if something had opened up deep within my heart.
"The dances, music, costumes, and colors were so beautiful, and displayed true traditional Chinese culture. The performances in mainland China cannot even be mentioned in the same sentence. Quality-wise, they are on completely different levels." Miss Fang continued, "To truly appreciate this show, it is not enough to just see it once, because you cannot absorb it all. Each time you experience a different understanding. If you keep watching, you continue to have new feelings.
"Shen Yun exhibited the entire process of the cosmos from beginning to the end. After the film '2012' came out, many people have been wondering what is going to happen, and they are worried, searching for answers. Yet Shen Yun has given us the answer."