New York: Falun Dafa Experience Sharing Conference Held in Manhattan; Revered Master Teaches the Fa and Answers Questions (Photos)
(Clearwisdom.net) On September 5, the 2010 New York Falun Dafa Cultivation Experience Sharing Conference was held at Javits Center in Manhattan with six thousand five hundred practitioners from all over the world attending. In the afternoon, Master Li Hongzhi came to the conference and gave a lecture.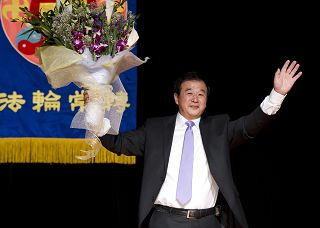 Master Li Hongzhi at the conference
At 2:40 p.m., Master Li Hongzhi came to the conference. He gave a 30-minute lecture, then spent one and a half hours answering practitioners' questions.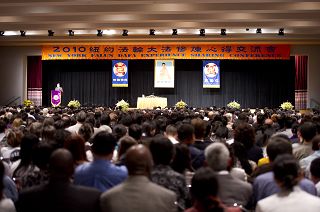 The Conference Hall

Practitioners sharing experiences.
Throughout the day, a total of sixteen Chinese and Western practitioners shared their experiences.
Ms. Wu from New York talked about how she promotes the Shen Yun show to her co-workers. She had a righteous thought when she started working at the company: "I will save all the employees here and the Shen Yun show is the best gift." More than 100 people from her company have bought tickets.
The Shen Yun promotion team in New York, consisting of five practitioners, shared their experiences. Gail discussed her experiences dealing with people from higher end society. She also talked about looking inward and being compassionate to fellow practitioners. Wenyi told the story of how she promoted Shen Yun at an exclusive social gathering, where she sent forth righteous thoughts and asked Master for help. She got to know several VIPs, and introduced Shen Yun to them. Jeanne talked about how she overcame her shyness and introduced Shen Yun to potential sponsors. Ms. Zhang and Ms. Wang shared their understanding of how to set aside one's own things and harmonize with fellow practitioners.
Ms. Shen from San Francisco told how she has helped Chinese people quit the party on the Quit-the-Party-Hot Line over the last five years. Ms. Li from Los Angeles shared how she has sold advertisements for a media organization run by Dafa practitioners, since 2003. Ms. Li told how she clarifies the truth to customers, sends forth righteous thoughts, and does her best to serve her clients. Many of her customers have never left her, and some of are now placing more and larger ads with the newspaper.
The conference concluded at 6:00 p.m.