Shanghai Police, Procuratorate, and Judicial Branch Collude to Persecute Professor Guo Xiaojun (Photo)
(Clearwisdom.net) Mr. Guo Xiaojun, a former professor from Shanghai Jiaotong University, was sentenced to four years in prison by the Shanghai Baoshan Court on July 6, 2010. Mr. Guo was arrested on January 7, 2010, by domestic security agents from the Baoshan Public Security Bureau. During his detention, he was interrogated under torture and threatened with violence. During the trial, public prosecutor Chen Weidong and Judge Xu Minfang ignored Mr. Guo's repeated statement that the "evidence" was obtained under duress. Mr. Guo was sentenced to four years in prison.
Mr. Guo plans to appeal the decision and is documenting his interrogation details.
On August 13, Mr. Guo Xiaojun's family members went to the Baoshan Detention Center to request his release. Guo's family told the deputy director of the detention center (with the surname Gu) that all evidence they had was from interrogation under duress. Mr. Guo was illegally detained first, and the torture was aimed at obtaining evidence to legitimize his detention after the fact. The whole process was in violation of the law, and Mr. Guo should be released immediately.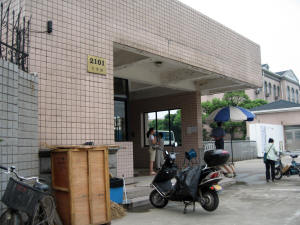 Shanghai Baoshan District Detention Center
Mr. Guo's family members went to the detention center again on August 17 to request a meeting with Gu, but Gu did not come forth. Phone calls to him were hung up or unanswered. Other lines at the detention center were also unanswered.
Detention center staff told Mr. Guo's family that the detention center was not responsible for things that happened there. The family maintains that since the torture and interrogation occurred at the detention center, it should be held responsible.
Mr. Guo's family put in writing the following requests to the detention center:
The family requests to know who was on duty on January 18 and 19, 2010, when Mr. Guo was interrogated. Even if interrogating during the night is legal (between 1:00 a.m. and 6:00 a.m.), the person on duty should be held responsible for the torture. Mr. Guo was arrested on January 7. There was plenty of time during daytime to conduct any questioning. Why did the interrogation take place at night? Chinese laws dictate that "special interrogations" have to happen with consent of the suspect.
The family requests to review video recordings from January 18-19 to confirm Mr. Guo's testimony. The detention center is under full video surveillance. This request could easily be met.
Shanghai Middle Court Only Went Through the Motions
During Mr. Guo's appeal period, his family members are continuing to urge Baoshan Domestic Security Bureau, Baoshan Procuratorate Office, Baoshan Court, Baoshan Detention Center, and Shanghai Second Middle Court to release Mr. Guo unconditionally. However, these agencies have not complied. Instead, they are threatening Mr. Guo's family members, saying they will block a second trial.
On the morning of August 18, Mr. Guo's attorney received a text message on his cell phone from Liu Weiting, a secretary at the Shanghai Second Middle Court, asking the attorney to send his written defense. The attorney had not yet had the opportunity to review the case file, and did not have any time to prepare a defense. In addition, a defense should be delivered during the trial, not ahead of time in writing.
Alumni from Shanghai Jiaotong University who live outside of China have written a joint letter to the United Nations and other international human rights organizations, urging them to lend support to Mr. Guo.
Illegal Extension of Detention Raises Concerns
Other attorneys also offered to help Mr. Guo and his family. As Mr. Guo's case garners more attention, more facts are emerging. One of the issues is the illegal extension of Mr. Guo's detention. Chinese criminal law states that after three days of detention, the Public Security Bureau must make an official arrest. In special cases, the Public Security Bureau may extend the detention by one to four days. For repeat suspects, suspects crossing provincial borders, or gang members involved in serious crimes, the extension could be up to 30 days. Mr. Guo's attorney doesn't believe Mr. Guo fits into any of these categories.
The Public Security Bureau and Procuratorate, as law-enforcement agencies, failed to follow the law. The Procuratorate failed to monitor the Public Security Bureau in the case of Mr. Guo's extended detention. Mr. Guo's detention is illegal. The Public Security Bureau, Procuratorate, and judicial system are actually colluding in their violation of the law.