Spanish-Speaking Practitioners Gather and Share Experiences in New York City (Photo)
September 25, 2010 | By De Xiang, a Clearwisdom reporter from New York
(Clearwisdom.net) Practitioners from different countries who speak Spanish took advantage of a precious opportunity to gather at a park in New York City to happily share and exchange experiences. On this day they all came together to participate in a very big event, and they were thrilled.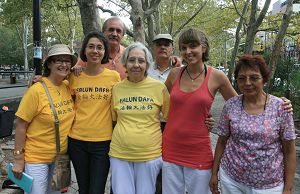 Spanish-speaking practitioners get together in New York City. They are from Spain, Germany, Argentina, Peru and Chile. (Left on 1st row: Ms. Mavi-Carmen, Left on 2nd row: Carlos and Julio)
Over two thousand Falun Gong practitioners joined a grand march on September 4, 2010, themed "Call for Conscience and Stop the Persecution" in Manhattan's Chinatown, in New York City. The march consisted of three main sections, including "Falun Dafa is Good," "Persecution by the CCP" and "Awakening and Quitting the CCP." In the section, "Falun Dafa is Good," practitioners from all over the world held their own countries' banners and wore their own national costumes to convey the message of Falun Dafa's worldwide spread to over one hundred countries. In addition, there were also the Divine Land Marching Band, celestial maidens distributing lotus flowers, and the Dragon and Lion dance teams in this section, making the march very striking. Many passersby, especially Chinese people, appeared deeply moved by the grand display.
After the march, some Spanish-speaking practitioners from South America, Spain and Germany got together at Jiexin Park to share their experiences of joining the march.
Very Fortunate to Join the March
Ms. Mavi-Carmen from Spain said, "The march today received much praise and had a very positive effect. Before the march, some Chinese people looked very unconcerned upon seeing us. While after the march, they were completely different. The music and practitioners' righteous thoughts played a very important role. I feel very happy."
Veronica from Chile said she felt very happy and fortunate, and said that Falun Dafa is so great.
"I'm so fortunate to join the march today," Julio from Peru said. He said he felt great and hoped the feeling would last forever. Seeing so many practitioners coming together from all around world, doing the exercises and joining the march together, he felt that Dafa is not only for the Chinese people, but also for the people of the whole world. He was very happy for those passersby who had an opportunity to see the march.
Carlos from Argentina said he felt very happy and honored, being able to do the exercises with so many practitioners, and he said he experienced this sacred feeling the whole day.
Body and Mind Benefited by Practicing Falun Gong
The reason that Falun Gong has spread to over one hundred countries is that Falun Gong teaches everyone to become a better person and to remove one's attachments by cultivating Truthfulness-Compassion-Forbearance. Many people have truly become healthy through the practice, some for the first time in their lives, and this has also been experienced by these Spanish-speaking practitioners.
Ms. Mavi-Carmen has been practicing Falun Gong for ten years. "At the beginning, I only knew to do the exercises. After a friend introduced me to practicing the principles of Falun Gong in my daily life, 'Truthfulness-Compassion-Forbearance', and told me in detail about the persecution taking place in China, I then started to truly practice cultivation. Through practicing Falun Gong, I experienced huge changes in my body and mind. Many things Master taught in the Fa have happened to me. Therefore, I began to walk on the path of cultivation."
Before practicing cultivation, Ms. Mavi-Carmen was very weak and had tumors. Doctors said that she needed surgery. However, by practicing Falun Gong, her tumor disappeared and she gradually recovered fully.
Veronica started practicing Falun Gong in 2000. Before practicing Falun Gong, she had to take many medicines in order to fall asleep, which cost her a lot every month. After practicing Falun Gong, she became increasingly healthy, and stopped taking the medicines. In addition, she became gentle after practicing cultivation. Although her work was very busy, she brought a compassionate heart with her to work, and her family and colleagues all felt happy for the changes she experienced.
A Predestined Opportunity
Julio from Peru came to Dafa by a predestined opportunity which seemed to be completely by chance. Four years ago, a very unusual thing happened to him. Julio operated a small business, and in his store he always played videos on his DVD player. At one point he became interested in yoga and so he bought a yoga video. Although the cover of the DVD showed a group of people doing yoga, when he played the video, it was the DVD of Master teaching the first set of exercises. However, only the first exercise set was on that DVD. Julio was very interested and began to do the first set of exercises, often practicing the first set at noon. This happened in April 2006.
Several weeks later, Julio took his son to his music lesson. While his son was having his lesson in the classroom, Julio went outside and did the first set of exercises. A teacher from the school came outside and began doing the exercise with him. Seeing this, Julio asked in astonishment, "How do you also know this exercise?" The teacher said, "We do the exercises every Thursday here." Since that day, he's joined the practice group every Thursday, and this is how he began Falun Dafa cultivation practice.
Since he started practicing Falun Dafa, Julio has felt great changes in his body and mind. For years he suffered pain in his shoulder, and twice a month, he had to have therapeutic massage sessions. After practicing Falun Dafa, the shoulder pain completely went away. In the beginning his son didn't understand why his father practiced cultivation. But after Julio compassionately explained the truth about Falun Gong and the persecution in China, his son gradually came to understand, and their relationship improved.
Hoping All Chinese People Find Dafa
Because these practitioners have all benefited greatly from practicing Truthfulness-Compassion- Forbearance, they hope that all people around the world can learn about the wonderfulness of Falun Dafa. In particular, they hope Chinese people in China who are still being deceived by the Chinese Communist Party (CCP) can learn the truth about Falun Gong.
Ms. Mavi-Carmen said that she came to New York City to support all the practitioners in China. "In every country except China, people are free to practice Falun Dafa. Outside of China we have a very good cultivation environment, while practitioners in China don't. Therefore, we need to support them. In addition, many people in China don't understand Falun Gong. Due to pressure from the CCP, they are still afraid to listen to the truth about the practice and the persecution. We just want to tell them that Falun Dafa is good. I hope they can overcome their fear."
Veronica wanted to tell the Chinese people that because Falun Dafa has brought positive changes to both her body and mind and made her healthy, she hopes that all Chinese people discover Dafa and also benefit.