We Hope All Innocent Children Can Regain Their Happiness (Photos)
August 05, 2010 | By Zheng Yuyan
(Clearwisdom.net) A great many children are among the victims of the persecution of Falun Gong in China. Because they or their parents follow the principle of Truthfulness-Compassion-Forbearance as practitioners of Falun Gong, they are persecuted. They are discriminated against, threatened, forced out of school, wrongfully imprisoned, beaten, forced to leave home and go into hiding, victims of broken families, and even tortured to death. This brutal persecution has continued now for over eleven years.
"I Want to Go to School, I Want to Go Back Home"

Translation: Jiang is scared of Truth-Compassion-Forbearance. He persecutes my family. I want to go to school. I want to go back to home. I admire young Falun Dafa practitioners abroad. Huang Chunlin
The above image shows young Huang Chunlin's words in his own handwriting
Huang Chunlin is a ten-year-old boy who lived in Tieling City, Liaoning Province. His mother Jin Hongyu, aunt, and grandmother were all persecuted for practicing Falun Gong. Now he is forced to share a life of homelessness with his mother. He has no school to go to. Because of suffering such illegal persecution, the boy wrote the words above: "Jiang is scared of Truth-Compassion-Forbearance. He persecutes my family. I want to go to school. I want to go back home. I admire young Falun Dafa practitioners abroad. Huang Chunlin" ("Jiang" refers to Jiang Zemin, former top CCP official seen by many as the chief architect of the persecution of Falun Gong)
Elementary student Xiaolianhua returned home from school one day, only to find that she could not enter the house. Her parents Liao Xiaohong and Shi Jiaoyu, a couple from Chenzhou City, Hunan Province, were arrested by local police officers in April 2009. Their home was ransacked and personal belongings confiscated.
Young Xiaolianhua was left standing outside the door. By nightfall she was crying, as she was alone without any help. Xiaolianhua's parents have been arrested and persecuted repeatedly throughout her childhood. She has thus lived in fear for many years. How can a child's young mind comprehend the mistreatment and persecution of her family?
In another instance, the entire family of Mr. Zhou Keli in Wenquan Town, Xianning City, Hubei Province practices Falun Gong, and five of them, including children and daughter-in-law Xiong Chunzhi, have been detained in labor camps. Only one seven-year-old child was left at home, and she was left alone without a caretaker. When the child missed her mother, she used her tender little hand to write on the wall, "Mom, I miss you."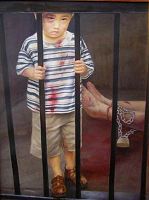 Oil Painting "Why", about Falun Gong practitioners and their children being persecuted by the CCP (Artist: Wang Weixing)
Why Are Innocent Young Children Repeatedly Jailed?
Guo Yuetong's parents, Mrs. Liu Aihua and Mr. Guo Yuting, are Falun Gong practitioners in Changli County, Qinhuangdao City, Hebei Province. When Yuetong was just one year old, she and her mother were detained at the notorious Changli Brainwashing Center by the Changli County "610 Office." Falun Gong practitioners are detained in cells without windows. In the same cell, they eat, drink and use the toilet. The guards torture practitioners via all kinds of means: depriving them of sleep, handcuffing and shackling them, shocking them with electric batons while handcuffing their hands behind their backs and covering their mouths with tape, or handcuffing their hands to windows and doors, beating them with rubber batons, forcing them to run in circles, and force feeding them.
Whenever the guards tortured her mother, Yuetong was so scared that she hid in the corner and cried. Little Yuetong would timidly peer through the iron bars of the cell when her mother was safe by her side and the guards couldn't be heard. At the time of her release, Yuetong was still only three years old.
Just a few years later, when she was six years old and about to go to elementary school, she was arrested and taken to the brainwashing center again. People couldn't help asking, "Why does the six-year-old have to be put behind bars again?"
The family of Falun Gong practitioner Wang Zideng of Laiwu City, Shandong Province, total of six, including his two year old son and niece, were arrested. After the family was taken to the detention center, Wang's two-year-old son held on to the steel fence and cried very sadly, "I want to go home, I want to go home." ... Despite being thousands of miles of space-time from him, I can still clearly hear the cries of the small child. What's wrong with the family cultivating Truthfulness-Benevolence-Forbearance? And the small children? Why do they endure such persecution!
Persecution Leads to Tragic Ends for Children
Some children have been tortured to death in the persecution of Falun Gong, a persecution described by many as happening on a scale and severity unprecedented in human history. The following is just one example.
Four-year-old Wang Shujie lived in Nanmiaoshan Third Village, Miaoshan Town, Laiwu City, Shandong Province. Her parents are both practitioners. Since the CCP started persecuting Falun Gong practitioners in 1999, young Shujie has undergone several separations from her parents and has endured great suffering. She passed away at the age of four after living in continuous fear and enduring torture.