Indonesia: Falun Gong Entry Welcomed in Independence Day Parade (Photos)
August 27, 2010 | By a Clearwisdom correspondence in Indonesia
(Clearwisdom.net) Falun Gong practitioners participated in the Indonesian Independence Day Parade held on Bali Island on the afternoon of August 18, 2010. The parade celebrates Indonesia's 65th birthday. The Falun Gong parade entry caught the attention of tourists from around the world.
The Falun Gong parade procession was comprised of 700 practitioners. It was led by the Falun Dafa Asia-Pacific branch of the Divine Land Marching Band, followed by waist drummers, dancers, exercise demonstrations a float consisting of a large pink lotus flower, and banners reading "Falun Dafa is Good," "Truthfulness-Compassion-Forbearance is Good."
Divine Land Marching Band Delights the Audience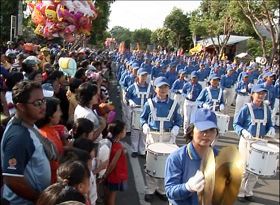 Indonesian people were impressed by the Divine Land Marching Band
The Asia-Pacific Divine Land Marching Band consists of 200 Falun Gong practitioners from Taiwan, Singapore, Japan and Indonesia. Many audience members took pictures of the band, and young people danced with the rhythm of the drums. One young man, who had an Indonesian round drum, played alone with the band's beat and his friend cheered "Falun Dafa Baik (is good)."
The Divine Land Marching Band played songs including "Falun Dafa is Good," "Fa Drum," "The Fa Rectifies the Universe," "Deliver the Treasure," "Buddha Mercy Sacred Music," "Falun King," "Sing of Joy," and "Divine Land Marching Band." They shared the beauty of Falun Dafa with the audience. The band stopped four times during the parade and played the Indonesian national anthem "Indonesia Raya," to the delight of the audience.
Float, Waist Drummers and Exercise Demonstration Welcomed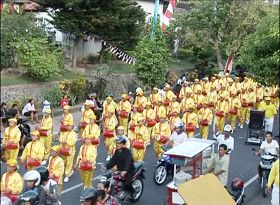 Traditional Chinese waist drummers
In the parade procession, the pink lotus float was followed by a group of 50 waist drummers. The practitioners' high spirits and crisp drum beats blended in with the song "Falun Dafa is good." Some spectators gave the thumbs-up while the band played.
Many spectators mimicked the movements of the practitioners in the exercise demonstration team as they walked by. Some practitioners give out colorful lotus flowers with "Falun Dafa is Good" written on them, along with Falun Dafa fliers, to the audience. The "Falun Dafa Baik" cheers from the audience continued through out the duration of the parade.
Falun Dafa was first taught in Indonesia in 1996. No matter how the Chinese regime defames the practice and interferes with practitioners' activities, the people in Indonesia often say "Many of us want to learn Falun Gong."