Germany: Falun Gong Practitioners Display Goodness of the Practice at Frankfurt's Cultural Festival (Photos)
July 08, 2010 | By a Falun Gong practitioner in Germany
(Clearwisdom.net) Falun Gong practitioners in Germany were invited, as in previous years, to participate in the 7th Cultural Festival held in Frankfurt on June 26, 2010. Practitioners displayed traditional Chinese culture, featuring a waist drum troupe, fan dancers and lotus dancers, a Falun Gong exercise demonstration on the float, and a reenactment of the severe abuse and mistreatment inflicted upon Falun Gong practitioners in China's prisons and forced labor camps.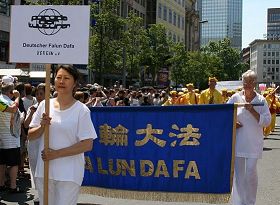 Practitioners participate in the 7th Cultural Festival parade in Frankfurt on June 26, 2010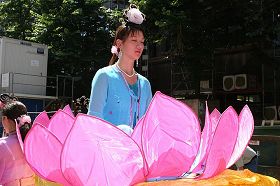 "Lotus Fairy" sitting peacefully on the float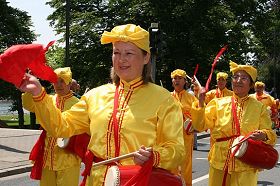 Waist drum troupe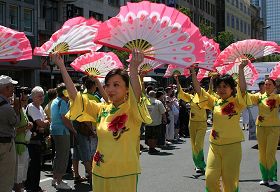 Fan dancers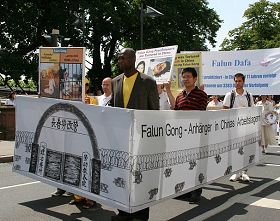 Reenactment of China's prisons and forced labor camps persecuting Falun Gong practitioners who have remained steadfast in their belief
The parade traveled through Frankfurt's downtown. Spectators were first drawn by the joyous practitioners' waist drum troupe; and next they saw several "lotus fairies" sitting on a beautifully-decorated float, demonstrating the Falun Gong exercises. Behind the float were fan dance and lotus dance teams.
The spectators applauded, waved to the practitioners, and took flyers that practitioners had specifically made for the cultural festival distribution. Some spectators voluntarily joined the practitioners in the parade, and wanted to learn more about Falun Gong.
The second section of Falun Gong's contingent was a reenactment of the Chinese Communist regime's prisons and forced labor camps where Falun Gong practitioners have been subjected to severe abuse and torture. A piece of white cloth formed the shape of a symbolic forced labor camp where practitioners held display boards on which were photos depicting torture methods employed in the persecution of Falun Gong practitioners in China. They also held a banner calling for an end to the persecution.
At the end of the contingent was a group of women practitioners dressed in white. They held wreaths in their hands, on which were portraits of practitioners who have died as a result of the persecution.
Many spectators said that the parade helped them gain a deeper understanding of the kindness and uprightness of Falun Gong practitioners, and learn more in detail about the brutality of the persecution. In the meanwhile, the parade also added to their respect for Falun Gong and its cultivators.