Broadway Critic: "The Dancing Is Superb!" (Photos)
(Clearwisdom.net) Shen Yun Performing Arts Company thrilled and delighted audiences for four shows at the San Francisco War Memorial Opera House in San Francisco, California, on July 23-25, 2010.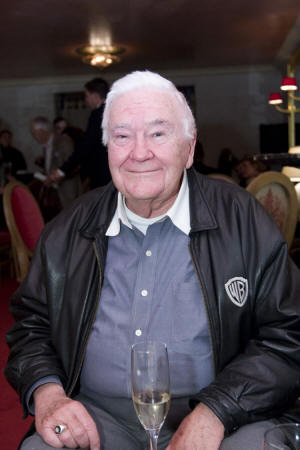 Broadway critic Richard Connema attends the Shen Yun Performing Arts show's VIP reception.
Among the many distinguished guests at the Shen Yun show, was renowned Talkin' Broadway critic, Richard Connema.
Having seen close to four thousand shows in his lifetime, Mr. Connema brings a wealth of experience to every performance he sees.
"The choreography is absolutely gorgeous--beautiful!" he said.
He was full of praise for the female dancers, specifically mentioning the dance sets, "Mongolian Hospitality" and "In a Miao Village." "The girls were absolutely fantastic!" he enthused.
"The dancing is superb!" Mr. Connema said, especially noting the dancers' hand movements.
"I loved the music. Some of the music sounded more Western than Asian, which I like--the combination. Some of the music almost bordered on Italian--Donozetti, Guccini--and that was very striking," he said.
The colors worn by the women, particularly in the scarf dance and the silk dance ["Flowing Silk"], especially caught his eye: "It was beautiful! The other one ["Handkerchiefs"] ... where they open up--they look like green flowers--that was absolutely gorgeous!"
Having dealt with the cinematography aspect of shows during his long career at Warner Bros., Mr. Connema described Shen Yun's backgrounds as "absolutely great." "Some of them were very third-dimensional, which I like," he said.
He especially liked the dance set, "Splitting the Mountain," saying, "That's beautifully done. You don't seen that any other place," he said.
Noting the tremendous amount of activity taking place on stage, Mr. Connema had a few words of advice: "First of all, this is a kind of thing that you should go back and see about six times and then concentrate on one thing that's going on."
Dance Academy Founder and Teacher: "This Is Really a Wonderful Experience"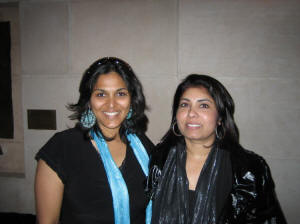 Selvi Pragasam, founder and director of the Indian Fusion Dance Academy in San Jose.
Selvi Pragasam, founder and director of the Indian Fusion Dance Academy in San José, attended the show with her co-director, Lavania.
Ms. Pragasam said that she could hardly stay in her seat during the show. "This is really a wonderful experience," she excitedly said.
"It was very, very innovative. Very colorful. The use of props was really, really good. We love the formations and the synchronization to every dance. We liked the little small tales--the little stories that were presented. They're not too complicated, very simple and very beautiful. We really like it," she elaborated.
Lavaniav thought the show was insightful and innovative.
"We were coming to admire the Chinese culture. It's really insightful: the different parts of China, the traditions that they follow, and the costumes. I always thought India was like that because we have so many states in India and they have their own traditions. But China--oh my god--it's just very good, very innovative," commented Lavania.
Ms. Pragasam said that Shen Yun is "very different from our classical dance. We're more used to seeing ballet and other contemporary dances ... and this is a real revelation to know that Chinese classical dance provides much of the inspiration for Western dancing," said Ms. Pragasam.
She was referring to the fact that the flips and spins seen in gymnastics and other dance forms originated from Chinese classical dance.
Lavania noted that belief in the divine was expressed throughout the performances. "It's very divine. I'm seeing the same kind of relation here with the Chinese dancing. It gives you a divine kind of a feeling," she said.
She added, "This show is fantastic. It gives us an insight into what China is about."
Ms. Pragasam appreciated the dance set, "Nothing Can Block the Divine Path," which portrays a family practicing Falun Gong and being persecuted at the hands of the Chinese Communist Party.
"I'm glad that they had the guts to talk out--that is what I really appreciated. I've heard about the political oppression ... I'm very glad that Shen Yun is exposing it. I can't even imagine living in a country where you don't have the personal freedom to do the basic--to believe in what you want to believe in," concluded Ms. Pragasam.
"So Graceful and Elegant"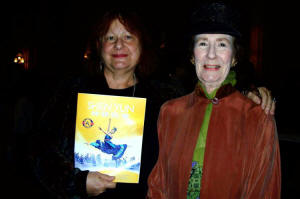 Barbara and Betty
Barbara, and her friend, Betty, won tickets to see the Shen Yun show as a part of a local radio station promotion. They said that they weren't sure what to expect when they arrived at the venue.
"It was better than what I expected. Spectacular! So I'm glad I won the tickets," said Barbara. "We had stories, we had beautiful dancing, beautiful singing, and beautiful costumes, and the different sceneries..."
Betty agreed: "I'm so happy to have had this opportunity to see this beautiful performance. We both went to a lot of ballet performances. But everything [here] was perfect, everything. The expressions on their faces, the gracefulness. So graceful and elegant. Oh my goodness, what more can you say!"
"I loved it. It was absolutely beautiful!, Betty added. "The dancing was spectacular. The costumes were spectacular. The music, the scenery, it was just breathtaking. It was so graceful ... It was perfect, just perfect!
"The costumes, the fabrics, the way the dances used the fabrics, was just so graceful, so elegant. Spectacular is the word. You can't get any better than 'spectacular.' It's above my expectations."
Barbara was struck by the performers' handmade costumes, but one singer's dress stood out most in her mind.
"I have a thing about beauty. I'm very attracted to any kind of beauty. To see the dancer's do that beautiful and graceful dance... They were gorgeous. In fact, what I like the best is the second singer [Jiang Min]. I like her dress the best. I told Betty, 'I want that dress.' I would love to have something like that," said Barbara.
Barbara continued: "I took five years of ballet so I could really appreciate how graceful they were. The difficulty of those movements, how well they did it. It was so synchronized. Everybody was together," said Barbara.
Barbara was also taken by the colors and the color combinations on stage, saying, "I like the way they put the colors together. The way they did it is very different ... so beautiful. Everything was so beautiful. It was so expressive.
"It takes you into China, even if you've never been there. It makes you feel like you were in a beautiful place," added Barbara.
Commenting on her understanding of the show's deeper meaning, she explained, "It was sending a message, which I think that was very good. That is, to bring to my attention what's going on over there [in China], and that the people there are not free to express themselves the way they want to, especially since they have a belief in a higher being."
Betty was referring to the 11-year persecution of Falun Gong practitioners in contemporary China, at the hands of the Chinese communist regime.
"Anytime you have a regime [the Chinese communist regime], you have to have the power, because [that regime] is empty inside. When people are empty inside, they want to have power over other people. But if you believe in a higher being, that fills you with spirit and hope. I feel that in this show."
Source:
http://theepochtimes.com/n2/content/view/39711/
http://theepochtimes.com/n2/content/view/39704/
http://theepochtimes.com/n2/content/view/39712/