Falun Gong Practitioners' Children Grow Up Amidst Suffering in China (Photos)
July 26, 2010 | By a Clearwisdom correspondent from Guizhou Province
(Clearwisdom.net) Children of Falun Gong practitioners have been subjected to hardships by the communist regime that even adults would not be able to endure.
These children, some of whom have become orphans because their parents were tortured to death for persisting in their Falun Gong practice, often have no one to depend on and wander from place to place. Some have died from long periods of tremendous mental suffering. Others have followed their parents, moving from place to place to avoid the persecution, without a stable home. Many were shunned, mocked and bullied by their classmates and neighbors.
The following are accounts of only a few such cases, in Guizhou, China
Wei Xingzhi's children
Mr. Wei Xingzhi, a responsible and helpful teacher from Ziyun County, Guizhou, died as a result of torture. While he was in a labor camp, the local authorities arrested his wife and sent her to the Yang'ai Forced Labor Camp for a three-year term. Their two young daughters were left behind to fend for themselves. Their water supply was cut off because the children had no money for a new water pipe. They had to depend on water collected from the eaves for their daily needs. The younger daughter came home from school and cried with her sister because classmates had chased and bullied her. The girls looked forward to their father's release from the labor camp so that they could finally be cared for again; but, their father came home tortured beyond recognition. The two sisters could only stand by and watch helplessly as their father died in pain.
Gao Qiying's children
Ms. Gao Qiying, a disabled practitioner, was from Zunyi, Guizhou. Prior to her arrest she supported the whole family and paid for her two sons' education with her meager earnings as a photographer. In the run up to the 2008 Olympics, local police arrested Ms. Gao and other practitioners on June 14. The police forced their way into her home and confiscated her computer, printer and laminating machine. They locked her in prison and tortured her to death. Her two children were heartbroken.
Wei Yalan's daughter
Anshun City practitioner Ms. Wei Yalan was sentenced to five years of imprisonment for refusing to renounce her faith. She was forced to work like a slave on gemstones and make cotton yarn tapes while in the Yang'ai Forced Labor Camp. Ms. Wei's physical condition deteriorated severely as a result of working more than 10 hours a day. Dust permeated the windowless production workshop. She had a relapse from past illnesses and died on September 14, 2007, not long after her release. She was only 50 years old. Wei Yalan's daughter was still in primary school when Ms. Wei was in prison. The poor girl waited eagerly for five years to be reunited with her mother, but could only watch her mother die as a result of the regime's brutal persecution. In 2004, when Ms. Wei Yalan was still in the Yang'ai Forced Labor Camp, her whole family was taken away to a brainwashing center on the eve of the Chinese Lunar New Year. Her young daughter was left all alone at home.
Xu Guangdao and Xu Qihua's children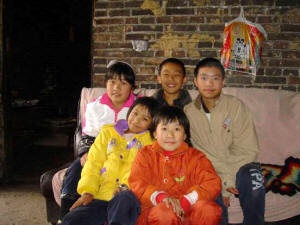 Xu Xing, Xu Dingguo, Xu Dingfu (from left to right)
Xu Yuanyuan and Xu Folian (from left to right)
Xu Guangdao's orphans: Xu Dingfu, Xu Xing, Xu Folian
Xu Qihua's children: Xu Dingguo, Xu Yuanyuan
12-year-old Xu Dingguo from Pan County, Guizhou, died tragically on March 12, 2008, crying out for his parents. Right up to his death he did not get to see his parents, whom he had been pining for day and night. His parents were in prison, and not allowed to go home to see their son for the last time.
The day before his death, to save a bit of money, the young boy had gone back to his old school to buy something to eat for two cents. At his new school, what he wanted to buy would cost him three cents. That night, he vomited and had a fever. He forced himself to go to school the next day but could not endure the pain. His whole body was covered in red spots. On the way to the hospital he kept crying in pain for his parents until he stopped breathing. Xu Dingguo and his whole family practice Falun Gong. The family lived happily and harmoniously but when the persecution began, a terrible misfortune befell these kind people.
In the first month of the 2000 lunar year, Beijing police ruthlessly beat Xu Dingguo's uncle Xu Guangdao to death when he went to appeal for Falun Gong. His wife, fearful of being implicated, left home, leaving behind their 5-year-old son and two daughters, aged one and three. One after another Dingguo's grandparents, parents and uncle were arrested. Since then, local police department agents have harassed and monitored them endlessly. Their house could be suddenly ransacked at any time. Xu Dingguo and his four younger siblings lived in constant fear. In February 2007 his mother Chen Yumei was once again arrested and sent to the Zhongba Forced Labor Camp in Guizhou. Special agents from the Guiyang State Security Bureau arrested his father, Xu Qihua, in September 2007 and subsequently detained him in the Baihuashan Detention Center. Mr. Xu was covertly tried in a court in Guiyang City's Judicial Police Hospital and was illegally sentenced to four years in prison.
Xu Dingguo, his sister and three cousins lived with their grandparents. The children lived in poverty and constant fear from an early age. Their parents suffered from long periods of persecution and were unable to support the family, and the local officials usurped the family's land. Regime officials took over their paddy land to build a railway station without providing any compensation. By right, the eldest grandchildren were entitled to receive a minimum subsistence allowance, but because their parents practiced Falun Gong they were denied this entitlement. Their grandparents supported the family of seven by growing corn and vegetables and had to pay for their grandchildren's education.
Every time the children saw their classmates with their parents they would miss their own parents all the more, and would often cry secretly. Whenever someone asked, "Do you miss you father and mother?" the children would practically shout, "We think of them even in our dreams."
Xu Dingguo was a good boy in the eyes of his neighbors, friends and teachers. He was never fond of playing. He would rush home after school to finish his homework. If his grandparents were still working in the fields he would cook the rice first, then carry a small basket and pick vegetables from the fields and finish preparing the meal. In school, whenever his friends had no money to buy food, he would not hesitate to give them the two cents his grandmother had given him for lunch. He would rather go hungry himself. Sometimes his grandmother would give him extra pocket money and he would use this to help those poorer than him.

Yet, such a well-behaved child died tragically. Everyone was heartbroken to learn of his death. His grandfather had lost his memory after police officers laced his food with nerve-damaging drugs when he went to see his son Xu Guangdao 's body. However, he was still aware that his obedient grandson had died and often cried when looking at his photos.
Young Falun Gong disciples from Guizhou, undeterred by the regime's suppression, formed their own Fa study group. They study the Fa and do the exercises together, immersing themselves in the practice and purifying their bodies
Xiao Xixi, a 9-year-old girl, writes letter to the officials in Dujun Prison, Guizhou
In May 2009, a 9-year-old girl wrote the following letter to Dujun Prison officials in Guizhou:
"I am nearly 10 years old. My mother was tortured to death in 2001. It happened at the hands of villains in the 610 Office in Jiahe and those from the police department because she practiced Falun Gong. Yet, I don't even know what she looked like. Now I have no mother. My father Xiao Sixian is in your prison. I have become an orphan with no one to take care of me. My father has not done anything wrong. Everyone says he is a good man. Please, stop persecuting him.
My teacher told me that prisons are for locking up bad people. Why is my father in prison, even though he does not steal, and everyone in school likes him and regards him as a good teacher? Did my teacher lie to me, or are you deceiving people?
Xiao Sixian's daughter: Xiao Xixi
May 10, 2009
The persecution of Xixi's parents, Mr. Xiao Sixian and Ms. Luo Qiaohong
Mr. Xiao Sixian was an outstanding teacher in the Shiqiao Secondary School in Jiahe County, Hunan Province. He was imprisoned three times in the Xinkaipu Forced Labor Camp at the behest of Jiahe County 610 Office and the police department. Mr. Xiao returned home from detention for the third time in the first half of 2006. His employer refused to rehire him because he did not renounce his practice of Falun Gong; hence he lost his job.
Xiao Xixi's mother, Ms. Luo Qiaohong, was a teacher in Jiahe County, Hunan Province. She began practicing Falun Gong in 1998. On her return from a trip to Beijing in 2001, to appeal for an end to the persecution, Wang Sheqing and his accomplices from the local 610 Office arrested Ms. Luo. She was detained for several months. Her mother-in-law and 2-year-old daughter Xixi were left at home. Ms. Luo died as a result of torture on December 5, 2001, at the age of 28.
The police lied to Ms. Luo's husband, Xiao Sixian, telling him that his wife had died of dementia. Mr. Xiao refused to believe them was subsequently held in the Jiahe County Detention Center for over nine months. Later, Mr. Xiao married Hong Kong resident Ms. Wu Shengying in 2007. In the run up to the 2008 Olympics, the regime stepped up its efforts to suppress Falun Gong. Mr. Xiao and his wife went to Erlang Township in Xishui County on July 12, 2008. The local police arrested the couple and held them at the Xishui Detention Center. Ms. Wu Shengying was held for five days and was released on the 17th day because she was pregnant. Unfortunately she was forced to have an abortion after her release and is now held in the Guizhou Province Police Hospital. To date, she has been on a protest hunger strike for more than a year. Local court officials sentenced Mr. Xiao Sixian to five and a half years of imprisonment. He is now in the No. 6 Ward at the Dujun Prison, Guizhou Province.
Countless Falun Gong practitioners have been forced to leave their homes and move from place to place during this tragedy that has lasted nearly 11 years. How many precious lives have been lost? How many families were broken up? How many children have become homeless or orphaned and had their young hearts traumatized by the persecution? While enduring great hardships, Falun Gong practitioners and their families still continue to spread the truth, so that people will choose a good future for themselves and awaken from the lies of the Chinese Communist Party.
Let us wipe away the tears from these children's faces with our kind hearts. Let's stop this brutal persecution and help heal their wounds!