Washington DC: Falun Gong Practitioners Hold Grand March to Raise Awareness of Eleven Year Persecution in China (Photos)
July 24, 2010 | By He Yu and Shi Qing in Washington DC
(Clearwisdom.net) At noon on July 23, 2010, more than 3,000 Falun Gong practitioners from around the world and their supporters gathered in Washington DC to march in the burning sun to call for an end to the brutal persecution of Falun Gong by the Chinese Communist Party (CCP). The grand march began at the Washington Monument and ended at Farragut Square, lasting nearly two hours.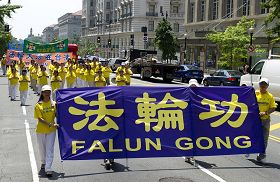 Practitioners demonstrate the exercise during the Washington DC grand parade on July 23, 2010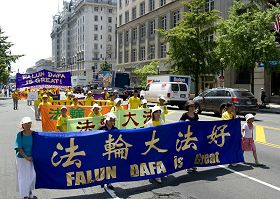 "Falun Dafa is good"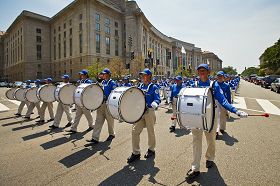 Divine Land Marching Band marches in Washington DC grand parade on July 23, 2010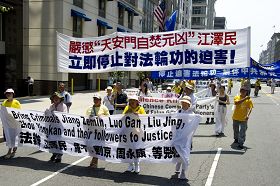 "Immediately stop the persecution of Falun Gong, punish Jiang Zemin, chief culprit of the staged 'Tiananmen Self-Immolation Incident'"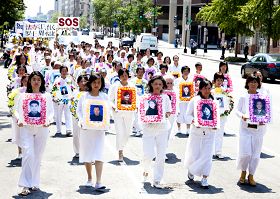 Practitioners in white clothes carry portraits of fellow practitioners who have died as a result of the persecution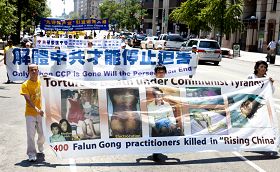 "Only when the CCP is gone, will the persecution end"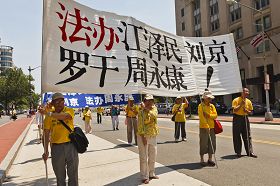 "Bring Jiang Zemin, Liu Jing, Luo Gan and Zhou Yongkang to Justice!"

"Extend your help to support Falun Gong"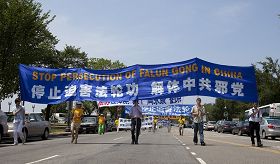 "Stop the persecution of Falun Gong in China"
Practitioners Uphold their Principles at All Costs
Looking back on the path against the persecution over the past eleven years, Xiang Dong, one of the coordinators of the activities in Washington DC said, "The CCP's persecution of Falun Gong has entered its 12th year. For remaining steadfast in their belief in Truthfulness-Compassion-Forbearance, and helping the world's people learn the facts, thousands of practitioners have been locked up in mental hospitals, tens of thousands of practitioners have been subjected to prisons and forced labor camps, at least 3,397 practitioners are verified to have died as a result of the persecution, and thousands more practitioners had their organs harvested when they were still alive. Falun Gong practitioners have never fought back with violence, instead they have resisted the persecution peacefully and rationally."
"The U.S. Congress overwhelmingly passed H. Res. 605 by a vote of 412 -1 in March 2010, demanding that the Chinese Communist regime immediately stop the persecution of Falun Gong. The resolution was jointly initiated by 81 congress members from different parties, which shows that opposing the persecution of Falun Gong is a common understanding, beyond partisanship and based on humanity."
"Some people felt puzzled why Falun Gong practitioners do not give up under such a severe persecution. In today's society driven by self-interest, there is a group of people who are unaffected by that, and who would rather sacrifice their freedom and even their own lives for the sake of adhering to and upholding their principles. They have brought light and hope to the world. Amidst eleven years of hardships and tribulations, Falun Dafa practitioners have displayed and spread the goodness of Falun Dafa in the process of clarifying the facts and calling for conscience. The persecutors thought they would 'eradicate Falun Gong within three months', but Falun Gong has instead been spread to more than 100 countries and regions."
Mother and daughter's good wishes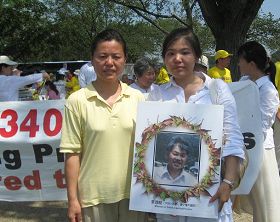 Ms. Li Huiying, daughter of Mr. Li Maoxun who was tortured to death, and Ms. Li's daughter Shi Nuoou at the starting point of the parade

A young lady in white clothing stood at the starting point of the parade, carrying a portrait of Mr. Li Maoxun who was tortured to death. She was in tears. She is Shi Nuoou, the granddaughter of Mr. Li Maoxun. This was the first time that she and her mother participated in activities against the persecution overseas.
Mother Ms. Liu Huiying related in tears the tragic experience: Her father worked in the Dalian City Procuratorate, and she herself worked in a Dalian City Court. They used to live a happy life. However the persecution tore apart their happy family. Mr. Li Maoxun was subjected to a forced labor term in 2001 for remaining steadfast in his belief. He was subjected to severe abuse and was released when he was in critical condition. He died shortly after he returned home. Ms. Li Huiying was arrested for appealing for Falun Gong in Beijing. Her husband divorced her under pressure.
Shi Nuoou spoke of her mother and her best wishes: "The persecution has persisted for eleven years, it is too long. We hope the tragedy that happened to our family will no longer be replayed!"
Why did Practitioners Come from all over the World?
Practitioners participating in today's rally and parade were from all over the world, with different backgrounds and experiences, but they shared the same wish: that is to help people learn the facts and stop the persecution.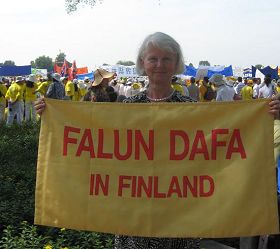 Practitioner Sinikka Suontakanen
Practitioner Ms. Sinikka Suontakanen from Finland is a teacher at a vocational college.
She began practicing Falun Dafa after the second year of the CCP's persecution of Falun Gong. Falun Dafa has become an indispensable part of her life over the past ten years. This was the third time she has participated in the July 20 activities in Washington DC. She hopes that practitioners in mainland China will soon enjoy the same freedom as she does.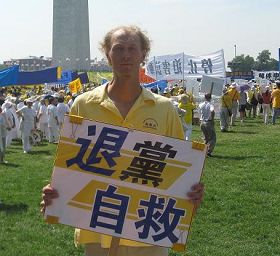 Practitioner Ashley Meloche
Practitioner Ashley Meloche is from Toronto, Canada. He is in his fifth year of practicing Falun Dafa. He felt it is his responsibility to be here. Falun Dafa helped him understand that one's happiness lies in helping others. His father was proud of him for the positive changes he has gone through. His family often tells him that what he does is a noble matter, and they truly feel proud for his choice.
He said, "I believe Truthfulness-Compassion-Forbearance are universal values. The CCP's eleven-year long persecution of Falun Gong not only targets Falun Gong; it is also against all of humanity."
"I chose the placard with message reading 'Quit the CCP for Your Own Sake.' I want to tell Chinese people who have been brainwashed by the CCP, be quick to break away. Do not be burdened by the CCP's crimes, and do not share its fate."
Standing hand in hand with Falun Gong
People along the parade routes were amazed by the grand parade. Staff members in the government building on Constitution Ave also came out and watch.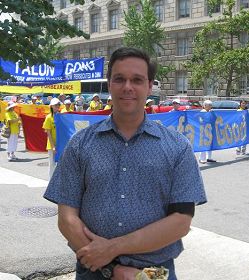 Staff member from the Environmental Protection Agency
A staff member in the Environmental Protection Agency, by noticing the practitioners' peaceful and grand march, thought Falun Gong manifests a consummate harmony.
An employee of the Department of Human Resources had heard about the persecution of Falun Gong, but the parade helped her learn about the severity of the persecution and the fact that many practitioners have lost their lives for having remained steadfast in their beliefs. She felt shocked and sad. She took many photos, hoping to let more people learn about it.
Another government worker saw and heard about Falun Gong for the first time. He said, "Falun Gong practitioners and their exercises are peaceful. I feel nobody should be persecuted. I hope they will succeed in their efforts against the persecution."
Background
Falun Gong, also known as Falun Dafa, is a traditional Chinese spiritual discipline for mind and body. The practice involves slow, gentle movements and meditation. It is easy to learn, enjoyable to practice, and free of charge. Its principles are based on Truthfulness-Compassion-Forbearance. The practice began in China in 1992 and quickly spread by word of mouth throughout China and then beyond. Its beneficial effects in uplifting an individual's physical, mental, and spiritual health, not to mention its positive influence in the community and society as a whole, have been undeniable. In fact, Falun Gong is practiced by over 100 million people in 60 countries. The main works of Falun Gong are available in over 30 languages.
On July 20, 1999, the Chinese Communist Party (CCP) launched a brutal persecution of Falun Gong. Since the start of the persecution, Falun Gong practitioners throughout the world have been constantly speaking out about the truth of Falun Gong and exposing the CCP's crimes in a tireless effort to end the persecution.