Artistic Director: Shen Yun "Beautifully Produced" (Photos)
(Clearwisdom.net) As part of its summer West Coast tour, Shen Yun Performing Arts wowed audiences for three shows at the San Diego Civic Theatre, in San Diego, California, on July 13-15, 2010.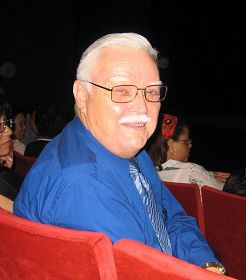 J. Sherwood Montgomery, the artistic director at Lyric Opera San Diego.
In the audience was J. Sherwood Montgomery, the artistic director at Lyric Opera San Diego. "I think it's very, very interesting," he said, after seeing the show.
"And I really also think it's very beautifully produced: the costumes, the level of craftsmanship in the handwork, and the way they're groomed, and the way the people are all presented, is very, very wonderful, and a great deal of care has been taken."
Having had many years of experience as an artistic director and producer of shows in venues across the country, Mr. Montgomery is also an experienced dancer.
"As an old-time dancer myself," he said, "I am very aware of grooming, and how well the people are presenting themselves, and that's part was a pleasure to see."
Having been seated close to the stage, Mr. Montgomery's attention was instantly drawn to the handmade costumes.
"There's a great deal of detail of the beading and the jeweling that's all on it. It's very, very exciting to see that kind of attention to detail. I love that."
But it wasn't just the fine attention to detail in the costumes that caught Mr. Montgomery's eye.
"I love the fact that it is stylized," he said of the costumes, "just a careful recreation of the folk, but that it's been theatricalized and made more interesting, and made more spectacular, frankly.
"It was quite wonderful to see. It's wonderful--that's what you come here for, is to see that kind of thing."
Over all, Mr. Montgomery had the highest praises for Shen Yun.
"I was a dancer for a long part of my early life, I was a performer," he said, "so I was able to be in and also see a lot of dance companies, and this stands up with some of the best that I've seen as far as touring companies are concerned, because the whole spectacle is very, very interesting and well done. It's beautifully produced."
General Director of Lyric Opera: Wonderful Introduction to an Unfamiliar Culture
Mr. Matker expressed his satisfaction with the show.
Also attending the show was Leon Matker, general director of Lyric Opera San Diego and founder of the Chicago Opera Theater.
"Oh, it's very enjoyable," said Mr. Matker after the show.
"This is the second time I've seen it and it's always a pleasure to see so much talent on the stage, and all these wonderful young dancers, and with just terrific technical skills."
Being extensively involved in theater, dance, and singing, his career has spanned two continents and included more than three hundred productions.
Mr. Matker said that he particularly enjoyed the folk dance sets.
"I enjoy the ones that are very specific folk pieces, like the Mongolian one with the sticks ["Chopstick Zest"], which I think it is very interesting. Also the last one with the girls with very long sleeves ["Tibetan Dance of Praise"].
"I know having been trained as a dancer when I was very, very young, that it's very difficult to do, to work those costumes and everyone together doing that is very ... it shows a great deal of skill and training and it's very beautiful to look at."
Commenting on the live Shen Yun Orchestra, he said, "Oh, I think it is very cleverly done. The orchestra is marvelous. Whoever the conductor is just does a great job, combining both the traditional Chinese instruments with the Western style orchestration.
"There is a lot of skill that goes into that and I think she holds the production together extremely, extremely well, and I think, all of these very large numbers are wonderful to see. It's a big spectacle."
Mr. Matker thought the singers were "very well trained." "I think there were a different set of singers the last time that I saw the show, but they are very well-trained. I don't know if they were trained in the United States or China, or wherever, but they know what they are doing. They have nice big voices; they are making good sounds."
Mr. Matker thought that the blending of classical Chinese culture and modern digital, animated backdrops "work quite well" and are "very effective."
"It's a great spectacle," he said. "I've traveled to China a couple of times, so I think it's a good introduction in terms of the dance styles and also gives a very good overview of different areas of the country.
"It's not just concentrated on one specific region and that region's folktales. It gives you―even just in the first part of the show―the feeling like you've kind of traveled all through the country from Mongolia to Tibet to the south, to the Miao in the south.
"I think it's a wonderful introduction to a culture that we in the United States are not all that familiar with."
Singer and Former Dancer: "All In All, It's Just Terrific"
Josie Burdick, a singer.
Josie Burdick, a singer, said that she enjoyed the Shen Yun show "very much," and that it "was well paced."
Being a lifelong lover of the arts and opera, Ms. Burdick is involved in several local performances.
"The [Shen Yun] dancers are very well trained and their costumes were fantastic," she said.
Commenting on the female erhu soloist, Ms. Burdick said, "Her pitch was just absolutely right on, that's what was so perfect about it."
"So all in all, it's just terrific," she said, adding that the "costuming was marvelous."
She also marveled at how the costumes and digital backdrop scenes were incorporated into the dance.
"That was beautifully done," she said. "The color added a lot, it was terrific.
"I do enjoy performing arts. I have all my life. I would rate this right near the top for sure."
"The Dancers Were Out of This World!"
Tammy Lashelle, an international model and fitness and nutrition expert, also came to the show.
"Beautiful. Absolutely beautiful," she said. "The show is amazing. The dancers were out of this world! The costumes were amazing. The choreography was amazing.
"Everything was just beautiful, stunning, elaborate. Beautiful. It was better than we expected," she enthused.
Ms. Lashelle also thought the digital backdrops were "gorgeous." You really got a sense of the Chinese world and its beauty. Everything about it was just stunning."
Source:
http://www.theepochtimes.com/n2/content/view/39240/