Canada: Practitioners Protest the CCP's Persecution of Falun Gong during the G8 and G20 Summits (Photos)
June 27, 2010 | By Zhang Yun
(Clearwisdom.net) After visiting Ottawa, Hu Jintao, the head of the Chinese Communist Party (CCP), arrived in Toronto on the afternoon of June 25 to attend the G20 and G8 Summits.
Banners along the highway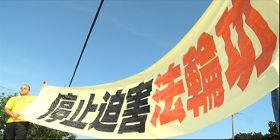 Banners along the highway
At 5:11 p.m. on June 25, Hu's motorcade approached Toronto. Along the highway, Falun Gong practitioners held banners that read, "Stop the persecution of Falun Gong".
Practitioner Mr. Joel Chipkar said a few Falun Gong practitioners rented two white trucks and parked them near the highway for four hours until Hu's motorcade passed by. When Hu's motorcade arrived, the practitioners stood on top of the trucks and unfurled banners with words in Chinese and English. "Falun Dafa is great" and "Stop the persecution of Falun Gong" was relayed from loudspeakers. The activity caught the attention of drivers and passengers of many passing-by vehicles.
Peaceful protest for over ten years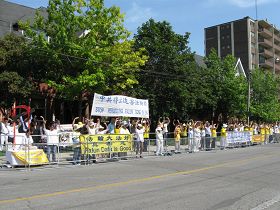 Group practice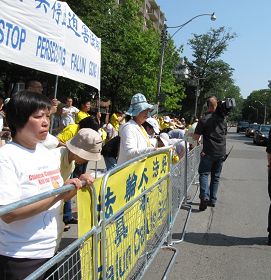 Live coverage of the protest by CP24 TV station
In Allen Park in downtown Toronto, various people gathered. They said they want their voices to be heard by leaders of the G8 and G20 Summits
Falun Gong practitioners held a protest at 2:30 p.m. Across from the Chinese Consulate. Similar to previous days, the practitioners practiced the exercises and displayed reenactments of the CCP's torture methods. At 3:30 p.m. they held a press conference with several media outlets attending. CP24 TV station provided live coverage of the event.
Mr. Zhang Zhojin, Chairman of the Toronto Falun Dafa Association, said, "During the past eleven years, we kept peacefully calling on the CCP to stop the persecution. We selected this location today to let Hu Jintao and his delegation hear and see Falun Gong. We have submitted 45000 signatures to the Canadian Prime Minister urging him to help stop the persecution." He said Falun Gong practitioners would keep the protest in front of Chinese Consulate every day during Hu's visiting.
Hoping that Canadian Government keeps its values and principles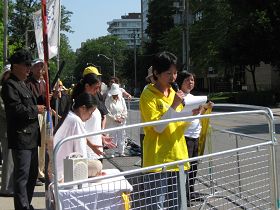 Practitioner Yufei Song
Falun Gong practitioner Mr. Yufei Song said in his speech, "Today we are holding a rally here before the CCP leader arrives in Toronto. We demand that the CCP regime immediately stop the persecution of Falun Gong and end the biggest crime in history." He recalled his suffering when he was tortured and imprisoned for three and a half years for practicing Falun Gong in China. He came to Canada at the end of 2008.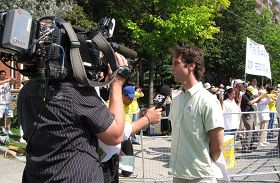 Mr. Joel Chipkar, Vice Chairman of Toronto Falun Dafa Association is interviewed
Mr. Joel Chipkar, Vice Chairman of the Toronto Falun Dafa Association, said that during Hu's visit to of Canada, some reports disclosed that Chinese Embassy and Consulates exerted pressure on the Canadian government to monitor democracy advocates in Canada.
Reports disclosed that among those people welcoming the Chinese delegates, many were hired by the Chinese Embassy and Consulates or were forced to come to welcome Hu. They were told to oppose Falun Gong. They shouted slogans such as, "Welcome Hu Jintao" and "Eliminate Falun Gong".
Mr. Chipkar said, "What we see is a foreign government interfering with Canadian policy inside Canada."

Undergraduate student from Angola supports Falun Gong
The press conference in front of the Chinese Consulate concluded at 4 p.m. The practitioners went to Allen Park to continue their peaceful protest and let more people know the facts about Falun Gong. Many people signed a petition to Prime Minister Harper calling on him to help stop the CCP's persecution of Falun Gong.
An undergraduate student from Angola attending the University of Toronto said after signing the petition, "I don't remember how many years that everyday I see Falun Gong practitioners holding peaceful protests in front of the Chinese Consulate. I live near the consulate. They just practice the exercises and have sitting meditation, very peaceful. Why persecute such a group of people for so long? It must stop. I hope all people can help stop the persecution."