Australia: Practitioners Deliver Petition Letter to New Prime Minister Regarding the Lawsuit against Jiang (Photos)
June 27, 2010 | By Hua Qing
(Clearwisdom.net) On June 25, 2010, Falun Gong practitioners delivered a petition letter to the office of the new Prime Minister, Julia Gillard. Dr. Lucy Zhao, Chairman of New South Wales Falun Dafa Association submitted the letter, which asked the Prime Minster:
1. Stop the interference from the Minister of the Judiciary Department with Ms. Zhang's lawsuit against Jiang Zemin, former head of the Chinese Communist Party (CCP), for his crimes of torture and genocide. Withdraw the "diplomatic immunity" that the Minister of Foreign Affairs issued to Jiang.
2. Help stop the CCP's persecution of Falun Gong and call for the release of all Falun Gong practitioners imprisoned in China.
Practitioner Ms. Zhang appealed over the issue of diplomatic immunity. On June 28, 2010, the NSW Court of Appeal will decide whether diplomatic immunity should be extended to Jiang. Practitioner Colleen May confirmed the appeal.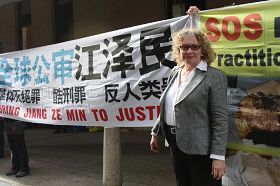 Practitioner Colleen May
A local resident said, "For such a severe persecution, the Australian government should not offer diplomatic immunity to a former CCP head. I hope the persecution can be stopped as early as possible."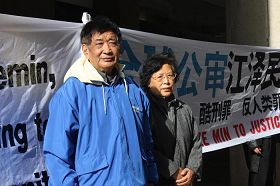 Practitioner Quanchang Chen
Practitioner Quanchang Chen, 76 years old, started practicing Falun Gong in January 1997. He had high blood pressure, heart disease and irregular heartbeat before practicing. One month after practicing , all these illnesses were gone. He said, "I believe in Falun Gong. Unfortunately, Jiang initiated the persecution of Falun Gong in July 1999. In August 2000, I returned to China from Australia. Police arrested me when I arrived at the airport and I was imprisoned for two years. Now there are many Falun Gong practitioners being imprisoned in China. Falun Gong practitioners are good people and should not be imprisoned. The murderer, Jiang Zemin, should be brought to justice. History will not give him diplomatic immunity."
Practitioner Changzhi Yue, an engineer in her 70s, said, "I was imprisoned for 4 years when I was in China. I was tortured many times and survived, fortunately. I saw a girl tortured to death within one day. This persecution must stop. No diplomatic immunity should be given to Jiang. The Australian government should help the Chinese people to gain freedom. Jiang and other criminals in this persecution must be brought to justice."