Japan: Falun Gong Practitioners Participate in the 51st Meidaisai at Nagoya University (Photos)
June 12, 2010 | By a Japanese Falun Dafa practitioner
(Clearwisdom.net) Falun Gong practitioners participated in the 51st Meidaisai at Nagoya University from June 3 to June 6, 2010. They set up a booth to teach the Falun Gong exercises and distributed brochures, paper lotuses and bookmarks printed with "Falun Dafa is great" during the four-day activity.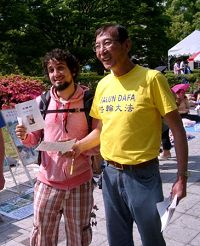 A graduate student from Algeria (left) has a picture taken with a Falun Gong practitioner.
Meidaisai is the largest anniversary celebration in Tokai. About 60,000 people attend it every year. About 2,000 students and scholars in Nagoya University are from other countries. Among them are 800 from China.
Falun Gong practitioners displayed photos showing Falun Gong's wide spread around the world. Many people wanted to learn Falun Gong after they watched the exercise demo. A student from Algeria happily received introduction materials and had a picture taken with a Falun Gong practitioner. He asked where he could learn. The practitioner gave him contact information and exercise site details. He said he would take his friends with him to learn.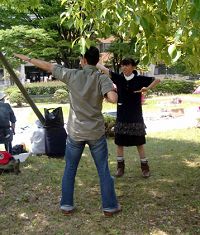 A young man learns Falun Gong exercises on the spot.
Many Chinese students and their families stopped by the Falun Gong booth. Some told practitioners their families practiced Falun Gong. Some asked about the truth behind the staged self-immolation on Tiananmen Square.
A student from Shandong Province made a special trip to the Falun Gong booth on the second day. He said he used to have a copy of Zhuan Falun before the persecution was launched. He asked many questions about Falun Gong. Practitioners answered them one by one and told him about the tide of quitting the Chinese Communist Party, the Youth League and the Young Pioneers. He said he had read the Nine Commentaries on the Communist Party but not thoroughly. He asked for a copy of the book. A practitioner gave him his own copy and told him how to quit the CCP online. The student said he would read the book carefully and expressed his gratitude.
On the last day of the activity, the booth next to the Falun Gong one belonged to the Chinese student club in the university. Falun Gong practitioners introduced facts of Falun Gong to them and wished them a bright future.