The Case of Dalian Lawyer Wang Yonghang Included in UN 2010 Annual Report (Photo)
(Clearwisdom.net) In his recently submitted report to the 13th session of the UN Human Rights Council, Manfred Nowak, Special Rapporteur on Torture and Other Cruel, Inhuman or Degrading Treatment or Punishment, included the case of Chinese lawyer Mr. Wang Yonghang.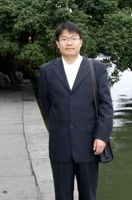 Chinese lawyer Mr. Wang Yonghang.
According to the report, Mr. Wang was arrested and beaten savagely by police. The report states, "On 4 July 2009, Mr. Wang Yonghang was arrested by two dozen Dalian police. He was severely beaten during his arrest, resulting in the breaking of his right ankle. He did not receive adequate medical treatment until 11 August 2009, when he had surgery as a result of a serious infection in his ankle. Mr. Wang's family was not informed about the operation, but received an arrest warrant dated 10 August.
"Mr. Wang is currently being detained at Dalian City Detention Center, where he has allegedly been subjected to beatings. His family and lawyer have not been able to see him because his case allegedly involves 'state secrets.' His family has repeatedly complained to the relevant authorities about Mr. Wang's ill-treatment but has not received any response.
"Mr. Wang Yonghang's license to practice law was not renewed following annual review period on 31 May 2008. Mr. Wang published several open letters online, in which he advocated for religious freedom and explained his views on the treatment of Falun Gong practitioners."
Mr. Nowak, a professor of Constitutional Law and Human Rights at the University of Vienna, is the first Special Rapporteur on Torture to visit China on a fact-finding mission. During his term of office as Special Rapporteur he has visited many countries on fact-finding missions. His reports always include a lengthy section on the situation in China.
In his report on his mission in China, Professor Nowak wrote, "The presence of a lawyer is not only a right guaranteed under international human rights law but also an important means to prevent the use of torture. Not only do lawyers ensure supervision of investigators' behavior during interrogation, but they facilitate prosecution of investigators who have utilized torture. They also enable witnesses to provide evidence to court that statements were acquired through illegal means. Yet in China, most suspects are interrogated without lawyers."
Mr. Wang has been imprisoned simply for striving to protect the basic rights of Chinese citizens under international human rights law standards. Mr. Wang's case exposes the true situation of China's so-called 'rule by law.' In his report, Mr. Nowak says, "A system of State surveillance of citizens with non-conformist views and with severe punishments for such 'deviant behavior,' such as long-term prison sentences for vaguely defined crimes, including 'endangering national security, undermining the unity of the country, subverting State power, or unlawfully supplying State secrets to individuals outside the territory, as well as subjecting them to RTL,' seems to be incompatible with the core values of a society based upon a culture of human rights and leads to intimidation, submissiveness, self-censorship, and a "culture of fear," which in turn interferes with the right not to be subjected to inhuman and degrading treatment or punishment."
Mr. Nowak's Investigative Report on China has been significant in helping governments and human rights organizations around the world to better understand the human rights situation in China. The report can be downloaded from the internet at the following URL: http://www.falunhr.org/reports/UN2006/UN-Mission2China.pdf